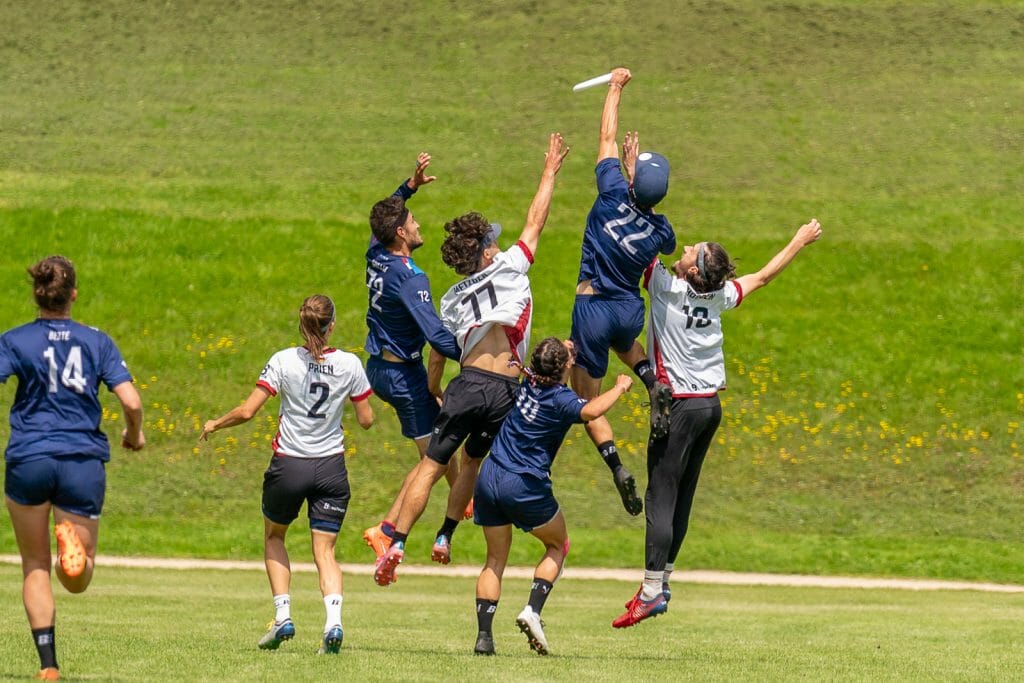 Another division with two close games and two more routine wins. The first team to seal a spot in the semis was Great Britain, who beat Lithuania 15-6. The Lithuanians recovered from being broken in the first two points of the game to trade all the way to 6-5, before GB reeled off a 9-1 run either side of the halftime break to win the game. Reaching this stage was a hugely impressive achievement by the Lithuanians and they will be delighted to have played such a strong team on this stage. For GB, it was a job well done as they finished off the game with minimal fuss in just over 70 minutes.
The other game that was not that close was, surprisingly, the quarter between France and Germany. The French came in as the only undefeated team and lived up to that billing by securing a hugely impressive 15-9 win. Their O line was turned only three times all game and broken only once, while their D line put such intense pressure on the Germans that by the end there was clear frustration from German players when their connections were not working. They generated 15 turns on the German O line, a difference that tells the story of the game.
Sacha Poitte-Sokolsky didn't get on the scoresheet all game1 but was consistently able to get free to keep the offense moving, while Coralie Fouquet continues to show that she might be the most difficult female-matching player to cover in the division at this tournament. Lena Trautmann did a good job defensively while Torben Hörnschemeyer was solid on the O line, but the Germans just couldn't work out a solution to the French D.
"We came out firing because we knew they had a game this morning and they had an extra game in the pool phase," said French player Gael Ancelin. "So we wanted to really make them run, and run and run, and then take shots on defense. That really worked in the first half, we got 8-5 up, and then we scored on the O line [out of half] and just kept rolling lines. It was a very complete game.
"We hadn't played [GB, Germany or Ireland] in this tournament but we played the other three big teams in Germany, and then we played Windmill and got our ass kicked by Italy so that was kind of a wake up call. We knew what to expect here, and we had this rough game against Poland in the pool phase2 so we are definitely mentally ready. We've played GB before but GB at EUC and GB during the season, it's not the same team. We know it's going to be a hell of a game and we cannot wait for it to be tomorrow, too excited."
The two closer games came as Ireland struggled to find a way to stop Latvia for the second time this tournament, and in the final quarter between Poland and Italy.
In the power pool Ireland got themselves into a hole against Latvia by conceding three points in a row to finish the first half. This time around they decided to give themselves more time to get out of that hole by going three points down right off the bat, giving away two breaks for Latvia to lead 0-3. They got their act together in the middle of the first half, though, and eventually went into the break with an 8-7 lead. They broke right out of half for a 10-7 lead, making things a bit more comfortable, and despite fluffing their lines at their first opportunity to end the game on offense put the second try in and won the game 15-13.
There were some crazy stat lines in this game: Ferdia Rogers had a goal and five assists while his teammate Tadhg Deevy had six goals. Toms Ābeltiņš had two goals, three assists and three blocks while Arvīds Orlovskis, who has had a ridiculous tournament3, had three goals, eight assists and a block4. Sinead Dunne was crucial for Ireland's D line, nabbing two blocks, consistently putting herself in great spots to stop first and second options and running the offense once the Latvians turned.
Ireland coaches Leo Micklem and Robyn Fennig were very satisfied with the performance, and with the team up to this point.
"We're absolutely delighted to be in the semi-finals," said Micklem. "There was a possibility that we could have let our heads drop once the breaks went in but I think the belief from first of all coming back from behind them before but also the coming back from behind against GB as well gave us the belief that we could here as well. We had a game plan and we stuck to it and it turned the game around."
Ireland took a timeout after the three-point Latvia run to start the game.
"We talked about getting to our level and being up for a fight," explained Micklem. "We were a little switched off as the game started.
"We knew that if we got our D line bak out we would have the opportunity to manufacture some blocks and some turns," added Fennig. "We're really lucky to have a lot of very selfless role players on our team. There's players that maybe only get a couple of points if our game plan is leaning more into match defense and a couple of players who only get a few points if we're leaning towards more junk or zone sets. We're very lucky that we have a lot of depth in those positions. I thought that we did a really good job of getting to feature some of our players who didn't play early in this tournament and we knew that we were saving them for this moment so that's awesome."
Sam Murphy, the talismanic cutter who injured his collarbone at European beach clubs a few weeks ago, also saw his first action today.
"The added energy that he gives us just by being mentally ready, it's a free burst of energy in a part of the game where we really needed that," said Fennig. "It Was really great to see him back out feeling confident in his body and ready to contribute on defense."
Poland against Italy was not a quarter that most people anticipated coming into the event, but both have done well. Italy beat Germany in an upset, while Poland are the only team to really push France so far.
The Poles took an early lead with a break to go 1-3 up, but Italy went on a three-point run to take the lead back. Poland edged ahead again at 4-5 with another break but from there Italy took control, going on a 6-2 run to lead 10-7. The teams traded from there with Italy's offense the more efficient of the two. The game was affected massively by David Barzasi, the Italian cutter, who recorded nine assists and two goals to lead his team to victory. His efforts will be needed again tomorrow as the Italians face a familiar opponent.
Italy will face Ireland in the semis, a rematch of the power pool game that ended 15-9 to the Irish, while GB will face France.

---