Germany continue to look great in women's but the field is getting close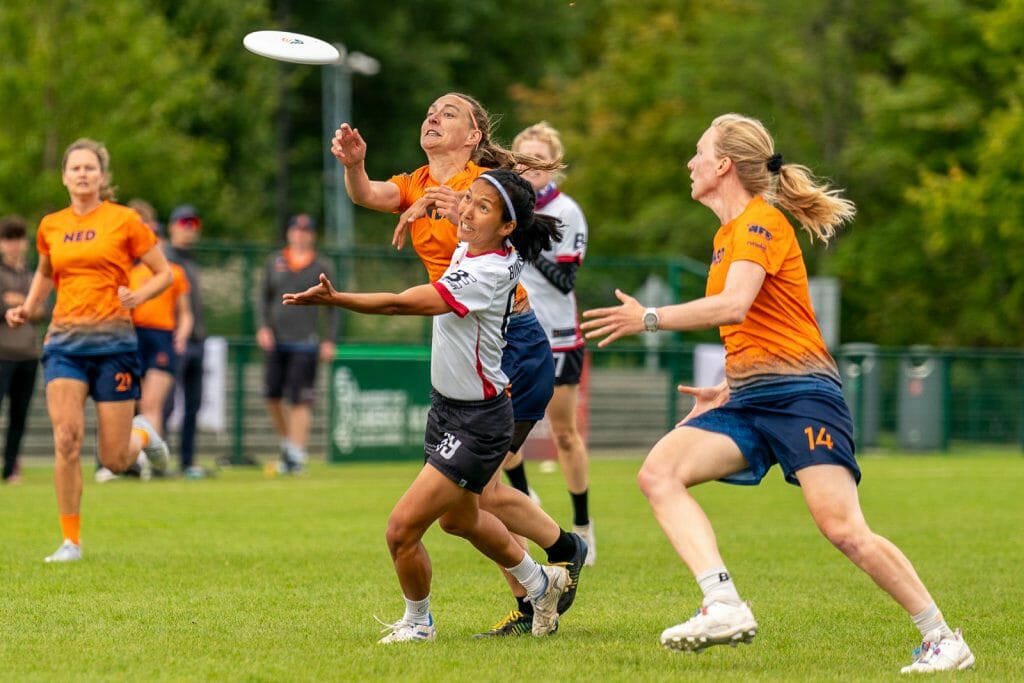 The Germans have been tournament favorites from day one and remain so, even without Anna Gerner following her knee injury. They went into a game against the Dutch with a spotless record so far. The Dutch, though, had the positivity of winning several games in the lower power pool and then successfully crossing up against the Swedes earlier in the day. They looked confident heading into a tough game, and held quickly on their first O point.
The German class started to show from there, though. After holding their own O they broke the Dutch twice, and then took another break after the Dutch managed to stop the bleeding. The score was 6-2, and with Germany in the kind of form they're in it was quite a mountain to climb.
The Dutch traded the first half out from there and held out of half. Another Germany break followed soon after, though, extending the lead to 10-5. The Dutch managed to sort out any issues and trade holds before taking a break back at 12-9, extending out some German O points and managing to get opportunities at breaks. Converting was the issue, though, and eventually the Germans won 14-10. Charlotte Schall, so impressive at U24s a couple of weeks ago, is really breaking out here. Four assists and three goals was her contribution here, along with several layout grabs to save possession. Vera Forsch has been excellent too, and had three assists and two goals. Dutch captain Paula Baas did their best to keep the Dutch in it with six assists, but they will go to the 5-8 bracket.
The match between the Czech Republic and Belgium looked to be going towards a blowout late on. The Czechs, five breaks to one up, were leading 13-8 and cruising. The Belgians, though, had a huge comeback against France and started taking points back just as they did yesterday. They held for 13-9 as the cap went, making it a game to 14. They then scored three breaks in a row to get to 13-12. The Czechs took a timeout, and scored despite some offensive wobbles with Kristýna Tlustá throwing her fifth assist of the game to Tereza Havelcová for her sixth goal.
The other two quarters were less dramatic, though there were storylines there too. Great Britain beat France 15-9 in a game they controlled almost from the very first point. Three GB breaks in the first seven points put them up 5-2 and, despite a brief flurry of breaks from France in the second half, they were on top from there. Molly Wedge and Rachel Naden were both on the scoresheet seven times, while defensive ace Leila Denniston played a substantial part after missing some parts of the tournament thus far with a nagging injury. For France, Amane Babikian made perhaps the play of the tournament so far by catching a disc that had been tipped by Wedge with a spectacular diving layout. Unfortunately for her and for her team, it wasn't enough to progress to semis.
British captains Hannah Brew and Rachel Naden were delighted after beating France to make GB's first semi in the women's division since 2011 and moving on after a difficult day on Wednesday.
"[Winning] feels fabulous," said Brew. "We put the games yesterday in the bin1 and we moved onto the next thing, so there's no such thing as a bad day because we're now on the day we're currently in."
"We also got people to reflect on all of the good things that they've done," added Naden. "We had some nice superstar messages and we got people to review those as well so hopefully that put people in a good headspace."
They also talked about their pride of reaching a stage that has eluded GB in previous cycles:
"I'm unbelievably, unbelievably proud of everyone," said Naden. "I couldn't be prouder. We asked a lot of the players, to play for each other within their own control, and they did that."
It was a similar story in the final quarter, Italy defeating Switzerland 15-8 thanks to a strong defensive performance. The Italians took half 8-4 thanks to four breaks, with Susanna Casarini again playing a key role, and scored three more in the second half while their own offense only gave up one break late in the first half. Their strong zone and litany of effective throwers, as well as their relentless pace, will make them a tough matchup for teams in the later stages of the bracket.
The Italians face GB in their semi tomorrow, while Germany will play the Czech Republic.

---
As mentioned in a previous recap, the GB women's team write things that they don't like or want to think about down on a disc and throw the disc in a bin that they carry with them. ↩