Two very different semis determine who will play for the trophy!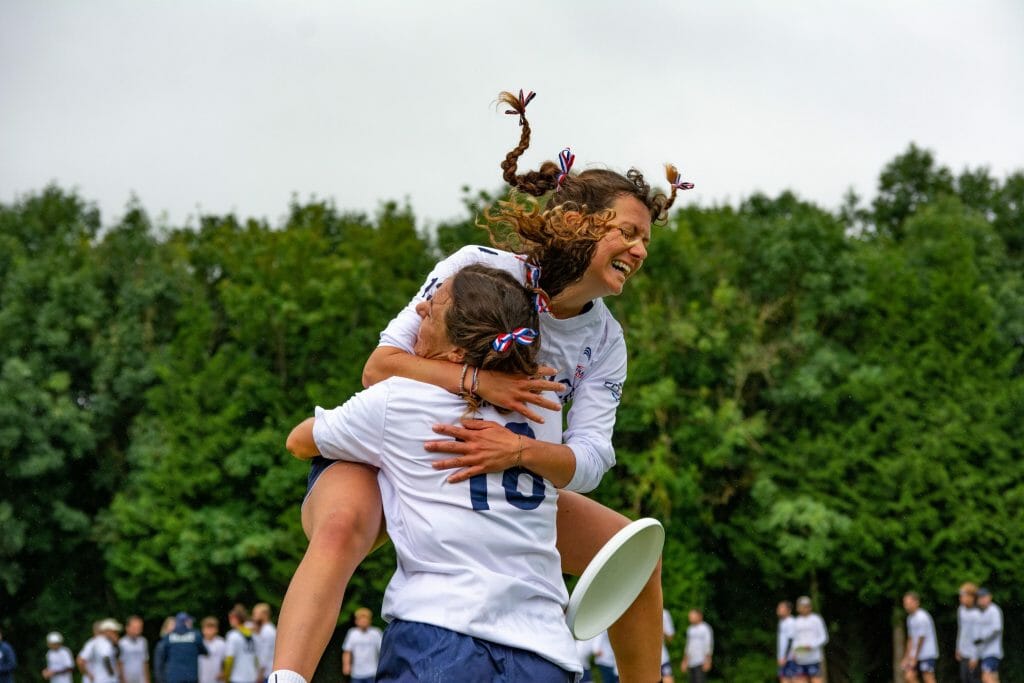 The mixed semi-finals were already different to most projections after a big upset in the power pools. Italy had topped Germany, one of the pre-tournament favorites, sending them into a quarter against France. Italy sprung the second big shock of the event, beating home team Ireland in a universe-point thriller to make the final. The other semi was contested by two teams expected to be there, but France showed just how good they are by dispatching Great Britain 15-10 to take the other spot in the showcase game.
Italy continue shock run
The Italians are a young team with several players that pulled double duty after U24s in Nottingham a week or so beforehand. Most notable of those players, in this game, was BFD La Fotta standout David Barzasi. Barzasi's fingerprints were all over the contest as he put together a scarcely believable nine-assist, two-goal, two-block stat line1.
The first few points were holds but featured some turns. Both teams looked a little nervous and made some simple communication errors, but at 2-2 the first big adjustment came. Italy switched to an arrowhead zone, forcing Ireland to make a lot of smaller passes and pushing one of the handler marks right onto central Irish handler Ferdia Rogers. A popped pass into a short space offered a chance for Federico Baraldi to make a flying block and he took it with aplomb. A few passes later and Barzasi threaded a backhand in for Christian Galeone for the first break of the game.
Ireland held next time out, but it was a tough hold. After 28 passes, Rogers hung up a backhand as he hurried to take advantage of a rare gap in the zone and Barzasi stole in to take it away. Tadgh Deevy saved the day with a big layout block on the second Italian pass, and Jack MacNamara found Bríonagh Healy for the score. Ireland then responded with a zone of their own and forced Italy into plenty of passes. Captain Andrea Fantini tried to force a blade into Barzasi near the endzone but Sam Murphy read it all the way and stuck a hand out to stop the throw. The Irish couldn't take advantage though, with Barzasi doing enough on a poach to put off Sinead Dunne. He threw a hockey assist as Samuele Ruscello popped a score in for Elisa Cappucci for a 4-3 lead, the diminutive Capucci's second goal in a three-goal performance.
Italy switched back to match, with six players tight on their marks to make life difficult offensively. No extra credit for guessing who wasn't playing tight, though: Barzasi was playing center field, sitting a long way from Deevy to try and find opportunities to get blocks. A shot to the endzone didn't connect and Italian handler Joshua Poltock called a timeout with the full field to go. He shot deep for Barzasi but Deevy got a hand on the underthrown huck to get the disc back. Another Irish turn gave Italy the disc back, though, and this time they took advantage after good movement across the field to take a 5-3 lead.
Italy went back to the zone, with Barzasi patrolling the deep space. Ireland again took a lot of passes but turned on a bobbled dump. Barzasi had a wide open shot at the endzone but rushed it and threw it over his intended receiver, screaming in frustration as he saw the throw sail. Ireland took their time again but this time converted, and put their 4-2-1 zone out again. The big difference this time was that Murphy was playing wing on both sides, following the disc and leaving one side exposed, because MacNamara was playing match on Barzasi. It worked until just outside the endzone, but Barsazi shook free and slung a blade to Ruscello for the hold and a 6-4 lead.
Ireland held, a nice deep shot to Sarah Melvin, and then put the 4-2-1 zone back out. There was no match this time as it was a four-FMP point, so Barsazi went into the handler space and went every other until throwing the assist. Italy went back out to match but with Barzasi on Rogers, and got a turn with another Baraldi block. Rogers was giving up a lot of size in his matchup but is an incredibly physical defender, limiting the space Barzasi had, but the big man found space and then found the extremely impressive Nicole Lafiata for the score. Italy took half, 8-5. Barzasi took two points off, both D points.
This game wasn't that close in the pools. Ireland won 15-9, taking half 8-2. They knew they were in a fight now, though. They gathered themselves at half and came out absolutely firing.
Sinead Dunne got a big layout block on the first point out of half, and the Irish converted quickly. Italy went back to the well on the next point, sending Barzasi deep for Poltock to find for a quick hold. Ireland responded with their own quick hold, and sent the D line back out for MacNamara to get a block on a Barsazi dump just outside the Italian endzone. Dunne picked up, swung to Clare Gilheany and hit the front cone for another break. Italy were scrappy for the first time in the contest and turned it over three times, the Irish eventually capitalizing, making it four Irish goals in five points and bringing the game level at 9-9.
Italy turned again and Dunne had Tadgh Bogan-Carey wide open in the endzone, but the throw sat up and Lafiata managed to get a hand out to knock it away. The spurned opportunity proved costly. Barzasi took a deep shot to Fantini, who was fouled by Robbie Brennan. Brennan likely could have waited, with Fantini's angle making it unlikely he'd be able to reel it in, but went up early and accepted the foul. Fantini found Barzasi with an inside throw.
Barzasi was out on D again, and after a couple of turns by both teams he took advantage of Shane Corcoran drifting too close to the open lane and snatched a layout poach block. He found Letizia Gatti going deep, and Italy broke again for an 11-9 lead.
The game settled into a rhythm. Ireland were moving the disc nicely, the handlers making good yards and using the break side well. Italy were getting it to Barzasi in the attacking half and he continued taking perfectly executed shots at the endzone. Holds until 14-13 didn't see either offense in peril.
Italy now had two chances to win. Ireland brought Rogers and Melvin over as the rain began to intensify. The Irish pressure intensified, too, as Poltock was left with no options on the first pass and threw a tough one behind Lafiata that she couldn't bring in. Rogers ran the point and picked out Melvin on the front corner to send the game to a winner-takes-all point.
Ireland kept out the same line, and kept up the pressure. Italy dealt with it better this time, though, and eventually found Poltock in a power position. He wound up a big flick huck to Barzasi who caught it just short of the endzone despite a big layout bid from MacNamara. Barzasi strolled to the line as MacNamara picked himself up, giving his teammates time to catch up, and found Cappucci in the back corner after a blown switch. Italy were jubilant, Ireland devastated.
"We didn't expect to win," said Italian handler Poltock. "We were aiming for the top four and it's a really good feeling [to get to the final]. Everybody is really happy but now we are trying to go back into the mindset of winning the final and let's see how it ends up."
While everyone else was amazed by just how well Barzasi played, Poltock said the team is used to performances like that: "It puts you in a sense of security knowing that when you get to stalling eight or nine, you just chuck it deep and it's probably quite a good throw because, at the end of the day, he can catch everything! It feels safe."
He also pointed out how well the Italian FMPs did against strong Irish matchups: "We knew the Irish women were very athletic and they hammered us in the match before. We tried to counter that with some body positioning when they started cuts, instead of letting them speed up we talked about putting bodies in the way so they couldn't take that first step to accelerate to create space. Our women did a great job today and it really showed."
France continue to look like favorites
Before the tournament, it seemed like France were the team to beat. They reinforced that at every step, other than a slightly alarming game against Poland where they had to come from behind to win on universe point. The semi-final against GB put them up against a team that had underwhelmed slightly in the build up but had been impressive in Limerick, losing only to Ireland2 in power pools and beating both Italy and Germany with strong performances.
In the early going the game seesawed back and forth. France held cleanly and then got a turn out of the GB O line with a good block by Eva Bornot, but a drop by Benjamin Fenrich in the deep space gave the British the disc back. France defended the endzone superbly, forcing a number of swings, but eventually captain Fi Kwan forced an IO into Josh Briggs for the hold. GB broke for the first time on the following point, Connor McHale finding Andy Turner in the back of the endzone after a good deep block by Bailey Melvin-Teng.
GB put on a zone and forced a turn, Turner getting a block in the endzone after a speculative shot, but couldn't take the opportunity for a second break with Gael Ancelin ripping the disc away from Ross Nugent on a deep shot. Ancelin ripped it deep for Lison Bornot, who found her sister for the score.
The teams traded clean holds from there, although the GB zone was forcing France to take a lot of passes. At 5-5, France's D line finally got another turn from GB's O. Briggs couldn't connect on a break swing, and the French D line marched down the field until another Bornot sister link-up led to their first break, this time with Lison catching the score. She repeated the trick after a late stall skyball from GB was taken down by France, putting her team up 7-5 after Pauline Berte found her on the front cone.
GB held on the next point despite two turns, Ellie Taylor finding captain Cammy Agnew in the back of the endzone with an expansive flick. France held with a good catch from Clara Mathias in the back corner for an 8-6 lead at half.
GB held out of half, and then snatched back a break. A zone confused the French handlers and a throw went right to Mark Simpson, who started a fast break that ended with Becky Thompson catching the goal. It was 8-8, and anyone's game.
Times like this is when championship teams step up. France ground out a long, tough hold against a well-drilled GB zone and put out their D line. A great pull put GB right at the back of the endzone and, with the handlers spread wide across the field, a big layout bid from Malvin Schmidt was enough to put off Briggs and France had the disc outside the endzone. Schmidt found Simon Ruelle for the break. A GB power line turned in the middle of the field, and Schmidt sent a shot to Maleaune Voirnesson for another break. A messy point saw two turns for the GB O line on throws too far for the receiver and, after a timeout, Justine Bru found Carla Eller for another break. France had scored four in a row, and led 12-8.
GB sent out a line largely made up of D line players and held cleanly. They put on a zone to try and generate another turn but the French O line ground out another long hold with Ancelin going every other to punctuate the point. The job was all but done on the next point, with a GB drop on their own brick mark leading to Schmidt finding acres of space on the break side for a 14-9 lead. The rain picked up and GB turned on a huck, but France couldn't hold on a low throw. GB held, but the damage had been done. France held cleanly on another long point, taking a 15-10 win and a well-deserved spot in the final. Both teams had a 50% conversion rate on break chances, but while GB took two of four chances, France took six of 12. That offensive execution is the reason they're in the final.
---
He also had two turns but let's give the guy a break. ↩

In a close game, 15-13, that was up for grabs until well into the second half. ↩