Western US teams ruled the weekend in an exciting showcase of the best of youth ultimate.
Surrounded by elite club players from the senior US Open and the mountains of Colorado, the sport's future stars took to the field with gusto at the Youth Club Championships, an annual celebration of the youth ultimate. While this article will mostly focus on the competition, what happens between the scores is as much a part of it as any universe point win.
"First, I thought it was a great tournament," said U20 mixed Virginia Vanguard coach Tyler Shaw. "For a lot of our team, this was their first time there, so it was fun seeing them get to experience the broader ultimate community – most kids don't realize how widely played the sport is, so having over 100 teams (and some international teams) made the event a lot of fun."
The joy was palpable at the fields, with energetic, high-volume teams, spirited play, and, as the tournament came towards its close, a robust jersey-trading market. Even the tears shed were mostly of the "I'm sad this is over" variety.
"I know the kids really appreciate how 'big time' the event feels," said Shaw. "Sometimes ultimate can be a very niche sport in high school, but watching something like Truck/Pony with a large crowd is a blast. We stayed in the same hotel as some of the adult club teams, so it's fun to have little moments like that where the kids can see and meet the current stars of the sport."
Winning your division surely feels gratifying and makes players, their families, and their communities immensely proud. Seeing these talented players establish their reputations and excite their future college, club, and semi-pro teammates — as well as some of our reporters and commentators — is a thrill, too. But it isn't what this event is about, ultimately. As we move into discussing the competition, don't lose sight of that.
Mixed Division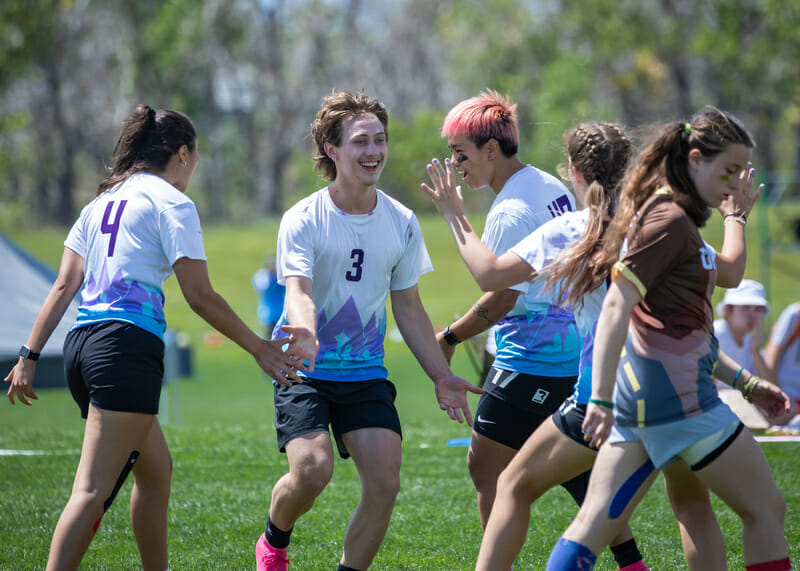 Seven Hills Runs It Back Led by Athletic Defense
Seattle Seven Hills stormed back to another Youth Club Championship in the mixed division, earning a second consecutive crown with an undefeated performance, with a 15-6 exclamation point victory in the final over Oregon Landslide. This year's championship run looked a lot like last year's: a confident showing by their deep, athletic, and balanced team demonstrating a high quality of mixed gender ultimate.
The past-and-future champs fired off the starting block in the final, turning a short field turn into a break and adding a big sky from Nobi Lorenz to set up another for a 3-0 lead. The Seattleites' big, athletic defense granted little comfort to Landslide, keeping gains short and pressuring resets to create break opportunities. Their 8-2 lead came with three clean holds, with six different players tossing assists and seven different goal-scorers, including star Cedar Hines, who yanked a Callahan out of the air as an off-mark player in a Seven Hills' cup to make it 6-1.
The Oregon offense found some more rhythm in the second half and played with more confidence, mostly hurt by one three-goal run from Seattle. Jason Chinitz-Mital led the way with three assists and a pair of blocks; his final stat line for the tournament was an impressive 12 goals, 9 assists, and 3 blocks.
But they couldn't overcome Hines, Rowan Lymp, Gavin Leahy, and the rest of Seven Hills, backed by their huge lead. A Natalie Collier huck set up the final dish pass from Ruby Gholston to Anne Le to seal the deal.
Around the Tournament
Perhaps the most impressive team aside from the champions was Dallas Nightfall, who finished with bronze after a 14-6 win over Washington DC Swing Vote in the third place contest. Luke Norby, Christine Sullivan, and Myles Armstrong paced their speedy squad, who dominated in pool play before a narrow win over Utah Swarm in quarters. They also were the only team to push Seven Hills, losing 15-10 despite playing without one of their best goal-scorers, Owen Johnson, who was injured during an earlier game. Almost nobody on this roster will matriculate next year, making them an early favorite should they sign on in 2024.
Alternatively, there is some argument for the honorary number two squad as Utah Swarm. They were undefeated…with a full roster. Both of their losses came on Sunday with their roster significantly handicapped with players out for religious reasons. They fell by a single goal to Swing Vote and by a pair to Nightfall. Seth Wilson and Derik Knighton led the team with 13 assists, while Breesen Hoehne led the squad with nine goals. All of their victories came by eight or more goals, so aside from their shorthanded Sunday, they were dominant. Stop me if you've heard that before.
Oregon Landslide put together a very impressive resume on their way to the final, with a 15-11 win over Washington DC Swing Vote in semifinals and a 15-9 game against Vermont Equinox. Chinitz-Mital, Theo Schaid-Hefley, and Amaya Shean-Jones gathered the stats, with Sayric Arias acting as an offensive centerpiece for an aggressive attack. With their high velocity offense, teams often had trouble holding them back for long, even if their fast pace would occasionally result in bountiful possession numbers.
Abby Freund, Tamir Hill-Marshall, and Emmett Brosowsky were all very strong for another high-powered iteration of Swing Vote, one of the most stable presences in this particular division. They had to survive some really tough matchups against Utah and a scrappy Philly team just to reach the semifinals. Those matchups might have had them running out of team by the time they lined up across from Landslide, where they fell behind 8-5 at half but brought it back to as close as 11-10 before Oregon pulled away.
One of the tournament's biggest surprises was Virginia Vanguard, who rose from no.15 seed to a seventh place finish. They handed sizable defeats to Rochester Chill and Illinois Hypnosis in pool play, and added a third win with a quality 12-9 victory over Equinox. Evan Moss and Gray Middleton shined with two-way play, tallying eight and seven blocks, respectively, while Middleton led the team in goals and Ross shared the top assist spot with Micah Craine.
Girls' Division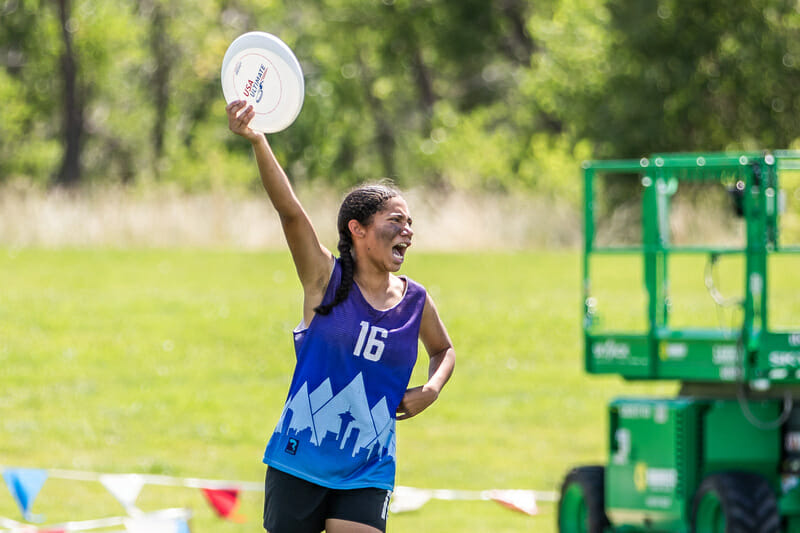 Seven Hills Surge To Title Over Reigning Champs Downpour
In a faceoff between two Pacific Northwest titans, Seattle Seven Hills knocked off two-time defending champions Oregon Downpour 15-7 to claim the girls' division title. While both teams had largely run rampant throughout the tournament — with the exception of each team's matchup against an impressive Utah Swarm squad — Seattle lived up to their name with a seven point run around halftime to effectively seal the upset and the YCC crown.
Even though Seven Hills would go on to dominate the latter portions of the game, it was Downpour that would take the early advantage. They secured a hold and then a break thanks to a backhand huck from Ollie Bunsen to Ren Fraser, jumping out to an initial 2-0 lead. After a few holds, though, Seattle broke back on the sixth point in the game as ZsaZsa Gelfand finally hit Joyce Hui to end a marathon point and tie things up at 3-3. The teams then exchanged one more hold apiece before Seven Hills' Kyliah McRoy tracked down a throw from Hui to secure another break, and Seattle went up 5-4. From there, Seven Hills started to pull away, blanking Downpour in the rest of the first half to go up 8-4, as the Seattle squad capitalized on their Oregon counterparts' mistakes.
"We talked before this game that this game is a celebration and I think people were really playing fearlessly, and so I think that allowed us to attack the deep space," said Seven Hills coach Jack Verzuh about the late first-half run. "We had a couple of shots that didn't work out early, but we didn't give up on them. We kept attacking that space and eventually the shots started working out for us." 
It didn't get better for Downpour after half. Seven Hills kept the break train rolling, with a Milo Brown poach block and goal bookend combo putting Seattle up 11-4. While Oregon were able to stop the Seattle streak there with excellent grabs by Eleni Kauffman and Mara Hindery-Glasinovic, any real chance of a comeback was too little too late at that point. Seven Hills' offense was tidy with 16 year-old U24 standout Chloe Hakimi at the helm, and Downpour simply couldn't generate the breaks they needed to get back into the game.
Around the Tournament
Conceding just 15 goals prior to semifinals, including a 15-6 victory against fellow semifinal-attendee, Phang, Oregon Downpour cut an intimidating figure heading into the final rounds of play. Utah Swarm gave them all they could handle in semis, going up 12-11 late, though the duo of Eli Donahue and Ollie Bunson tossed in seven assists to lead to a comeback win. Liv Fraser (15 goals) and Mara Hindery-Glasinovic (12) proved to be a tough pairing to contain in Downpour's signature fast-paced offense, with handlers sprinting discs back into play and hucks coming frequently and powerfully.
Prior to the resounding result of the final, tier one of the division appeared to comprise Seven Hills, Downpour, and Utah Swarm. After dominating performances on Saturday against Valley Ultimate and Warhawks, they played close games against top teams on Sunday, despite missing some players. Swarm dropped a game 15-13 to Downpour and defeated Rip Tide 9-8, and fell to Seven Hills in semis by a similarly small deficit. Playing with only 12 players in their semifinal, they battled, with both sides dominating offensively, but Seattle won a grittier second half. Their third place match against Phang was also close, but given their short rotation and discouraging losses, it was no surprise to see them unable to play quite as well as they had earlier in the tournament. Audrey Selfridge racked up a triple double, leading the team in goals and blocks while finishing second in assists; Stella Ahnder led in assists and was second in goals.
Philadelphia Phang was the surprise semifinalist, coming from the no.6 seed and earning a 10-9 pool play win over Rip Tide and a 10-7 quarterfinal result against BUDA to reach the penultimate round. They had a balanced squad with a lot of contributors, but the main exception was Grace Maroon. After playing with AMP in the senior division, Maroon's confidence and athleticism made her Phang's ace. But the surrounding skill of their robust roster is what made them strong, especially given that they had some versatile players like Sofia Dillon and Myra Woerdeman to help playing both ways.
One of the tournament's highest risers was no.13 Amherst Valley Ultimate, who won four straight to finish 5-2, with one of those losses being by a single goal to BUDA (which might sting a bit). With only 14 on the roster, their top players racked up gaudy statlines: Eve Macek piled up an astounding 21 blocks to go with 17 assists and 11 goals; Olive Polson-Filas also registered 20 takeaways to go with 20 assists; Nola Busansky went for eight blocks, 12 assists, and seven blocks. A pair of 20-block players is unheard of, no doubt powered by funneling the disc towards them with zone and poach-play.
Boys' Division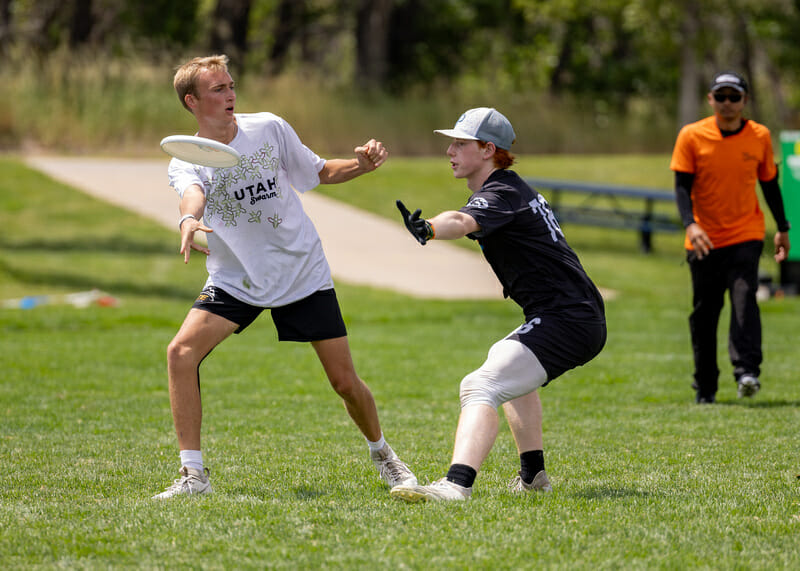 Utah's Swarming Defense, Pristine Offense Drive Them to Second Straight Title
Even with all the Worlds-caliber players across the teams at YCC, nobody came close to competing with Utah Swarm this year. Washington DC Foggy Bottom Boys put up a good fight in the early goings of the final, but Utah's physicality on defense was too much to overcome and they cruised to a 15-7 victory to win their second consecutive YCC title.
Utah seemed to have the edge in every department of the game. They had the best disc skills and most top-to-bottom athleticism, which led to some fabulous shots from Nathan De Morgan to Grayson Rettberg. The O-line was rarely broken on the weekend, giving up just three total breaks in semis (2 late breaks with the game in hand) and finals (the first point of the game). Above all else, it looked like they wanted it way more than any other team.
In the Triforce semifinal, they were bidding on absolutely everything. Every undercut from Triforce had a Swarm defender hounding them ready to get huge for a layout block. Utah jumped out to a 4-1 lead with three straight breaks and never let Triforce back within two. Highlighting the team's depth, six different players — George Taylor, Sam Nichols, Eli Bloch, Herman Dolder, Daniel Jensen, and Bracken Nielson — combined for the goals and assists on the three breaks.
The next generation of Utah talent is going to be scary for the college division in the coming years. There's a handful of guys on this team going to BYU, Utah, Utah Valley, and Utah State, so good luck to all the Northwest teams getting out of the region next year.
Although Foggy Bottom Boys lost big in the final, they had one of the most miracle runs in YCC history. They beat three semifinals-quality teams on their road through the bracket to 2nd place, taking out Seattle, Oakland, and Philadelphia — all on universe point!
The sentiment surrounding this team at the tournament was a bit controversial. Representatives from teams that lost to Foggy Bottom Boys claimed that they were "beatable" and "not that good," but DC kept getting the job done and proved to be indeed that good. Marcus Lee and Joshua Lightner were the main duo on the team and were a nice engine for scoring goals. Mitchell Blaha was another big contributor.
Around the Tournament
The game of the weekend occurred prior to the final, when Foggy Bottom Boys took down Philadelphia SEPDA on universe in semis. The DC offense was stellar, with only five turnovers in the game, anchored by handler Marcus Lee and cutter Josh Lightner, demonstrating skill and patience. Their ability to great to the breakside gave Philly a lot of trouble. But the SEPDA duo of Sam Grossberg and Kyle Ford tallied nine assists and nine goals, respectively, and some clutch plays by Michael Maroon — including a huge layout score to make it 14-13 — kept Philly in it. DC, who had the disc up 14-12 coming out of a timeout, fended off the comeback, losing the disc but getting it back on a contested foul, and closing with an O1 on an away pass up the breakside from Lightner to Matthew Burris. Big shout out to Foggy defender Micah Wagner, a rare U20 defensive specialist.
Triangle Triforce had two of the tournament's most effective offensive players: Tobias Brooks and Seth Fried. Both tallied 19 assists and were able to act as offensive engines, granting a lot of horsepower when together. Brooks has a well-earned reputation, but people should get familiar with the quick-footed handling of Fried. They faced a tough schedule — DEVYL, Philly, BUDA, and Oregon Trainwreck — and took their wins confidently. A strong system and polished game were the teams two major strengths, but they lacked the explosiveness downfield to secure some of their riskier choices. A late comeback bid against Utah in semis fell short after they dug themselves too deep a hole at the start of the game.
The event's Cinderella teams were no.9 Colorado Springs COSmic and no.23 Kentucky Khaos. COSmic thumped future-finalists Foggy Bottom 15-8 in pool play, and added a 14-13 win over Khaos to end their weekend 4-2. Aidan Mullet and Benen Shea topped the tables for them. Kentucky was actually partially formed from Minnesota teams, joining players from the famed Pi program that finished second in the mixed division last year. With the likes of David Diddle joining forces with Micah Davis and Ryan Dusaire, it was no wonder they outperformed seed, crunching Trainwreck (who topped COSmic) 13-9 and upsetting Atlanta 13-10.