The first medals decided in Limerick!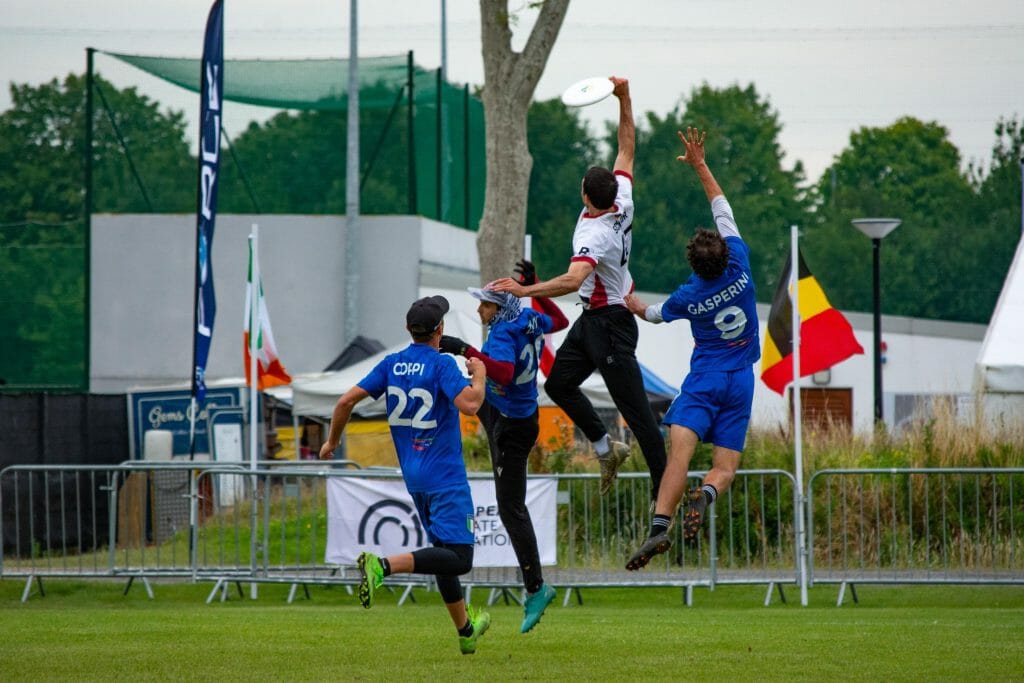 The bronze medal games all took place on the penultimate day of the tournament in slightly inclement conditions. It's sometimes difficult for teams to recover from a disappointing loss in the semis and go again for a game that isn't the one they dreamed of, but all three games were very competitive and featured some great plays. Eventually, Ireland defeated Great Britain 15-10 in mixed, the Czech Republic won a massive medal for them in women's by beating Italy 15-12 and an experienced German open team edged past Italy 14-12 to secure a third medal in a row at EUC.
Ireland use late run to take third
These teams played in power pools, with Ireland coming out on top in a game that was close in the first half but saw Ireland make late breaks to win. This was more of the same in the early going, with holds from both teams to 2-1 Ireland. The Irish took the first break but GB roared back by scoring four points in a row in response, taking a 3-5 lead. Ireland took a time out and fought back with a 4-1 run, but GB broke to take half 7-8. Nearly half the points had been breaks, seven to eight holds, with only two more clean holds after four of the first five points were quick, clean and easy. Despite the number of breaks, the turnover numbers weren't huge; only three points featured more than one turn. Both teams played a lot of zone, with GB at one point making 70 passes in one possession to score1. The half also featured a totally incongruous gust of wind, picking up massively for about two points.
Ireland responded with a break of their own out of half, an ambitious blade through the zone by Connor McHale knocked away. Ireland switched to match on the next point but were sagging off into lanes and actively looking for opportunities to poach. GB held but turned and were forced to take a lot of passes outside the endzone. At 9-9 there were several turns, with GB trying to work out a way through the match marking of Ireland. Briggs shot deep to an uncovered Lewis but threw too flat, while Ireland were making execution errors and dropping passes. Ciaran Costello eventually toed in a pass from Stephen Jones for another break.
Another zone, and another 49 passes from GB. They turned and, despite getting it back thanks to a block by McHale before another drop returned the disc to Ireland, a late bid left Andy Dick out of position to stop a simple pop into the endzone. Ireland were up 11-9 and were on a 4-1 run out of half. The roll kept going with another turn shooting deep for GB, and Ireland worked it downfield to score a clean break. GB took a timeout.
Ireland went back to the zone, and GB scored a 38-pass hold for 12-10. The game was still close on paper, but Ireland were very clearly in the ascendency, their body language much more positive than many of GB's frustrated players. A quick hold with a shot to Brionagh Healy got Ireland's D line back out, and after a block by Robbie Brennan they scored with an expansive flick by inveterate gunner Ronan Callahan to Stephen Jones. Ireland were 14-10 up, and finished the job with another quick break. A drop on their own endzone against the zone put GB in a tough spot and Ireland needed only two passes to secure their medals.
"We've been trying to focus on finding what brings us joy and playing with joy, and remembering that we're here because we want to be and we chose to be," said key defensive handler Sinead Dunne after the game. "It's brilliant [playing in front of a home crowd], they were part of that win and it's very appreciated. We try to ignore it on the pitch but it's very nice now!"
Dunne was one of many Irish players to impress all week and had three goals, an assist and a block in the game. Ciarán Costello had two goals and assists, while Sam Murphy, who had missed much of the tournament due to injury, contributed two goals and two blocks. McHale finished with four assists and a block for GB in the loss, with Ellie Taylor adding two goals.
Germany secure another medal
The mixed bronze game was played in the game slot before the open and women's games. The weather continued to deteriorate throughout the day and both games started in strong winds. In the open bronze game, both teams started with zones. Germany worked through with two efficient holds to start the game, while the Italian O line took longer, 33 passes, to get through the German zone. The first break came on the fourth point of the game, an extremely aggressive and front-loaded 2-3-2 zone forcing a bad reset and the Germans capitalized with a three-pass score. With the wind now at the backs of the Italian O line, the Germans switched to match and a bad huck gave them another chance to break. An injury called by Conrad Schloer gave Germany the chance to put Nico Muller on the field for the break and he delivered a picture-perfect deep shot to Paul Herkens to set up a short field offense that the Germans executed to go up 4-1.
Italy needed to answer. A calm, efficient hold against the German zone put them out on D with the wind at their backs. Their zone penned the Germans in but a swing from Hartley Greenwald opened up the field, only for a drop to end the possession seconds later. Italy didn't capitalize, though, and Germany held.
A few points later Italy had another chance. They switched to match and an inside shot from Greenwald was too far in front of Muller for the handler to reel in. Italy turned on the first pass. Germany worked it up to the endzone and this time Muller's inside flick was too far and Italy took over with a full field to go. This time they did work it up and scored, Luca Tognetti finding Arturo Laffi for the break.
Germany struggled on the next possession as well, but eventually held after two turns per team. Italy did get back on level terms shortly afterwards, getting a break from a power line to even the game up at 7-7. Germany held to take half with the game on serve.
The teams tightened things up in the second half. In the first there were 16 turns, but in the second there were only nine, with five of those coming in a nervy final three points. Clean holds took the teams to 10-9 to Germany, with the first turn of the half coming on a shot from Simone Gasperini to Laffi in the endzone that hit the turf despite a fantastic layout bid from Laffi. Riccardo Zanni saved Italy, getting a deep poach block and then catching the score to bring the game to 10s.
Germany kept holding cleanly, while Italy dealt with turns. A drop here, a throwaway there, Italy kept giving Germany chances to extend the lead. Each time they just about managed to hold on. At 12-12, Germany's O line turned for the first time in the second half. A deep shot drifted too far for Stefan Dösscher to reel in, giving Italy what seemed an unlikely opportunity to take the lead for the first time in the whole game. Tight dump D from Germany forced a high stall shot to the endzone though, where no Italian receiver was anywhere close. The shot to Dösscher was perfect at the second time of asking, and Germany went up 13-12 with time expired. Game to 14.
Italy had a chance to take the game to universe but fell just short. An around break dropped in front of Gasperini to give Germany a chance to win on D. Their offense was slow and struggled to generate yards downfield until Jonathan Meyer-Bothling spotted Conrad Schlöer with steps on his defender pointing towards the endzone. A loopy inside flick went up and Schlöer took it down surrounded by three blue shirts, snatching the bronze medals for Germany. Holger Beutenmüller turned in a vintage performance with two goals and three assists, while Zanni, Laffi and Gasperini all notched two goals and two assists for Italy.
"We were waiting for a fight like that from the Italians," said German captain Dösscher2. "There was more wind in the first half and it was difficult to score upwind. When we scored the first break we felt in a good position but obviously they didn't go away and came back to put it on serve for the half. We had a couple of opportunities in the second half to score the downwind break and we missed it, they played really great defense after their turns. We had a good O line second half to get some clean holds and when we turned it we got it back. Then the final point, we got the break that we were looking for the whole second half!"
Dösscher said that while the result wasn't what the team had been hoping for, he was pleased how the team had regrouped: "For sure it was an emotional loss earlier today. We didn't get our offense going against Belgium, that was very tough. There's always the big prize you are looking for and when that is over it is hard to find the right push for the last game but you just have to focus on the last game for this group, we worked so hard all season and we just wanted to enjoy it. We had a good fight and just had to get our head in the right space to be there all game."
The Czechs realise their promise
The Czech Republic had a team in Limerick full of players that have played a great deal of ultimate this season in preparation for EUC. Italy, on the other hand, were an enigma coming into the event but were coming off a titanic effort in the semi to push Great Britain all the way to universe point before losing out.
The game as a whole was turnover-heavy. Both teams made a number of miscues in the windy conditions in the first half in particular, while the final few points were much cleaner. That tone was set in the first three points, which saw 11 turns between the two teams. After two long, grinding holds the Czechs made the first breakthrough with a clean break to go up 2-1. A combination of their zone and the difficult conditions forced a throw too wide for Italy, and the Czechs took advantage with some handler movement to go up an early break.
They had an opportunity to solidify their advantage on the next point when Markéta Hudcová got her hands on a throw over the zone and turned it over, but a wayward swing let Italy hold on a short field. Clean holds from both teams pushed the score to 3-3.
A turn-heavy point got the game back on serve. Italy's zone continued to cause the Czechs issues and, after first getting close and turning on a shot into the endzone, they struggled to leave their own half. The Italians kept getting a look at the endzone to get the break back and, on their fourth shot into the endzone of the point, managed to hold on to one and pull ahead.
Italy had another chance to break but a shot to the endzone after a quick turn again fell to the turf. They were using Irene Scazzieri as an assassin on the dangerous young Czech star Kristýna Tlustá, a cutter who spends a lot of time around the disc and possesses outstanding burst to complete short area give-and-go movement. After a good block by Lucie Vávrová got the Czech O line a quick start, though, Tlustá was off to the races and couldn't be caught, give-going for a score to level the game.
Both teams persevered with zones3 and offenses largely struggled to move the disc quickly, other than Francesca Sorrenti throwing backhand bombs for the Italy O line. At 6-6, the Czech zone forced a bad swing from the otherwise excellent Elena Benghi and snatched a quick break, taking the score to 7-6. Italy held next and then forced the Czechs to make nearly 50 passes on a hold, but the Czech Republic went into half at 8-7, a break up.
Italy were not going down without a fight. They came out swinging in the second half and took the break right back, converting with a line featuring Benghi, Saczzieri, key cutter Gaia Pancotti and impressive handler Susanna Casarini. Scazzieri scored the goal, and the Italian celebrations showed they felt they were right in the contest.
Italy had come out with match D in the second half and caught the Czechs out on the first point. The Czech offense adjusted and put in a clean hold at the second time of asking. Another marathon point followed with Italy eventually managing to hold on the ninth possession after blocks in both endzones. Both teams were still running hard but the stars for Italy had played a lot of points and the team was beginning to look slightly tired, making some looser passes and decisions that weren't as clean as in the early stages of the game. Italy turned three times on O at 10-9 down and all looked to be based in fatigue4. Eventually the Czechs cashed in to go up 11-9.
The teams traded dirty holds with errors starting to creep in on both sides – a Czech drop was followed by a throw that floated out of bounds from Italy. Both teams had played semis earlier in the day and the long tournament looked to have taken a lot out of them. A drop on a tough layout catch by Scazzieri was punished quickly – Alžběta Hodačová hucked immediately to Scazzieri's mark, Kateřina Janská, who had taken off while the Italian was still picking herself up. The 13-10 lead looked imperious with Italy struggling and time running out.
Italy held to give themselves a chance, but the Czechs scored cleanly. Italy again held despite another turn shooting into the endzone, getting it back on a huck that went too far and methodically working it downfield until Sorrenti hit Scazzieri with a peach of a backhand. The Czech Republic were up 14-12 with time expired.
Italy got a turn as the Czechs looked to hold for victory, Scazzieri pulling down a high-stall prayer. The Czechs flew at the unders, finding energy with victory so close. First Aneta Höschlová laid out to try and prevent a throw and, after it completed, Tereza Havelcová swatted it away with a run through block on the next pass. Things slowed down and Tlustá called a timeout at about the brick mark. The Czechs ran a reset and isolated Tereza Mrázová at the front of the stack. She caught it on the break side and sent a loopy flick to Barbora Hrušáková for the win, sparking wild celebrations. This was only the third Czech medal at EUC, and the first since 2007.
Scazzieri was brilliant for Italy in a losing effort5, as was Sorrenti who at times looked like the only player that could throw deep on either team6. For the Czechs, Tlustá showed again why she is so highly rated with four goals, three assists and two blocks but Mrázová and Havelcová contributed seven blocks and five assists between them while Hrušáková and Vávrová pitched in with three goals each. It was an excellent team performance by the Czechs all week.
"We knew we are a super great team but this is just amazing and unbelievable," said Hrušáková after the game.
"It's an honour of course. There is not just East Block on our team, there are many different teams. We had many training camps, that was always so much fun and it was just so nice to see the team grow. That was my favorite thing but I cannot really choose one! Our families and friends have been supporting us a lot throughout the whole tournament and throughout the whole season so we thank them very much, and thank you so much to our coach as well."
---