A new champion emerges in Europe!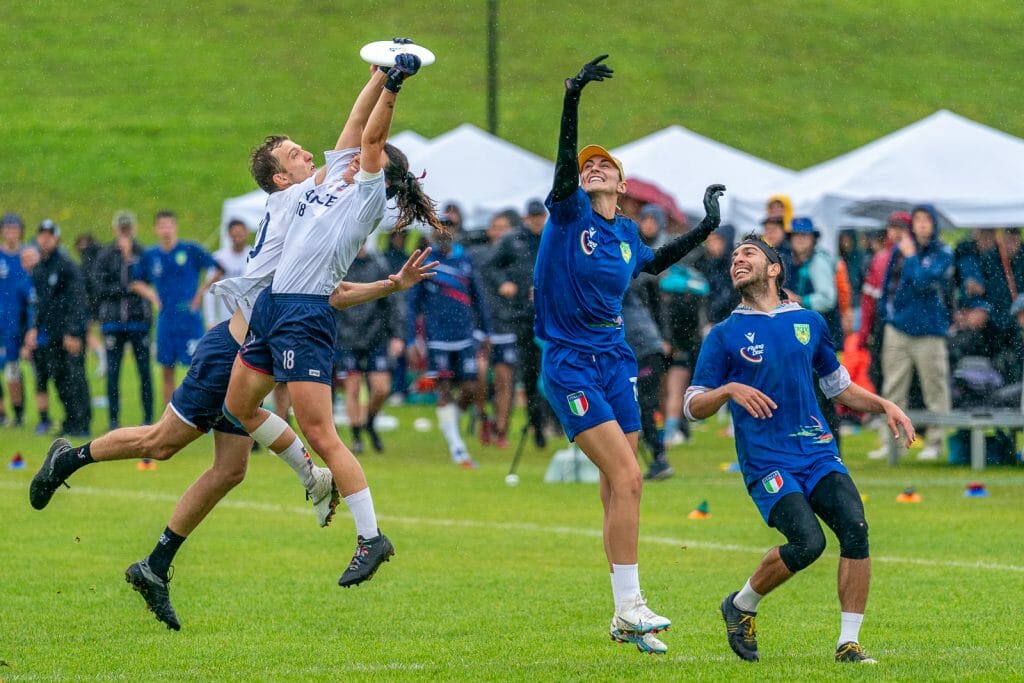 The mixed final was the last game of the tournament and the weather had deteriorated slightly with heavy rain and some extra wind. The Italians being in the game was a huge surprise. They had taken huge upset wins over Germany and Ireland, fuelled by an inspired David Barzasi and a strong cast of extremely young players. France, on the other hand, were expected to be here. While there was also some real youth on the roster, they were supported by a strong cast of experienced players including some of the best handlers in the division. Italy had played without fear up to this point, whereas France had looked clinical and confident outside of a universe-point win over seventh-placed Poland in the power pools. Either way we were guaranteed a first-time champion, with Great Britain winning every mixed gold to this point (including a universe-point win over France in 2019).
France make a statement
The French came out on offense and wasted little time showing just how confident and ready they were. After seven passes around midfield, Gael Ancelin ripped a flick huck deep and Sacha Poitte-Sokolsky skied to bring it down. Ancelin was being guarded by Barzasi, showing just how much the Italians were focused on slowing him.
On Italy's first O point, they centered the pull and immediately lost possession thanks to a flying layout block from Simon Ruelle on the endzone line. Young star Malvin Schmidt threw an around backhand to Benjamin Fenrich for a one-pass score, sparking wild French celebrations. They repeated the trick on the next point with a high-stall turn on the third pass of the point from Italy punished with an around backhand from Schmidt, this time to Lison Bornot for a 3-0 lead less than five minutes into the game. Italy took a timeout.
Things improved slightly for Italy on the next point. The offense was able to generate some movement and worked it to Barzasi on the open side. His flick huck was wayward, though, and went out of bounds around the French brick mark. Justine Bru brought it in and, after a contested stall call, threw it deep to avoid a stallout. Lison Bornot elevated above a pile to bring the disc down in the endzone to extend the lead to 4-0. It seemed not only were France playing well, but luck was on their side as well. Their D line had thrown three passes and scored three times.
Italy finally held with nice movement in a horizontal set. Their celebrations were muted. Barzasi remained on the field again, this time marking veteran handler Nasser MBae Vogel. France worked the disc to the endzone1 where Ancelin looked for a dump. Good D by Barzasi meant he had to throw a tough around backhand on a high stall, where Poitte-Sokolsky scored ahead of teammate Coralie Fouquet.
Italy sputtered again. Nicole Lafiata, one of the players of the tournament, tried to find Barzasi in the middle of the field but Schmidt poached into the lane and got enough on the disc to force a drop. A blown switch by Italy left Bru wide open on the front cone for a 6-1 lead with only 16 minutes of the game gone.
Italy again turned after some better movement, handler Joshua Poltock throwing into the back of Brice Nemoz as he tracked his mark. For the first time, though, France didn't convert. Italy captain Andrea Fantini managed to catch up to the deep cut by Eva Bornot and knock it away. Italy turned again, but a smart zone call after a French turnover on their own endzone line got it back again and eventually they scored a hard-earned hold.
Italy felt they had found something that worked. The zone came out again but the O line handled it well. A bid by Federico Baraldi just outside his own endzone was close, and the subsequent pass from Chloe Ollivier was tipped by Alice Novelli requiring a remarkable reflex grab from Ancelin, but the scoring pass from Romain Chemineau to Mbae Vogel was wonderfully delicate considering the high-stall, high-pressure situation. France were up 7-2.
Schmidt did enough to put off the taller Samuele Ruscello on a huck in the next point and, after a few passes across the field, unleashed what is quickly becoming a booming flick huck to Paul Boillon for yet another French break to take a commanding (and fully deserved) 8-2 lead into half. France were flying. They turned twice all half with both coming on the same point. Italy had only turned seven times, hardly an awful number, but France were just too clinical.
Foot on the gas
France must have talked about keeping the intensity high at half, because they came out with seemingly even more intensity. A deep shot to Barzasi, the play that propelled Italy in their big games up to this point, was swatted away by Fenrich. After a wonderful huck score was called back because Schmidt picked up his pivot foot on the throw, Pauline Berte saved possession with a great layout catch and, after more slick French O, ended up throwing the score to Fenrich for his bookend. A sixth break for France, and a 9-2 lead.
Italy held cleanly, a perfectly placed deep shot by Lafiata to Letizia Gatti. Their D line finally generated a turn next time out, the zone forcing a bad reset. They scored cleanly for their first break of the game, although the score itself wasn't exactly clean. A deep shot for Alessandro Nanni hit him in both hands but squirmed out of his grasp and looped up in the air. Gatti, following up on the play, laid out at the back of the endzone for a fantastic catch to secure the break. France called a timeout to break the momentum Italy had started, bringing it back to 9-4.
Italy went back to match and France held cleanly. A Barzasi deep shot was too flat on the next point and France, again, punished an Italian error. The D line offense never looked in any trouble and the Bornot sisters linked for another score, Eva throwing to Lison.
The next point was by far the messiest of the game. Italy turned on a huck that went at least 10 meters out of the back of the endzone, but France gave it back with a wayward shot of their own. The teams traded bad reset pass turns, then another bad huck from Italy was answered with a sliding drop from France. A fourth turn of the point from Italy, another poor huck, was met with a fourth turn from France to – guess what – another uncompleted huck. A tired-looking reset from Italy on the next possession was point blocked by Fenrich and quick French movement down the break side eventually ended the marathon point. 12-4 France.
Cruising to the finish
With such a strong lead, France had no reason to push things or take risks. Italy held cleanly next point and then tried the zone again. It slowed the offense all the way down and held out impressively but never truly looked like forcing a turn. The shot from Poitte-Sokolsky to Romain Chemineau for the goal was a lovely inside break, and put France even further up.
A Barzasi deep shot turned again, Berte getting the better of Lafiata in the deep space. Italy deserve credit, though, because they put intense pressure on after the turn and got the disc back on an underthrown huck. They scored with the second chance to get the game to 13-6.
All it did was delay the inevitable. France held cleanly against the zone again although it did require a sharp reaction catch from MBae Vogel for the score after it was bobbled in front of him. The D line had a chance to win it after a great block from Nemoz in the endzone but Italy again got the disc back and converted to make the score 14-7.
A huck on the final point was intercepted by Gatti for the French O line's second turn of the game, but a bad second pass sailed over the intended receiver's head for Italy. The disc found its way to Fouquet and she threw a loopy backhand to Ollivier at the front of the endzone. She laid out, caught the disc and slid onto her back with a huge smile on her face having caught the point to secure the trophy. France swarmed the field and MBae Vogel, at 43 years old and with 23 years of playing experience, sank to his knees having won his first EUC title.
"This is what we trained for, it is so wonderful and I am so happy about it! It was a wonderful week and it ends in a good way, I like it so much," said an incredibly excited Lison Bornot after the game. "We have a thing with the lotus, the flower, we have stickers about it. On defense we play hard and we destroy them and on offense we stay calm, trust each other and stay focused, stay a lotus."
The French broke the game down to three key stages in this tournament. "We have three goals, point after point. First to be the first to get to four, then to win halftime, then to win the game. It was a really good game and they are really good players, we didn't expect to win by so much. The next step is the World Championships next year in Australia. We want to make three big teams for the three divisions so that's the next step for the teams."
The French turned 10 times all game, with six of those turns coming in just two D points. It was an incredible offensive performance from the team that has looked all year to be the best offense in Europe. Ancelin, MBae Vogel and Fouquet have all been excellent in the handler positions all year, while the D line is full of young players that look set to push the next generation of French ultimate on. Schmidt, Ruelle, Ollivier and the Bornot sisters are all 22 or younger, while several other members of the team are only in their mid-twenties. This is a team built not only for this EUC and WUC cycle, but in many cases for the next as well. After losing the last EUC final in heartbreaking fashion to Great Britain, France are now the mixed European champions.
---
Thanks to an acrobatic catch on the sideline by Manon Coyne. ↩