Joel Clutton's last-second tip in regulation saves Salt Lake's season.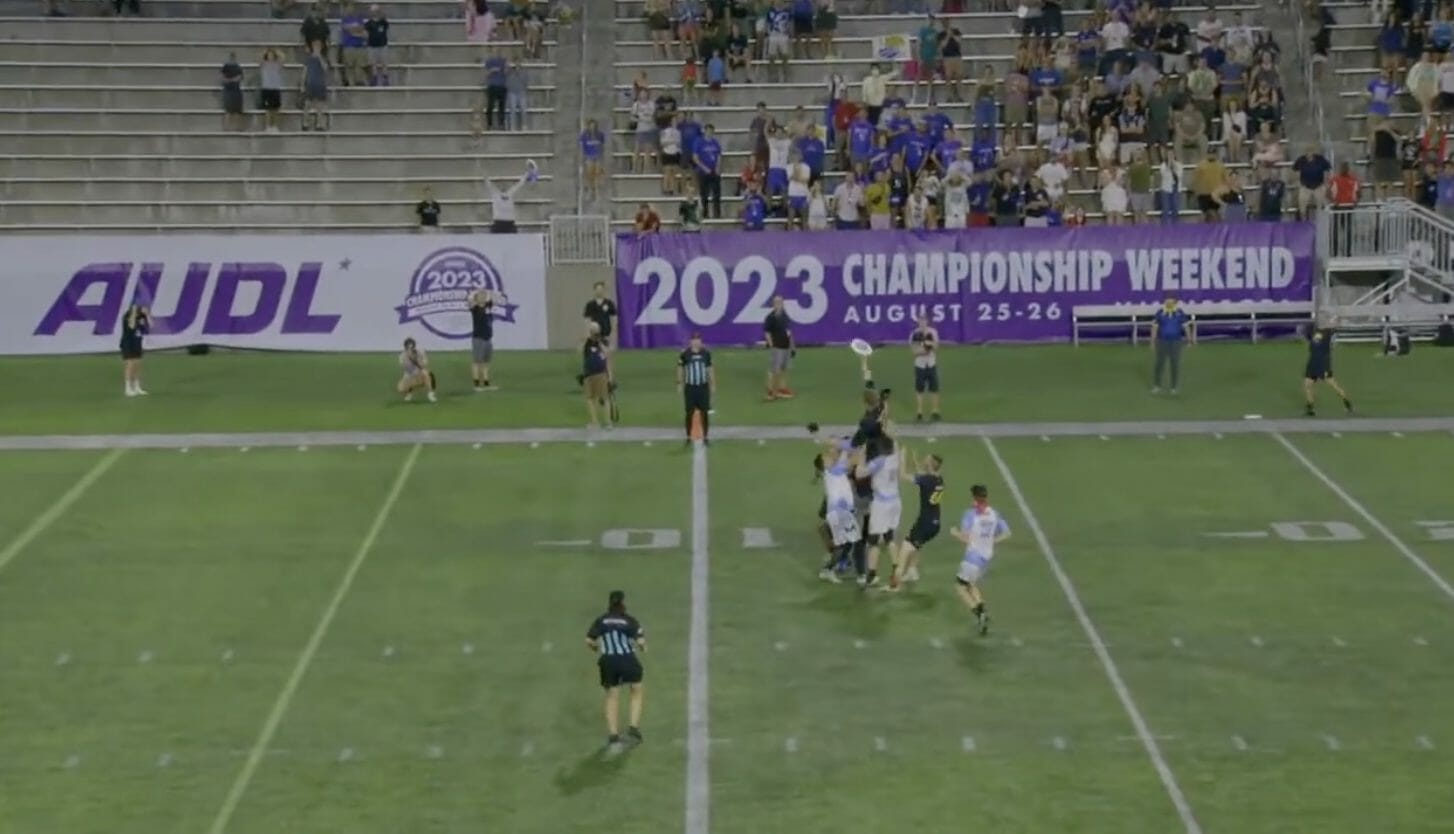 EAGAN, Minn. — Thanks to a buzzer-beating tipped score at the end of regulation, the Salt Lake Shred pulled out an improbable overtime victory against the Minnesota Wind Chill, 19-18, to secure their spot in the AUDL championship game.
Before the game, Salt Lake exuded a quiet confidence. Coach Bryce Merrill spent his pregame press conference time emphasizing that the team was just focused on scoring the first point, and that everything that happens after will come. "Our risk this weekend," first year Shred player Grant Lindsley said in his pregame press conference, "is…coming in and feeling overwhelmed by the moment and getting caught up in the environment and the pomp and circumstance and maybe the game feeling too fast. But that also means that we can be that risk to another team and coming out and surprising them with the hunger and excitement that we don't have to dial up. The hunger and excitement is going to be there for us."
Before the game, players and coaches for Minnesota shared their excitement to put on a show for its home fans. "This is my seventh year on Wind Chill," Minnesota captain Brian Vohnoutka said, "and it's amazing to see how the sport has grown and the amount of fans who we have behind it."
Despite coming in as a sizable underdog, the Wind Chill had a few advantages. They were playing in front of a large crowd (just under 2,000 fans), and their energy was palpable. Before the game, Minnesota was going through their warm-ups with a quick pace and a lot of noise — it helped that anytime a player retreated to the sideline to grab a sip of water, the crowd would cheer for them.
"We appreciate all the support; it helped us a ton," Wind Chill head coach and general manager Ben Feldman said after the game. "No way that game is played the way it is without our crowd. I think there's a huge advantage for us."
A swirling wind gusted around the stadium and also helped the Wind Chill's plan to muck up the middle of the field limit Salt Lake's options. The Shred consistently needed to turn to their second and third looks to get their offense moving.
The close, back-and-forth first half was a perfect contrast to New York's dominating opener against Austin a few hours before, but as the teams adjusted to a new stadium, the game was sloppy. It took Minnesota until the fourth point of the game to put together a clean hold, as the nerves of the moment — and a few moments of great defense — propelled Salt Lake to an early lead. Joel Clutton, Ben Ashton, and Will Selfridge each had impressive blocks on away shots that stopped would-be goals for the Wind Chill.
For much of the first half, Minnesota's D-line offense, featuring Paul Krenik, Ian McCosky, and Bret Bergmeier, looked more effective than the O-line unit helmed by Will Brandt, Abe Coffin, and Quinn Snider. Brian Vohnoutka was a standout on both lines and made the crowd burst with excitement with an early sky that clinched the Wind Chill's first break. Though the Wind Chill had a 3-2 lead at that point, a subsequent 6-3 run gave momentum back to Salt Lake, who took an 8-7 lead into halftime. Neither team looked particularly comfortable against the other and the outcome truly hung in the balance.
A superb huck from Abe Coffin to Snider opened the second half and set off a back-and-forth finale that featured everything a fan could want in a riveting ultimate game. The teams traded hold after hold as the wind died down and each team made adjustments aimed at moving the disc more effectively. Salt Lake found success moving the disc quickly after fielding the pull, often backed into their own end zone. Their comfort playing small ball in tight spaces got them out of a few tricky situations with relative ease, but the Wind Chill still hung around and made life tough for the Shred.
"They played a lot of sag on their defense," McKay Yorgason said, "and they double teamed and just did a lot of different things that we hadn't seen before. We tried preparing for it, but they're just good. They're athletic. And so some of those different schemes made us look at different things. And we, as you can tell, turned it over a couple times from it."
Dylan DeClerck was firing up the fans after scoring a tough goal through contact to reel in a third quarter break that brought the score to 10-9. DeClerck was then shown on the in-stadium video board waving a towel to hype up the crowd in what could be an iconic moment for the franchise, and certainly was a loud moment in TCO Stadium. That break was the only non-offensive score of the third quarter, but the Shred scored last and the teams entered the final frame tied at 12-12.
The back and forth nature of the contest continued as the teams put together consecutive 3-0 runs in the fourth quarter as they looked to take control of the game. Minnesota had their moment midway through the fourth: Jordan Kerr misfired an inside flick, and Vohnoutka reeled in a tough huck grab through contact to set up a red zone score. A few moments later, McCosky hand blocked Jacob Miller, and Minnesota punched in the short field goal. Suddenly, a tied game was 15-13 in the Wind Chill's favor. Minnesota was storming the field after every goal with the crowd going wild.
Salt Lake fought back, first with a gritty hold from their D-line offense and then from a break after Johnny Hoffman denied a huck look for Quinn Snider. With the game tied, the Shred had Minnesota trapped on the back line of the end zone. The Wind Chill got it out, but the collective pressure of the defense and the moment stagnated their offense and the Shred forced a stall. Salt Lake called their last time out looking to convert the break. Kerr used every inch of his frame to gather a low disc near the sideline and quickly popped up to flip the disc over the end zone line to Luke Yorgason. Salt Lake was now up 16-15 and was playing with momentum on their side.
With just over a minute left in a tie game after Minnesota held, the Shred didn't have to force anything as they looked for the winning goal. Lindsley's low huck was aimed at Selfridge, who had steps on his defender, but he attacked the disc early and couldn't bring in an overhead catch. After a time out to sub on the offense, the Wind Chill retook the lead when Brandt lofted a perfectly placed flick huck to Snider.
There was little hope left for Salt Lake with just 17 seconds on the clock. The Shred worked the disc about one-third of the way up the field before sending a floater up towards the endzone, hoping for a miracle. The disc was coming up short of the goal line, though, with the clock at zero. Joel Clutton, on the field to provide size for just such a situation, leapt into the air above a huge pile of Wind Chill and Shred players and tipped the disc towards the end zone right into the hands of a waiting Elijah Jaime. It was a magnificent play on its own, with Clutton coming out of the end zone, timing his jump around a pile of bodies, and getting just the right touch and spin on the tip, made all the better by the magnitude of the moment. A stunned crowd thought they had the improbable win locked up; instead, the game went to overtime.
So often, the team that makes a late comeback in regulation carries that momentum into overtime. The Wind Chill themselves are familiar with that progression from their unexpected Week 1 win back in 2021. Instead, it was Minnesota who stood out in overtime. Tanner Barcus took his turn as the hero of the moment, running through Selfridge's pass for a short-field block. After a quick timeout, Colin Berry flipped an easy backhand to Tristan van de Moortele and Minnesota had a break to retake the lead.
Salt Lake nearly folded then and there, as Selfridge couldn't quite get his hands around a huck, but McKay Yorgason saved the day with a run-through block on a Minnesota reset, and the Shred took advantage of their second chance to get on the board to tie the game once more.
"I mean, when we're on I love playing defense," McKay Yorgason said. "I play more offense, but I love being in on D. And when we're in, it's just clamp down, shut down your guy. And that's what we tried to do. I mean, that was only my D because the people downfield also shut down their players. And then I was just in the right spot for it. So it was a big play. But it was a whole team effort on that one."
Van de Moortele threw a short field turnover that led to a Salt Lake break with 34 seconds left as Chad Yorgason quickly found Tony Mounga alone in the end zone. Minnesota had one last chance to tie the game and send it to double overtime, but a troubled possession left Coffin sending up a last ditch huck that came up well short, blocked by Clutton.
"It's tough in those low-time situations to make good progress and both teams had a good plan for it," Feldman said. "The defense knows–it stagnated us. It's tough, those are stressful moments and you want to get that one to crack it open and they did a good job of shutting it down so we couldn't quite get there for one."
"I wouldn't say it's our best game we've ever played," McKay Yorgason said. "But credit to Minnesota, they definitely push us in places that we haven't been pushed before. And I think they were very deserving to be there. They made it a very good game. And at times, I thought they had it. But it was crazy."
For Minnesota, this game could be a launchpad to a brighter 2024. "I'm proud of these guys," said Feldman. "They deserve to be on this field. I think we showed we deserve to be in this final four. And no one had us putting up a fight."
Two of the Wind Chill's brightest players in the game were Paul Krenik and Ian McCosky, each of whom notched three blocks to lead the game. Known as offensive stars on their college team the young players adding significant defensive grit to their skillset bodes well as the Wind Chill look to build on the success of this season and carry it forward to more Championship Weekend appearances in the years ahead.
Salt Lake will go on to face New York in a rematch of their Week 12 game that the Empire won 23-19. "I think we have learned from the first one that we can play with them," McKay Yorgason said. "If we play our game, we just have to keep trying, like we have tonight, keep on playing throughout the whole game, not give up." The Empire showed on Friday night that they will play tough for the entire game, no matter the score.
For Salt Lake to improve their previous showing and push through for what would be a monumental upset win, they'll need to sharpen up their play. Salt Lake's 18 turnovers and 60% hold rate might have been good enough to beat the Wind Chill, but it won't stand up to the Empire's ferocious defense.
Some elements the Shred might want to put in the game plan for Saturday night's contest: Clutton's clutch performance; Kerr's seven assist, three goal effort; and Ashton's unrelenting defensive effort. It will take all of that and more to knock off the Empire, but for one night, Salt Lake can revel in the greatest win in franchise history and a night to remember under the lights in Minnesota.