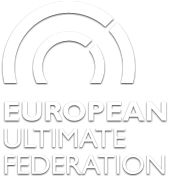 On November 28th, the European Ultimate Federation held a General Assembly, during which a new Board of Directors was elected. Here is the new board.
* indicates a new board member
Andrea Furlan (AUT) – President
Becky Thompson (GBR)* – Secretary
Ted Beute (NED) – Treasurer
Gabriele Sani (ITA) – Development
Haude Hermand (FRA)* – Competitions
Heidi Pekkola (FIN)* – Gender Equity & Good Governance
Henrietta Papp (HUN)* – Spirit Of The Game
Mark Kendall (GER)* – Youth
Ricardas Zareckis (LTU)* – North & East Development and Education
Matthias Zaccarin (DEN) – Auditor
Lubomir Botev (BUL)* – Auditor
The full meeting minutes from the general assembly can be found here.