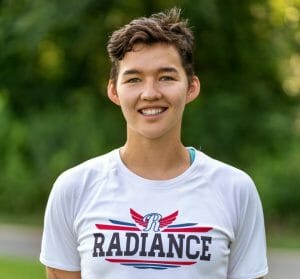 Ultiworld is excited to announce that we have hired Lindsay Soo as our fifth full-time employee. Soo joins the company as a Video Producer and will work on both our live-streaming efforts and our growing post-production needs, including video podcasts, special features, and other projects.
Lindsay has been working with Ultiworld as a contractor for more than two years. They directed and edited Slow Burn, Ultiworld's documentary short about Raleigh Ring of Fire that debuted in 2020; served as a Technical Director and Producer during Ultiworld's coverage of the 2021 and 2022 College Championships; and edited a selection of Ultiworld's podcasts. She has been working in film, audio editing, and photography for years; see a selection of her work on her website.
"We couldn't be more excited to welcome Lindsay to the full-time team," said Ultiworld founder and editor Charlie Eisenhood. "They have already proven to be a great fit, and knowing that they will be able to commit more time to creating content for the ultimate world is great for the sport."
Soo is also a highly accomplished ultimate player. They play for Raleigh Phoenix in the USA Ultimate Club Division and the Raleigh Radiance in the Premier Ultimate League. Soo won the 2021 Ultiworld Player of the Year Award in the Women's Division and was named the 2019 PUL Playoffs MVP.
"After almost a decade of playing and consuming ultimate media, I'm thrilled to join the Ultiworld production team full time," said Soo.
This is Ultiworld's first full-time hire since 2018. As the sport returns to full capacity following the COVID-19 pandemic, we are hard at work to grow alongside the game by continuing to advance our live-streaming and video offerings. We have made significant investments into higher quality broadcasting capacity and have partnered with USA Ultimate, the World Flying Disc Federation, the American Ultimate Disc League, the Western Ultimate League, the Premier Ultimate League, and the Con10ent Tour on streaming in recent years.