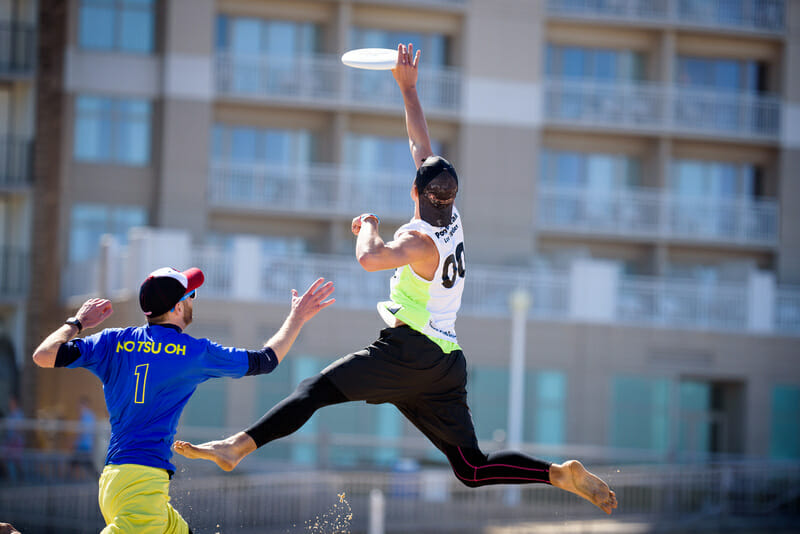 While Club Nationals offers up a very similar team list every year with mainstays like Fury and Ironside, Beach Nationals — now in its second year — allows for a great deal of creativity with its hybrid blend of competitive ultimate with laid-back beach vibes.
Here, we rank the team names from across all divisions at Beach Nationals. We'll start with the worst.
Tier IV
This tier is rife with boring names and try-hards, and occasionally boring try-hards.
And The Warhawks
Bayonet
Fludwhale
Humiliswag
Sailors
Weekend With Bernie
Yetis On The Beach
The Bandits
Big Fish
Fog City
Fuster
Lord Fairfax
No Tsu Oh
Point Break LA
Squirtle Squad
First In Flight
Sand Witches
Throwtorious RBG
Charge!
Overrated
Over The Hill
Shostakovich (And The Angry Buddha)
Swamp Rats
Johnny Walker
No Country
Old Line
Sandblast
Scrapple
Sol Drift
Terror Bulls
Tier III
Browatch
Jaybirds
Paranoia (They can move up to Tier 2 with Harvey Danger jerseys)
Somerville Youth (Actual youths and that's just funny)
Baltimore Flatball Club
Comic Sands
Erie Brig
Opig (I get it, but not impressed)
The Bends (Probably an underrated part of the Radiohead catalog, but still weaker than the best stuff)
Filly Lamp
Sharks & Kisses (I want to like this, but I just don't)
Alchemy
Borderline
Grave Error
Tier II
Dune Squad
Midrift (The right ensemble could really set this off)
Right Coast
Beach Boat
Illegal Seafood
The Kevin Seiler Experience
Max Power
NCNY
Filthy Rich
Retro
Skeeahreet
Beaches & Cream
Danger Bay (I'm probably biased by thinking of Archer)
Get Off My Lawn!
Ye Olde Boxcar
Tier I
Gruntled (This should be a club name)
Ampersand (I can see this one being divisive. I like the word and the pun.)
Beach Please (Simple. Too simple? No. Just right.)
Believeland (Only works if they are from Cleveland. We assume they are.)
Locals (Different type of humor than Beach Please, but same strengths.)
Bottomless Brunch (Probably the best name.)
Rockford Beaches (Multiple levels of goodness here.)