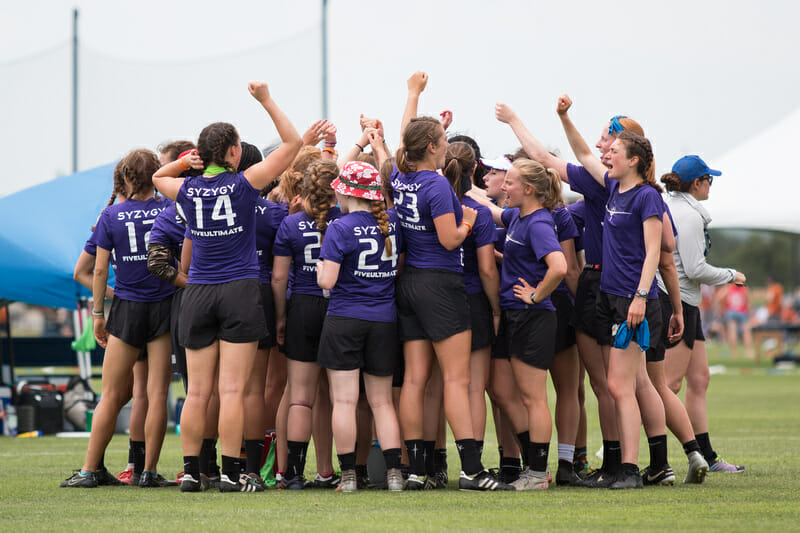 Late Wednesday night, USA Ultimate granted permission to college teams to add registrar-approved and eligible players to their Regionals rosters that were not initially included on the teams' Conferences rosters to begin the 2021 College Series. Teams must pay a late fee for each player added; the deadline is tonight at 11:59 PM MT for teams competing at Regionals this weekend. Teams that are competing on future weekends will be contacted next week.
A new addition to the 2021 College Guidelines stated, "A team must set their roster prior to conferences. The conference championship roster is the final roster for the entire College Series. If an athlete is potentially participating in regionals or the College Championships, but is unavailable during the conference championships, they MUST still appear on the conference championship roster." This information was also announced in an April 2021 press release about changes to the Guidelines and in the STAR webinar on Fall 2021 college registration. It was not listed in the seven-step "how to register" guide on the college guidelines and registration section of USAU's college landing page.
The requirement was missed by numerous teams, including top-ranked programs like #1 Carleton Syzygy, #3 Washington Element, #4 UCSB Burning Skirts, and #8 NC State Alpha. Teams omitted players that were not attending Conferences but planned to attend Regionals and/or Nationals. The confusion seems to have stemmed from the separate process to submit a registrar-approved roster, which, in a typical spring college season, serves as the official postseason roster.
Ultiworld spoke with multiple teams yesterday who said they were diligent to file the proper paperwork to get players — and, in some cases, alumni — approved for competition in this Series and believed that that was their official roster for the Series. The unusual nature of the fall Series — one in which many graduated players opted to skip Conferences despite planning to attend Regionals — may have contributed to the confusion. The backend registration system also guides teams to "add team personnel that will be attending to the event roster" when signing up for individual events like Conferences.
Last week, USA Ultimate told some teams affected by the issue that a final decision had been made after conversation with the National College Directors to follow the guidelines as written and not permit any players to be added to their Regionals roster (even in one case where a team, University of Utah, was misinformed by their Sectionals TD and Regionals Coordinator about the ability for the teams to add players to the Regionals roster separately from their Conferences one).
On Wednesday, the scope of the issue widened as more teams discovered they might lose players that they expected to have for Regionals and Nationals. A number of teams created an online petition asking for a rule change to allow players to be added. Whitman's women's team announced that they would be dropping out of Regionals because they couldn't add players to the roster.
Finally, College Division Manager Ben Feng emailed affected teams late that night that they would be permitted to add registrar-verified players with a current USAU membership to their Regionals roster.
"Despite clear rostering instructions that were publicly available in multiple places since mid-April, we've continued to listen to the concerns expressed by affected teams and players who reached out to us," said USAU Director of Communications Andy Lee in a statement. "While it remains unclear where the source of confusion came from, we've decided to continue providing an enormous amount of flexibility and latitude when it comes to issues like eligibility and rostering in order to encourage and allow as many players to compete in the Series."
Teams that want to add players that were not listed on the Conferences roster must pay a late fee of $50 for the first player and $25 for each subsequent player. USAU has long had fees in place for teams that register late, miss deadlines, or appeal for exceptions to the rules. Adding players requires cumbersome verification and administrative tasks for USAU staff; the change in policy before Regionals is a one-time exception, and teams will not be allowed to add players between Regionals and Nationals.
The first set of Regionals — featuring competition in the Atlantic Coast, Great Lakes, Metro East, and Northwest — takes place this weekend, November 6-7.