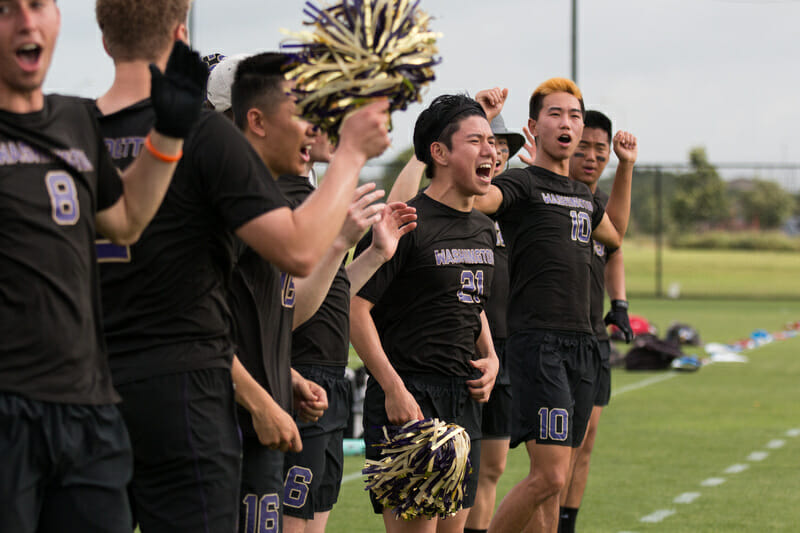 USA Ultimate has established plans to hold a full 2021 College Series in the fall, according to an email to organizers reviewed by Ultiworld. USAU College Competition Manager Tom Manewitz confirmed that the information in the email was accurate.
Conferences are scheduled to be held in October, Regionals in November, and the National Championships likely in December, with extensive flexibility for local areas to determine the best available weekends for the first two stages of the Series.
Player Eligibility
All current degree-seeking college students taking at least one class and within their eligibility window through Spring 2022 will be allowed to participate in the Fall Series, including incoming freshmen. Additionally, players that graduated any time between Spring 2020 and Spring 2021 will also be eligible to compete — if their college or university permits it.1
USAU is loosening the rules just for this iteration of the Championship Series; starting in Spring 2022, standard eligibility rules will apply (note, though, that all players have received a one year eligibility extension).
Full rules for player eligibility for the Fall Series will be released in April.
Series Information
There will be no regular season qualifying process in the fall and no rankings. This mirrors USAU's approach to any 2021 club season. As a result, bid allocation will be based both on region size and strength (likely using historical data to determine strength bids).
In order to encourage more participation, some Regional tournaments are likely to expand in size (up to 16 teams).
USAU will offer competition in Division I and Division III, but there will be no Developmental division offered. Dev teams will be able to compete at the regular Conference tournaments.
Additionally, there will be no fall Mixed college competition this year, due to the constraints of running the Fall Series.
Tentative dates for the Series are as follows:
Conferences: October 9-10, 16-17, 23-24, or 30-31
Regionals: November 6-7, 13-14, or 20-21
Nationals: TBA
The large number of available weekends reflects a desire to allow each Conference and Region to optimize its own schedule and potentially to use existing fall tournaments to serve as Series competition sites.
More information about the Fall Series is set to be announced in April. USAU is already soliciting tournament bids for Conferences and Regionals.
---
Note that players who had a fifth year of eligibility in Spring 2020 but were not enrolled in college will not be eligible for the 2021 Fall Series. ↩