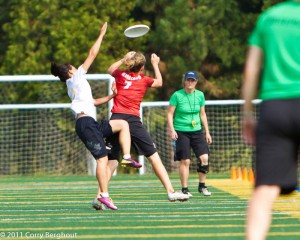 Our guest author is Lindsay Pattison, an observer in Canada. This was originally published in Montreal's Ultimate Association newsletter.
I had mixed feelings about becoming an Observer. Like many players I thought that Ultimate shouldn't have Observers, that it was a slippery slope toward referees. However, after my training, and a bit of hands-on experience, my attitude changed. I still believe that when self-refereeing works, it is truly something of beauty and it should be encouraged in all players, at all levels. But when that system breaks down, things can get ugly – we've all seen it.
An Observer's job is essentially to help the players maintain good spirit and to keep the game moving. Our primary responsibility is score and timekeeping. The only active calls we make are lines calls (which include offsides and force-out fouls), and we can, if asked by the players, provide clarification on rules and resolve disputes. We have no ability to stop play because we've witnessed an infraction (except in the case of an egregious contravention of Spirit of the Game). The responsibility to call fouls and violations remains with the players on the field.
When people ask if I like being an Observer, my answer is "yes and no." Observing can be really stressful. Just like playing, you are constantly trying to learn from your mistakes and find ways to improve your performance. It's hard work; mentally and physically. And sometimes you need a thick skin. If you make a mistake, you`ll hear about it! But when the players express their appreciation, it all seems worthwhile. I've found it to be a rewarding way to give something back to the game and the community.
The pool of certified Observers in Canada is still pretty small. And because we are scattered across the country some of us only get to see each other once a year at Nationals. This makes CUC my favourite tournament. Because what I like most about Observing isn't the free stuff (most tournaments will cover travel and accommodation expenses), or getting a front row seat to some of the best Ultimate – although those are nice perks. What I really enjoy is feeling like I'm part of a team. Observers work together, support each other, and we tease and heckle each other too. I look forward to getting together after the games to tell and hear about the ridiculous things that happened during the day. We laugh, we complain, and we just enjoy being together. Sometimes we even win the party.
So if you play in an Observed game, please consider taking a moment to acknowledge the third team on the field.
This is the first post in Ultiworld's series on Observers. Have an opinion? Send us an email at [email protected].