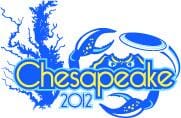 Follow us on Twitter for score updates and commentary all day on Sunday.
Saturday at the Chesapeake Invite was filled with great games and some surprising upsets. Here's a quick recap of the day and the stories we'll be following into Sunday in the Open division:
Ironside Rolls
Boston's Ironside — the winners of the Emerald City Classic earlier this month — continued to show their dominance over the Club Open division. They breezed through pool play, giving up just 18 points in 3 games, and handily beat a solid Santa Barbara Condors team in the crossover, 13-9.
Ironside looks poised to march into the finals for the fourth time this year, and is likely to face Atlanta's Chain Lightning — who also went undefeated — in a rematch of last year's National Semifinal. They won't be able to overlook their first game tomorrow, however, as both PoNY (New York) and Boost Mobile (Palo Alto), who face off in the prequarters, showed moments of excellence and will be ready to play.
From Spinners To Southpaw

After spending much of the season playing as the Philadelphia Spinners in the American Ultimate Disc League (and winning the inaugural Championship), Southpaw came into the weekend looking to gel as a team in the USA Ultimate Club division. They looked shaky early, barely beating Boost Mobile 12-11, and had some issues adjusting to the different rules. Early on, some players forgot to start the stall count, used to a referee counting it in the AUDL.
However, they improved throughout the day, upsetting Minneapolis' Sub Zero to go 3-0 in pool play. In their crossover against Toronto's GOAT, they looked outmatched by a more experienced team, falling 13-7 with their defensive line never scoring a point. While it may not help the Mid-Atlantic region earn more bids, their up-and-down performance is to be expected and clearly their need is to transition from being the standout professional team into being a competitive elite Open team.
Madcow Surprising
Columbus' Madcow came into the Invite as the bottom seed in the tournament. But they opened up Saturday nicely with a big upset over Washington's Truck Stop, 13-11, and locked up the 2 seed in their pool with a win against Nashville's Tanasi. Their two losses came against the top two overall seeds — Ironside and Chain Lightning — but they stayed in both games, losing 13-8 in each.
They will face San Diego's Streetgang in prequarters on Sunday.
Southwest Strong
Along with Streetgang, the Southwest region also sent the Condors and Boost Mobile to the East Coast this weekend. There were questions before the tournament about whether or not these teams — which had only played each other before this weekend — deserved their high USA Ultimate rankings.
Both the Condors and Boost Mobile broke seed to take 2nd in their respective pools and have unquestionably showed they belong among the elite competition.
The Condors were impressive all day, dispatching a tough PoNY team and playing closer than anyone against Ironside. Boost Mobile was very up-and-down, with strong games against Ring of Fire — where they lost on double game point — and Florida United. But they played poorly against Southpaw, losing 13-6, and looked generally inconsistent.
The three SW teams will all play in prequarters tomorrow and will be fighting for more bids for their region.
*
Lots more to come from the Chesapeake Invite, including a full recap, analysis, video, and more.