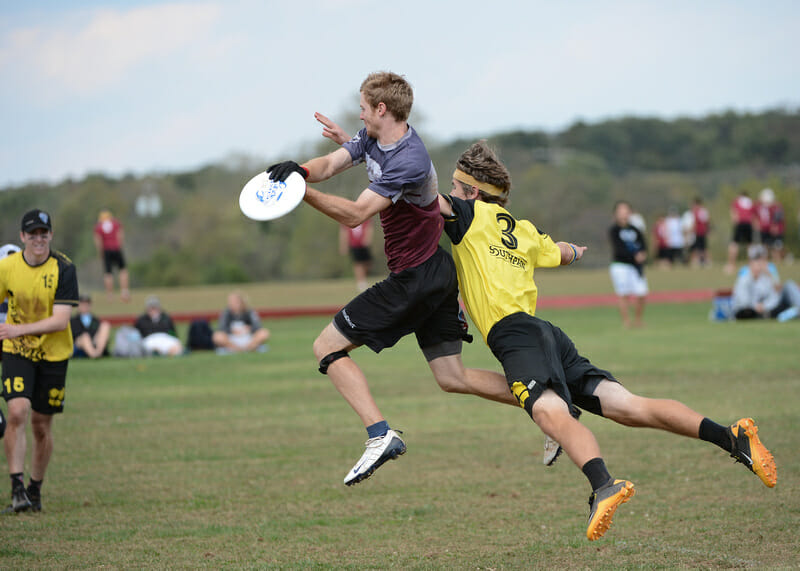 We've already taken a look at the bigger picture of the Mid-Atlantic Finals matchup between Washington, D.C.'s Truck Stop and Philadelphia's Southpaw. But, in big games like this one, it's the little things — strategy, momentum, and fundamentals — that really determine the winner.
Truck Stop didn't dominate in this game, but they did some things very well to guide them to victory. Here are three reasons they walked away with the win:
They defended the huck well.
Strong downfield defense forced Southpaw into throwing a lot of passes for short gains and made it almost impossible for Southpaw to get anything going deep. They allowed just one score from further than 25 yards away — most of Southpaw's deep shots were well-covered and blocked.
Forcing Southpaw into a lot of throws was an excellent defensive strategy. Despite having open in cuts, Southpaw was turning the disc over after losing patience deep in their possessions. At half time, Trey Katzenbach, Southpaw's captain, told his team, "Stop making bad choices — I don't think they've gotten a single D."
Southpaw's offense cleaned up in the second half, allowing just one break right out of halftime. But it was too late because…
After turnovers, their defense was stingy.
Truck's offensive line had nine turnovers in the game. That's not a great number, but it was that kind of game. After giving up two breaks on three turns in the first half, Truck's O line defense stepped up. Although they had six turns in the second half, they allowed just two scores, holding back a very good Southpaw D line that had seven breaks in their semifinal matchup against Pittsburgh's Oakland.
Sean Keegan.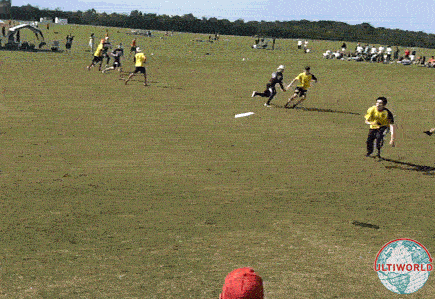 The Truck Stop fourth year player and first year captain absolutely dominated in the finals. When asked what factors led to their loss, Southpaw captain Trey Katzenbach said straight away, "We had a really hard time containing Keegan…He's always been a great cutter, but he added throws and we couldn't stop him."
Keegan was a workhorse, making hard open side in cuts and getting open all game. He made some huge plays and notched two big assists.
Although his performance wasn't statistically dominant (that honor goes to Jeff Wodatch who caught five goals and threw for a score), Keegan withstood abuse on his cuts, getting knocked down by defenders going through his back twice, but didn't shy away from continuing to work underneath. This was critical for Truck Stop's offensive flow, as their handlers were having a lot of difficulty resetting the disc against excellent dump defense from Southpaw.
Because of the physical play against him, he frequently petitioned the observers for TMF's and eventually got one assessed late in the game, leading to a yardage penalty against Southpaw and Greg Owens' ejection for cursing at the observer for making the TMF call — a critical momentum shift in a close game.
---
Truck Stop never ran away with this game. Southpaw stayed close and could have won it. Here are three reasons they didn't pull off the upset:
Mental errors.
Southpaw had absolutely no trouble working the disc down the field. When upfield options were shut down, their dumps almost always got open and open in cuts were plentiful. But, especially in the first half, they made ill-advised deep looks and gave the disc away to Truck Stop.
On a critical offensive point coming out of halftime down three, they turned it over on a swing, but got it right back near their endzone after a Truck drop. They had an easy score — but dropped the disc. Truck went on to get the break and the four point lead, one that proved insurmountable.
Various distractions also hurt Southpaw. The Greg Owens ejection and the stall seven incident were preventable momentum swings. They were damaging to Southpaw not so much due to the effect in the moment (Truck turned it over again after getting the stall out) but because of the extended sideline discussion that detracted from their ability to stay focused late in the game.
Defensive inefficiency.
Southpaw's defense was superior in this game, no question. They constantly pressured the Truck resets and got huge blocks from big layouts. But once they had the disc in their hands, they weren't able to convert. They finished the game with four breaks on nine Truck offensive line turnovers; a 44% conversion rate is not good enough to win big games.
They were totally capable of scoring upwind — they showed that after getting a pretty huck (their only one of the game) to Jibran Mieser for a break early in the second half. They just didn't do a good job taking care of the disc.
They didn't involve their athletes enough.
Truck Stop wasn't able to shut down Southpaw's faster athletes like Mieser or Izzy Bryant, but those guys weren't getting the kinds of touches and deep looks they should have been. Southpaw, playing as the Philadelphia Spinners in the AUDL, showed a great ability to find cutters for big deep looks, but they never opened up the deep game at all during the finals. Particularly on defense, they should have looked to take some shots, as the turns were frequent and giving Truck Stop a short field with which to work.
There's nothing like a big huck score to shift the momentum of the game — Truck showed that by running off a quick three points in the first half with bombs to Jeff Wodatch. Southpaw needed some of that in the second half.
Photo courtesy of Ultiphotos' Kevin Leclaire. Check out more of their Regionals images.