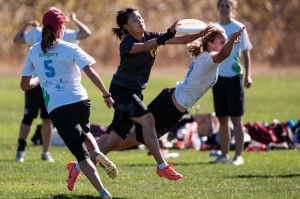 The women's division was probably the most fun to seed, because it was less obvious than Open but less guesswork than Mixed. It will be interesting to see how much USA Ultimate rewards the undefeated seasons of Heist and Capitals, which are two of the more interesting cases in this bracket.
The very top and very bottom were easy to seed, but the middle is a real crap shoot. Here are our picks for the 2012 women's seeding:
| Pool A | Pool B | Pool C | Pool D |
| --- | --- | --- | --- |
| Fury (1) | Riot (2) | Scandal (3) | Traffic (4) |
| Heist (8) | Ozone (7) | Capitals (6) | Phoenix (5) |
| Brute Squad (9) | Molly Brown (10) | Nemesis (11) | Showdown (12) |
| Hot Metal (16) | Underground (15) | Schwa (14) | Nightlock (13) |
Here's our rationale.
1. Fury (San Francisco) – As defending National Champions and with an undefeated season under their belts, Fury are the clearest overall one seed in any division. Will they complete the season with another championship and not a single loss?
2. Riot (Seattle) – Last year's runners up, they've only lost to Fury and regional rival Traffic (along with one early season loss to Scandal). But they beat Traffic (twice) when it counted at Regionals to lock up the number two seed.
3. Scandal (Washington, D.C.) – The clear number three seed. Despite some losses, they've beaten every team they've played except Fury. Adding a tournament win against a tough field at Fusion made them an obvious one seed.
4. Traffic (Vancouver) – Traffic is a lock for the last one seed with multiple wins against Riot and a 15-9 win over Phoenix.
5. Phoenix (Triangle, NC) – Phoenix endangered this high a seed with a loss to Nemesis at Fusion, but got revenge later in the tournament to preserve it. Their only other losses have come to the four teams seeded above them. The clear five seed.
6. Capitals (Ottawa/Toronto) – After most of the team played as Team Canada, the Capitals took the regular season off. As such, they've only notched one big win: against Brute Squad in the finals of Northeast Regionals. But their undefeated record and their semifinals showing last season give them the edge over Ozone, whose two losses to Nemesis bump them down to seven.
7. Ozone (Atlanta) – Ozone could well find themselves at number six if USA Ultimate rewards playing out the full regular season (that seems possible, even probable). But they will definitely find themselves above Brute Squad, who they beat twice.
8. Heist (Madison) – There is something to be said for going undefeated. Yes, Heist didn't face any of the very top teams, but they notched wins against Bent, Molly Brown, Nemesis, and Schwa. Most of their wins came with big margins. It's tempting to place Heist even higher.
9. Brute Squad (Boston) – Brute has lost to most teams in the top seven, but do have a strong 15-9 result over Traffic at ECC. You could seed them at eight and it wouldn't change anything, as they will still have to battle Heist for a power pool spot at Nationals.
10. Molly Brown (Denver) – Plagued by inconsistency, Molly Brown probably would have ended up with a two seed had they just beaten Bent at ECC. Their wins and losses look a lot like Brute Squad's, but Brute never lost to Bent.
11. Nemesis (Chicago) – Definitely a three seed and you have to give them the edge over Showdown thanks to a head-to-head win at ECC. Their only bad loss came against Hot Metal at Heavyweights, but they throttled them the next day. Flukey loss.
12. Showdown (Austin) – Although Showdown got a win against Molly Brown at Labor Day, they had a rough ECC, winning only one game. But they had Labor Day wins over Nightlock and Schwa which, combined with some close losses to good teams, lands them a three seed.
13. Nightlock (San Francisco) – Clearly the top four seed. They beat Schwa (twice) and Underground head-to-head. Had a couple close games gone their way (against Nemesis or Molly Brown) they could have had a much better seed.
14. Schwa (Portland) – Dominated Underground all season, but never had a quality win. The clear 14 seed.
15. Underground (Seattle) – Underground has wins against Nightlock and Bent, but no one else of note.
16. Hot Metal (Pittsburgh) – Has one win against a Nationals team, but has otherwise been soundly beaten by good teams. Their big loss to Bent gives Underground the leg up.
Photo courtesy of Jeff Bell at Ultiphotos.