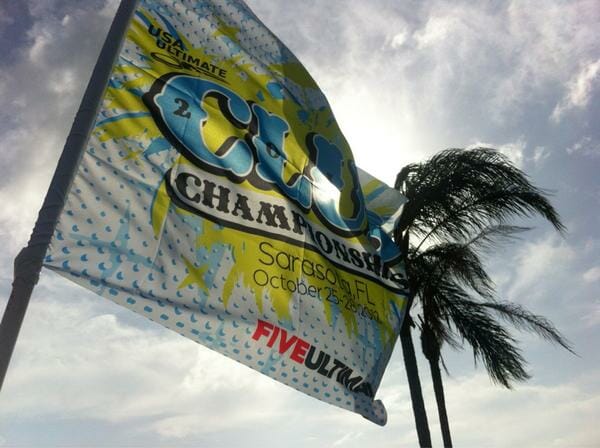 In the top power pools one/two matchups, we got an early preview of some possible semifinalists facing off against each other. The top teams made clear who's best at the tournament.
Seattle's Sockeye took on Boston's Ironside to determine who would take the one seed heading into bracket play tomorrow. Ironside was in control of the very windy game from the start, jumping out to a 5-1 lead. Ironside's D line looked excellent on offense — Sockeye couldn't keep up. The high winds didn't stop Ironside's deep game, even upwind. Josh Markette, a handler for Ironside, ripped a 50 yard flick up the sideline that floated perfectly for the score, putting Ironside up 13-7. They went on to win 15-8. Sockeye was not using all of their top players — captain Skip Sewell wasn't even cleated up for the game. They are conserving energy for bracket play tomorrow.
When asked how Ironside gets through games where they are clearly superior, he said, "Keeping up the intensity is really the key." He thinks they are clearly the best team at the tournament and that, if they remain focused, they will win the title.
---
Spectators watching the showcase field — which is also being live streamed by NexGen — witnessed the biggest shocker so far this weekend as San Francisco's Revolver absolutely trounced Austin's Doublewide by a final score of 15-3. Revolver's throwers were clearly more comfortable with the increasingly gusty conditions in Sarasota. Once they went up a couple breaks early there was no looking back. Doublewide's players — particularly the Florida alums — were yelling at each other on the field, frustrated with their performance. Revolver's mental game was much stronger — and they showed the patience that captain Ryo Kawaoka described after round one.
One of the game's big stories for Doublewide was the performance of Brodie Smith. Still recovering from knee surgery, the team's star player showed he is still far from 100%. He was a step behind what you expect from him. It will be interesting to see how Austin decides to use him the rest of the weekend (he looked pretty good on Thursday) especially with regard to their tall 4 man cup that could be dominant in this wind.
---
Toronto's GOAT continued to impress today with a 15-7 victory over Portland's Rhino locking their spot in quarterfinals tomorrow. Seeded 14th overall, the Canadian squad has utilized its strong defensive line to propel them to victories, thanks a lot to their international stars. They will play Austin's Doublewide tomorrow morning.
---
Despite having trouble against New York's PoNY in the first round today, Machine cruised to an easy win over Washington, D.C.'s Truck Stop, 15-6, to earn a spot in prequarters. Machine has been inconsistent this weekend, as has their upcoming opponent Rhino. At Emerald City Classic, Machine lost to Rhino on universe point in their only meeting this year. Expect a similarly close game today.
---
Iowa's Chad Larson Experience dominated their power pool, capping the day with a 15-10 victory over the one seed Polar Bears (San Francisco). CLX has won all their games by at least five and look ready to go deep into bracket play. A CLX player that emailed us before Nationals said they thought they had a good shot at the title, thanks to their very strong women players. It's looking increasingly likely.
---
Minneapolis' Drag'N Thrust continued their success on the weekend with two wins over tough opponents in power pools. After beating Montreal's Odyssée by six in the first round, Thrust faced Boston's The Ghosts, the overall two seed in the tournament. Despite falling behind at half 8-6, Thrust rallied late to get a 15-12 victory and a prime spot in bracket play tomorrow.
---
Austin's Showdown — the surprise of the tournament — took on Seattle's Riot that, in the wind, was a game of upwind breaks. Riot's first came when the score was 4-3 in their favor and they quickly got the subsequent downwind break to match. They took this lead in to half at 8-5.
By the time the second half started, the disc was nearly impossible to pull against the wind. Average upwind pulls of ~20 yards meant attempting those upwind breaks were long and arduous. Riot managed to get one more (and the downwinder), but Showdown kept the game within their reach by immediately doing the same thing to make their score 8 to Riot's 10. Neither team could muster another break after that and Riot confidently closed out the game 15-12.
Showdown played solidly against Riot and look poised to make a run towards semifinals.