SARASOTA — There will be no double peak this year. In an exciting, fast-paced game, Austin's Doublewide took down the reigning champions San Francisco Revolver 15-11 in the finals of the 2012 USA Ultimate Club Championships. With the win, Doublewide becomes the first team from a non-coastal city to win the Open Division since Chicago's Windy City won the title in 1986.
Revolver, who won Worlds as Team USA earlier this year and was looking for a third consecutive Club championship, was never sharp in the game, frequently turning the disc over, often on poor throws and drops. Their offense was broken eight times in the game.
The game started ominously, when Doublewide's Dalton Smith, a Texas A&M sophomore and the South Central region's freshman of the year, got a layout block on the first throw of the game. Jake Anderson picked up the disc and hit Tim Gehret for the easy break. It was clear right away that this would be no repeat of the 15-3 shellacking Revolver laid on them on Friday.
Revolver got their break back after a great upwind huck from Mac Taylor to Mark Sherwood, who found Martin Cochran in the endzone to give them their first — and only — lead of the game.

Doublewide used strong open side in cutting to keep the offense moving and after Revolver overthrew a swing pass, Kurt Gibson, who had an excellent game with six assists, found Max Cook for a 5-3 lead.
Revolver would score and try to get a downwind break back. It looked like they would after a sharp pass bounced off of Cook's hands near the endzone, but Kiran Thomas made a full extension layout, catching the disc inches off the ground for the score.
Revolver's Jon Hester made it look easy on the next point with a huge flick huck upwind to a streaking Robbie Cahill.
But Doublewide would close out the half up 8-5 when Andrew Walch made a spectacular catch in the downwind endzone between two defenders.
Austin would extend their lead to four early in the second half after Ashlin Joye floated a throw over a wide open Beau Kittredge in the endzone. Doublewide worked it to about half field before Gibson ripped a perfect flick to Jake Anderson for the 10-6 lead.
After the offenses traded points, Revolver made a four point run to tie the game at 11-11, highlighted by a huge goal line D from Taylor.
But Doublewide's playmakers took over. Kevin Richardson got a big footblock before Gibson found Brodie Smith deep. Then Gibson hit Richardson on the next point to put them on the doorstep, up 14-11.
Revolver's offense would turn it over again. Smith ran to the disc, ripped a huge flick to Cole Sullivan, who made a huge diving catch just outside the endzone. After a short stoppage, Sullivan punched it in to seal the huge upset.
"We always knew that we could win," said Smith after the game. "This year we finally worked together as a team." Doublewide was criticized last year for relying too heavily on their most talented players, which many think led to their semifinals loss to Revolver (who also eliminated them at Nationals in 2010).
""In years past some people, myself included, had their own agenda," said Smith. "We trusted each other this year."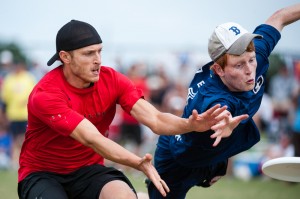 But that trust took a long time to build. Doublewide coach Cyle van Auken told Ultiworld that the team took "until yesterday" to be ready. "From the outside people can say, 'Florida, Texas,'" he said, referencing their two camps of core players, one from Austin and one from the University of Florida. "But yesterday it became 'Doublewide.'"
"It kinda happened at halftime in the GOAT game," said Doublewide captain Jeff Loskorn, a game in which they trailed 8-5. "We decided to start focusing on playing tough defense and making the smart throw on offense, going back to the core of who Doublewide is…The only way we were gonna win was as a team."
Indeed, many players were a part of their success. Eleven different players scored in the finals. In fact, Revolver relied more heavily on their top players than Doublewide did. For Revolver, Kittredge played 24 of 26 points, Hester played 21, and Cahill and Joye each played 19. Gibson played the most for Doublewide, with 19 points.
Learning to play as a team was critical to Doublewide's success. "We had the legs in our best players because others contributed throughout the weekend," said Loskorn.
"A bunch of us went to church this morning," said van Auken. "And the pastor said, 'You can be a Pro Bowl team, or you can be a Super Bowl team.' It's kind of fitting for this team."
Cover photo courtesy of Adam Ford.