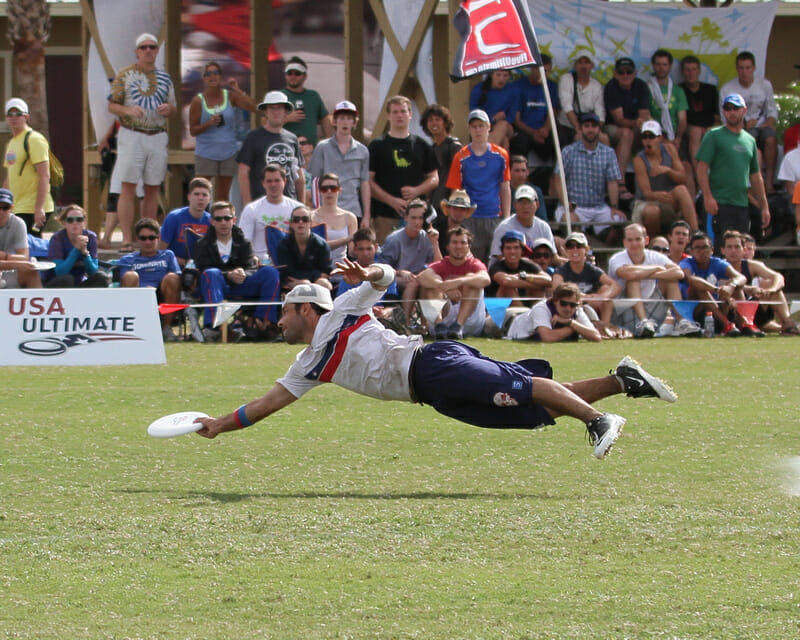 After years of missing out on the finals, Austin's Doublewide has finally earned a berth to play for the title after a shock upset over Boston's Ironside yesterday in the semis. They will face back-to-back champions San Francisco Revolver who beat Doublewide on Friday 15-3. Despite that ugly defeat, Doublewide knows that that game didn't count. As Max Cook told us yesterday, "That wasn't the one we had to win…After we were down 8-3 at halftime, we decided to just focus on the rest of the weekend."
They've responded incredibly well, beating Toronto's GOAT in quarters and then top-seed and heavy favorite Ironside in semis. They're ready to take down Revolver as well. Here's why.
Big throwers: In yesterday's windy semifinal, Doublewide's handlers were not afraid to take big shots upwind — the strategy paid off as Doublewide nabbed two pairs of early breaks. With throwers like Brodie Smith, Tim Gehret, and Kurt Gibson, it only takes one good cut to steal an upwind break against Revolver.
Kurt Gibson: Not only does Gibson have great throws, he's also one of Doublewide's most explosive cutters. A national champion with Florida, he has that big-game mentality that can't be taught. He will be a major factor in a Doublewide win. It says a lot that when Revolver went to Worlds this year, they picked up Kurt Gibson.
Athleticism: Although it can be both a blessing and a curse, Doublewide leans on their athleticism to make huge plays that get them both points and momentum. If they can make some plays early against Revolver, they will feed on that energy (much like they did against a good GOAT team) and go 2-2 on big upsets. Expect them to continue putting up shots to their big receivers, challenging Revolver's defenders deep.
Hunger: Revolver has been incredibly successful in the past two years. Two Club Championship titles, a Worlds win, and the distinction of being the best Ultimate team in the world. But with all that success comes a bit of a curse — you just don't want it as bad. Doublewide has been outside looking in for years, and will play just that much harder to land their first title.