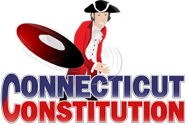 Today marks the four month anniversary of the day that the Connecticut Constitution announced on their website that they would be suspending their operations due to a lawsuit filed against them by the American Ultimate Disc League. That announcement sparked a months-long saga of league infighting that culminated in the AUDL terminating the Constitution's contract.
Despite being booted from the league, the Constitution have not ceased operations. Last month, they began a series of fan/player pickup games and they continue to have an active online presence.
All signs point to them eying a spot in Major League Ultimate, a new professional league started by Jeff Snader, owner of the Philadelphia Spinners. The Spinners won the AUDL Championship in August before leaving the league last month.
Bryan Ricci, the owner of the Constitution, doesn't deny that possibility. "We think that we could still field a team in whatever league we fall into…," he said. "Operationally we intend to be somewhere. We're starting some of that stuff already, at least having conversations."
But, as of now, Ricci says he is not involved with the MLU. "If Jeff [Snader] called me tomorrow and said, 'Come on over, we've got a spot for you?' I don't know," he said. "Does that seem like a league I want to be in? It seems like it. But I can't commit to anything until I get this albatross off my back."
That albatross is his lawsuit with the AUDL, which hasn't come much closer to a resolution. He will soon file a countersuit, but it will likely be months before any court decision.
Where the Constitution end up next year is unclear. With no Connecticut team and a more top-down managed league, it wouldn't be a seamless transition into the MLU. Ricci would also have to convince the MLU brass that the Constitution brand is valuable enough to bring it under their umbrella.
What is clear is that Ricci and the Constitution's organization plans to continue in some capacity next year. His continued fight shows just how much he, like most involved in professional Ultimate, believes in the business opportunity. He even thinks the leagues can coexist. "At the end of the day, we're all going to help each other," he said. "The AUDL is going to have a fan base. The MLU is going to have a fan base."