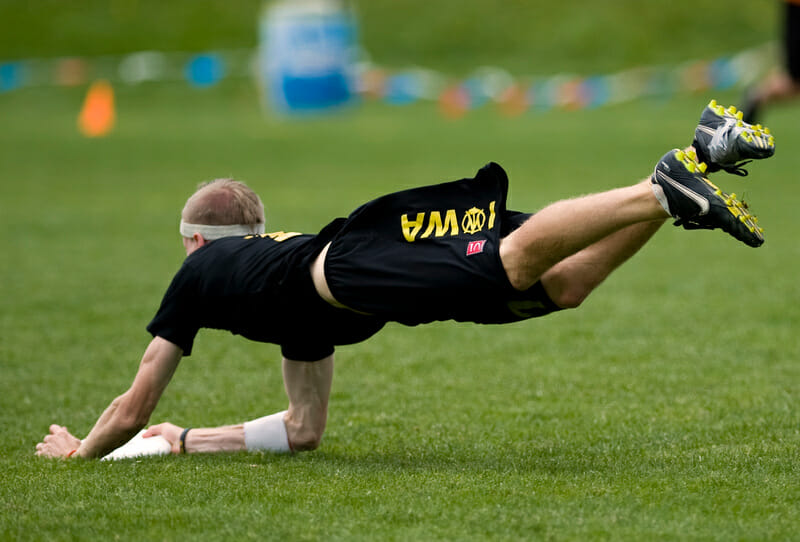 "50 bucks says Grey Duck doesn't even make the third place game" — commenter gopalum on our North Central Regional Preview
North Central Regionals is often a wild affair. As one of the deepest regions in the country, it features both stalwart programs (Wisconsin, Carleton) and year-to-year upstarts (Luther, Iowa). But, this year, it looked like it would be a more sleepy tournament. With three bids, and three top 10 teams in #1 Minnesota, #4 Wisconsin, and #8 Carleton, it was just going to be a warm up for Nationals for them, right?
Iowa rewrote the script. On Sunday, after falling to Minnesota earlier in the tournament, Iowa shocked the college ultimate world with a 14-12 win over Grey Duck to knock them out of bid contention.
So what happened?
Let's start on Saturday, where Minnesota beat Iowa 15-4. The game started close, with the teams trading to 3-3. But after a couple of quick Minnesota breaks to 5-3, Iowa decided to call it, opening up their rotations and resting their starters' legs for Sunday. They only scored once more in the game, and Minnesota must have anticipated an easy path through them on Sunday as well.
But Ben Weintraub, one of the captains of Iowa, saw it differently: "I think we proved, at least to ourselves, that we could stick with them, and we had that confidence going into the next game."
After Minnesota lost to Carleton 15-10 in the semifinals and Iowa got past Iowa State (after losing to Luther in quarters), the two teams met again in the semifinals of the backdoor bracket.
This was a different game.

With several lead changes and a tight game throughout, neither team could find separation on the scoreboard — or on the ground. Heavy mud made cutting difficult and significantly slowed Minnesota's normally effective deep attack.
Minnesota took an 8-6 halftime lead, but found scoring much more difficult after Iowa reconfigured their dump defense to use the conditions to their advantage. They tried a zone, but it failed, so they switched to a hard backhand force and trapped on the sideline, causing difficulty for the Minnesota dumps.
Iowa closed the gap to tie at 8-8, before Minnesota got two of their own to make it 10-8. Then Iowa got a pair to make it 10-10.
"They ended up being up 12-11, and then we scored on offense and broke twice to win," said Weintraub.
Iowa may well have had a big advantage headed into this game, having played at Huck Finn and Conferences on sloppy, muddy ground. The West Plains Conferences were even at the same field complex.
Minnesota, on the other hand, played on the West Coast and then at Easterns. On Sunday, most teams had to play their quarterfinals game on horrendous fields: water-logged and sloppy. But Minnesota had their game on the turf, and never played in the slop.
Iowa coach Bart Watson thought that it was an advantage, but more as an equalizer. "I don't even think it was necessarily in the style of play, it just slowed the game down…I think it helped us mentally as underdogs," said Watson.
"We were all about playing our game, and not trying to do too much," said Weintraub.
Jake Kersten was a beast for Iowa, playing 23 out of 26 points, and taking over late with huge layout Ds, goals, and assists.
"We were in a position where we had nothing to lose," said Weintraub. "We had no expectations from anyone else about going to Nationals."
Watson echoed that sentiment. "Their mentality was, 'Oh my god, we can't lose this,'" he said. "And our mentality was, 'We're going to win this.'" He pointed to some bad Minnesota drops as a sign of their nerves. Indeed, with Minnesota ranked #1 in the Ultiworld Power Rankings, they were certainly expected to win.
"At the end, I think we had a little bit more energy and a little bit more focus down the stretch," said Watson. That was enough to get Iowa the 14-12 win and a spot in the game-to-go against Luther, where they were simply outplayed. But they still got the upset of the season.
Could it happen again?
"On a different day, I don't know if we would beat Minnesota," said Weintraub. "They were really, really good."