The DIII College Championships continue to gain prestige each year as the talent in the Division rises every season. The top sixteen teams in the country are set to face off this weekend in Milwaukee, each looking to finish at the top of the podium.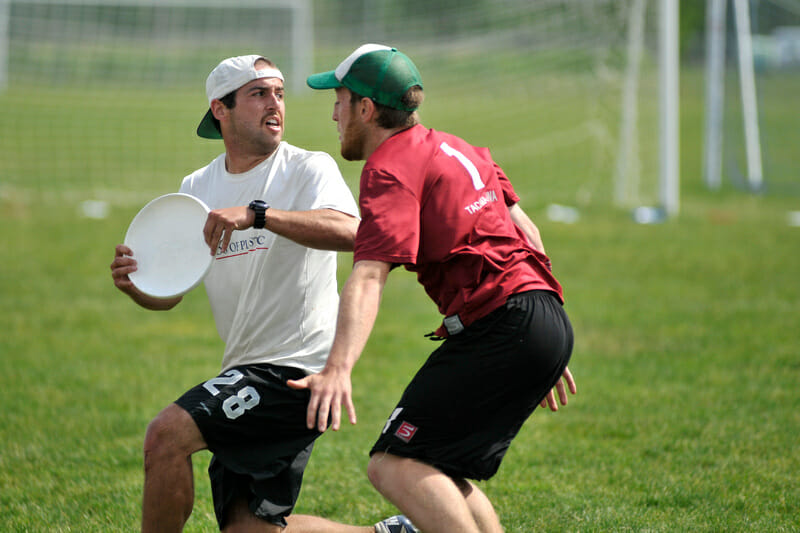 The DIII College Championships continue to gain prestige each year as the talent in the Division rises every season. The top sixteen teams in the country are set to face off this weekend in Milwaukee, each looking to finish at the top of the podium.
Powerhouse programs like Puget Sound and Carleton GOP will face off against newcomers like John Brown across three games of pool play on Saturday into the Championship play on Sunday.
Here's a detailed look at each of the teams and pools.
POOL A
Puget Sound (1): UPS has been the cream of the DIII crop this season, posting a 23-2 record and earning victories over many of the top DIII competitors. They rolled over Pacific Lutheran in a highly anticipated game at Regionals, going 6-0 and earning the top seed at Nationals.
"Our team has changed a lot over the course of the season, as we have rounded out into a full team with everyone contributing, rather than a couple of good players and a supporting cast," said captain Spencer Sheridan. "Everyone on the team can be counted on to play shut down D and maintain flow in the offense, and that was not the case at the beginning of the year." He continued later, "We want to have the least exciting offense possible: 100 percent throws, easy continuations, wide open huck looks."
While Sheridan and Jonas Cole typically control the disc, this is team with playmakers down the roster. Elliott Cohen, Sam Berkelhammer, and Alan Henzy are featured on offense while the defense is anchored by a few of the better defenders at Nationals in Daniel Mozell, Eric Hopfenbeck, and Peter Geertz-Larsen. The Postmen will also be one of the best coached teams at the tournament. Coach Adam Lerman has developed a system in which every player on the roster can thrive and contribute. Watching his team do sprints after their tournament win at DIII Warmup let the rest of the country know that they're here to win.
[vimeo 65909551 600 377]
Bentley (8): Bentley spent the majority of their season tinkering with the top spot in the DIII rankings. Along with Puget Sound, Bentley had performed extremely well going into the series, winning UNH Spring Open and Awaken. They also made some noise at the New England Open, beating Yale (twice), Vermont, and Middlebury. However, BUS stumbled a bit during the series, falling to Brandeis at Conferences and Amherst at Regionals.
"We came out flat in our first game against Bryant and won a universal point nail biter," said the captains, talking about Regionals. "The Bulldogs played a great game and came out firing, but our top players held them off. We beat Middlebury twice at Regionals; we always have competitive games against the Pranksters, but we always grind it out and pull away in the last quarter of the game. In our championship game, we lost to Amherst College by two. Amherst beat us with the deep ball and had far less turnovers than us. We learned as a team that we need to value the disc and that we beat ourselves."
Despite these late season struggles, the captains feel that the team is more complete now than at the start of the season. The New England weather prevented much practice time and stunted the development of inexperienced players. Recently, though, they have seen a great deal of improvement on the back half of their roster. Led by Alex Foo and the ambidextrous Kevin Sparacino behind the disc and Maxwell Rick and Lukas Ruffel cutting downfield, BUS will look to use their athleticism and run teams into the ground. For Bentley this season, it's all or nothing. The team features a number of juniors and seniors who have suffered tough losses at Nationals in the past and they believe that this is their year to win it all. "In the fall season, our team established an objective to win a DIII national championship and now it's time to execute."
Lehigh (12): Lehigh hung as a middle of the pack DIII team for the majority of the season. They posted solid wins over William and Mary and Messiah at Business in the Burg and had a solid 3rd place finish at Callahans in the Capital. At Steakfest, they played Stevens Tech nearly as close as anyone has this season. It wasn't until the start of the series that Lehigh started playing like a Nationals team.
Captain Jeff Gilbert attributes this success to the improvement of non-starters. "One of the biggest developments has been our bench stepping up and becoming seamlessly integrated into our playmaking," he said. "Our four rookies, in particular, have gone from hesitant to an essential force on defense and offense."
At Regionals, Lehigh showed a lot of grit, winning close games on both Saturday and Sunday. "Against Oberlin, we went down two breaks at the beginning of the game, but we learned a lot about our ability to rally back from a deficit," Gilbert noted. "This whole year, a big change has been our team's ability to make these comebacks and big runs rather than rolling over."
For Lehigh, the big playmakers on the offensive side of things are handler Andrew O'Connor and cutters Christian Stephan and Nick Mathison. On the defensive side of the disc, they look towards Mathison as well as Justin Carter and Andrew Hannah. Lehigh has been to the big show before and they're playing with some house money at this point so don't be surprised to see them make a run in bracket play.
Rice (13): Rice had a short season leading up to Nationals, only playing ten games against seven different teams. They made semifinals at DIII Warmup before falling to Puget Sound for the second time and they scheduled a round robin late in March in order to reach 10 games. Captain Kevin Shen attributes this lack of games to bad timing.
"One of the tournaments we wanted to go to got canceled last minute; another took place on the weekend of our school's biggest annual spring event," he explained. This lack of game experience showed as Cloud 9 entered the series. Last year's DIII surprise, the team did not quite make the splash at Regionals that they had hoped. "Although we qualified for Nationals we were not happy overall with our Regionals performance. We played sloppy on Saturday, and on Sunday we gave up an early lead against John Brown in the semis, which forced us to win two extra games to clinch our bid," Shen said.
Cloud 9 have met up with the Postmen three times in the past two seasons but never come out on top. UPS knocked Rice out in semifinals last season, so the bitter taste is still in their mouths. They will look to get some revenge on Saturday. Salman Eraj, Michael Drewry, and Kevin Shen are the big playmakers for Rice. They play nearly every O-point and a fair share of D-points. Matt Liu and Wally Lang are two of the team's best handlers and, on defense, Johnny Frohlichstein and Sam Dubinski generate breaks. Don't expect this Rice team to being playing in the point to go to the finals, but if a couple of things go their way, quarters aren't out of the question.
Predictions: Puget Sound-Bentley will be an awesome game. I think while Bentley will frustrate Puget Sound with their intensity and dump defense, UPS will value the disc more than BUS and come away with the W. Both of these teams give up some points to Rice and Lehigh but be able to hold onto victories. I'm going to take Rice's top, experienced, players over Lehigh's depth and say Rice grabs the three seed.
1. Puget Sound (3-0)
2. Bentley (2-1)
3. Rice (1-2)
4. Lehigh (0-3)
POOL B
Harding (2): Harding had an up-and-down season. They did not perform especially well at T-Town or Huck Finn, but they won HUX by taking down Oklahoma State in the finals, 15-13. In that game, they trailed 9-2 but fought back to earn the victory.
This team lost five solid seniors and spent much of the year building up youth to replace that talent. "Everyone is held accountable for making smart decisions and with the development of the youth we have become a very deep team that has allowed us to finish games in tournaments with fresh legs," explained captain Taren Goins.
Goins will be one of the premier players at this tournament. He stepped onto the national scene as a sophomore with a fantastic 2011 Championship performance. He is a floor general with some of the best breaks and hucks in the Division. His main target, Tucker Bankston, will be streaking deep from the wings and making opponents pay for giving him a cushion. Bankston's throws are also strong, making him a tough cover for any opponent.
Nick Doores, who missed Regionals, is the defensive specialist for Apocalypse. He loves to hit the ground and get dirty and should generate Ds for this team. After falling in quarters two seasons ago and failing to make Nationals last year, Harding has an itch that needs scratching. Goins claims, "If we play with the intensity and as a whole like we did at Regionals that there isn't a single team that can take us down in Milwaukee." Look for Harding to be playing late on Sunday in important contests.
Amherst (7): Army of Darkness has been one of the biggest surprises of the DIII series. Only losing to WPI at Conferences, AoD came into regionals seeded 4th. In front of a huge cheering section, the team played extremely well on Saturday, going 4-0 and earning a spot at Nationals. "On Saturday, we clinched a ticked to Milwaukee by defeating Brandeis easily in front of a home crowd of nearly 100 fans. This gave us confidence going into the championship game on Sunday against USAU DIII #1 Bentley," said Captain John Yarchoan. Amherst attacked BUS with physical defense and well-timed deep shots to come away with the victory.
Perhaps underseeded at 7th, Amherst still has a lot to prove. During DIII Warmup, they played extremely well with only 11 players on Saturday and 8 players on Sunday, taking GOP and Pacific Lutheran to universe. Yarchoan adds, "We know that with our complete roster, we will be able to defeat these top DIII teams, and we are looking forward to the challenge."
AoD has found success this season using an entirely new offensive scheme crafted by famed coach Bill Stewart. Additionally, they've gone with set offensive and defensive lines for the first time in school history. With DIII star Lock Whitney leading a balanced offensive attack, Amherst can play with anyone in the country. Yarchoan and Stefan Breitling work hard downfield while Andrew Edelman takes the transition shots on D-line.
When everything's clicking for Amherst, they're very tough to beat. Their chemistry and trust for one another can be seen both on the field and off. "We have a very positive atmosphere in our team huddle, and we genuinely trust that we will all give 100% when we are on the field," said Yarchoan. "We all love each other, and it shows in the way we play.  None of us want our talented senior class to go out without a bang."
Brandeis (11): TRON had a strong season and earned the 5th place ranking on the DIII scene going into the series. They played extremely well and initially exposed Bentley's weaknesses in a 15-13 conferences victory. Brandeis came into Regionals as the one seed as was set up very well to cruise to Nationals. However, after falling to Amherst on Saturday and Middlebury on Sunday morning, TRON found themselves playing in a game-to-go. The team regrouped, focused, and put a beating on a tired Bowdoin team for the fourth bid of the region. Captain Nadav Pearl said of the experience, "Last year, Bowdoin was the team to knock us out in that same game-to-go, but we worked too hard this season to lose on the most important day of the season. We mustered all our strength and played fantastic, winning that game 15-6."
After gathering a great recruiting class of athletic freshmen and sophomores, Brandeis knew this was their year to come together and shine. "We've become a team," said Pearl. "Because we had so many new players, TRON leadership knew it was crucial that we mold into a cohesive unit, and it took some time and effort but we're definitely there now." This team will need to play well, sitting in the third seed of a tough pool.
Offensively they'll look to Pearl and Max Zaslove to work behind the disc and Matt Wiener to open up space downfield. Gabe Colton and Victor Zhivich are active defenders who will look to take opponent's best options out of the game. Unfortunately for TRON (and many teams at Nationals), graduation is the same weekend. This leaves TRON with a roster of only 12, likely limiting their ability to make a run deep into Sunday. Still, this has not limited the team's mentality. "We know we're few in number but we're not about to go down easy – even if we lose every game, we're going to make sure they're close, tough, and that every team who plays Brandeis remembers us as a serious opponent," Pearl concluded.
North Park (14): North Park did not have as easy a path to Nationals as they have had in years past. Losing to both Wheaton and Knox at Conferences had the Lost Boys feeling nervous coming into Regionals. A young team, with only four upperclassmen, the roster regrouped and performed well at the qualifying tournament. Starting on opposite sides of the bracket, North Park knew they'd get another shot at Knox in a game to go. After edging out Valparaiso in a great game in semis, Lost Boys held off Knox and exacted some revenge to make it to the show.
A gutsy team who takes advantage of the long-ball, look for North Park to spread the field whether the hucks are clicking or not. Andrew Frederickson, Jeffery Erickson, and Tanner Mayo will be called upon to make plays on both sides of the disc. This young North Park team faces a long road ahead of them, but if they can take down a shallow Brandeis roster late on Saturday, anything can happen.
Predictions: Harding-Amherst will be one of the more fun games of the tournament. Watching Lock Whitney and Taren Goins go at it for a pre-quarters bye will be pretty awesome. If North Park can manage their lines well early in the day, they should have a shot at a tired Brandeis team. I think TRON (who doesn't have the most sterling spirit reputation) will do anything it takes to make bracket play. Brandeis' experience trumps North Park's depth and the pool holds seed.
1. Harding (3-0)
2. Amherst (2-1)
3. Brandeis (1-2)
4. North Park (0-3)
POOL C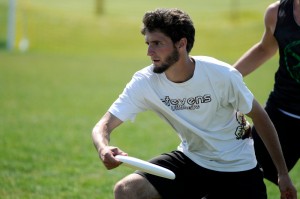 Stevens Tech (3): Stevens has the best pure record of any DIII team in the nation at 21-1. While they haven't overly-challenged themselves, they've taken down a number of quality teams in Lehigh, Dickinson, SUNY-Fredonia, and Wesleyan. The latter two wins in this group came in highly anticipated games at Regionals. The Stevens-Fredonia pool play matchup was set to be the first time the two top Metro East teams met this season. In the game, Stevens dispelled any notions that they weren't the top dog, handling Fredonia 13-8. In the finals, they played a tight first half with Wesleyan, but pulled away to win 15-12.
The Ducks play a very disciplined game, staying true to their offensive sets and working hard out of various defenses to frustrate opponents. "Machines on offense, animals on defense," the captains explain. "Our offense works well only when we work as a seven man unit, and the defense is especially good if we can help our teammates."
Stevens plays the game with a calculated confidence, such that even opponents know what's coming, their execution is too precise to compete with. The offense runs through New Jersey Hammerhead handlers Andrew Misthos and Marques Brownlee and cutters David Johnston and Chris Fairfield. With strong throwers, many of the Ducks' pull-plays result in a 50 yard+ hucks into space.
On defense, the game is run through Mason Compton and Jon Lee. Both are quality defenders, and work efficiently off of the turn. Their junk defenses have been used all season long to aggravate weaker opponents. It will be interesting to see how they fair against stronger competition. They will be looking forward to testing their stuff against DIII staple GOP. "We really want to take a crack at Carleton-GOP," the captains told Ultiworld. "They've been at the top of the DIII game for a while, and as a relative newcomer, we've never had the opportunity to play each other." Stevens-GOP will certainly be one of the premier pool play matchups to watch.
Carleton-GOP (6): As usual, Carleton GOP spent their spring testing and toying with lines, ultimately resulting in a subpar performance for the perennial contenders. They earned a couple of quality wins at Warmup against Amherst and St. John's but otherwise settled for an average regular season. Naturally, this did stop the GOP from pulling it all together come Regionals. Losing to both St. John's and St. Olaf at Conferences, the team came into regionals seeded third. By taking down St. Olaf in pool play, they set up a rematch with the Berzerkers in the finals. After jumping out to a 4-1 lead, Olaf couldn't close the gap and Carleton earned the coveted North Central DIII bid. Captain Rhys Lindmark emphasized his respect for the rest of the region, noting that he wished they had gotten three bids.
While the Gods might not be allowed to don their Hawaiian button-ups at Nationals, you can be sure they will bring their relentless positivity. A team that thrives on chemistry and energy, GOP's sideline will likely be the strongest at the tournament. While Rhys Lindmark, Max Willard, and Niko Duffy will make plays for the GOP offense, their biggest strength lies in their numbers. With a deep roster, Carleton can run opponents into the ground and rest their stars in less important situations. They lose very little by reaching into their bench, a perk that most teams at Nationals can't say they have. The GOP fears no opponent and when asked who they looking forward to playing, Lindmark responded simply, "Ourselves." Calm and experienced, look for GOP to make a run late into Sunday.
Middlebury (10): The Pranksters, an always entertaining presence in the Ultimate community, enjoyed success in their first season back on the DIII scene. Wins over Brandeis, UVM, and Bowdoin (three times) and close losses to Tufts and UNH display their ability to play with quality teams at both the DI and DIII level.
The biggest story for Middlebury this season has been their undying rivalry with Bentley. Four of Middlebury's eleven losses this season have come at the hands of BUS, with a combined point differential of just six. The Pranksters have, however, taken their losses against Bentley and learned from them. "Early on in the season, we couldn't close games but after learning the lesson the hard way from Bentley, we now can play well into the second half," the captains said.
Middlebury began the season with shortened numbers and injuries have only shrunk their roster. They said they've had to learn to play with tight rotations. Davis Whitehead leads the way, both cutting and handling for the Pranksters. Jeff Hetzel does a lot of the cutting, working hard for unders on the O-line. The defense is anchored by Philip Chang, Stephen Lammers, and Pat Adelstein.
While the Pranksters are looking forward to a Sunday rematch with Bentley and a chance for a fun-clothing game with GOP, they're also ready to decompress in the Milwaukee sun. "USAU decided to schedule the tournament during our finals period. We're all stressed out, overworked, and flat out bored with school at this point so we figured winning D-III championships would be a good stress reliever," the captains explained. Don't be surprised to see Middlebury pull some upsets in their first DIII Nationals in the USA Ultimate era.
Georgia College: Georgia College qualified for Nationals after a series of events that voided Southeast Regionals from taking place. GCSU participated at DI conferences and was given the bid automatically. The young team has faced relative struggles this season, losing to a series of B-teams at unsanctioned tournaments and not notching any quality wins. They played close with GOP and MIT at Southerns but have otherwise disappointed. Through the effort of Captain Joseph Hanson and team leaders before him, Georgia College has developed into a consistent Ultimate program in the Southeast. They have competed at Nationals each of the last two seasons taking some of the top teams to double game point. However, it appears this season that they are overmatched. A win or two at Nationals would be big for the program.
Predictions: I think that Middlebury comes out and beats Stevens early on in the day. Stevens hasn't played any top teams this season and the Pranksters have. I think that will show in the morning. I think GOP beats both Middlebury in round two and Stevens in the last round of pool play. Georgia College puts up some points but goes 0-3. Stevens goes 1-2 with two razor-thin losses.
1. GOP (3-0)
2. Middlebury (2-1)
3. Stevens Tech (1-2)
4. Georgia College (2-1)
POOL D
Note: Pool D has been notoriously wacky in years past. In descending order by seed, pool play has finished 4-3-1-2 in 2012 and 3-4-2-1 in 2011. This year's Pool D has upsets written all over it as well.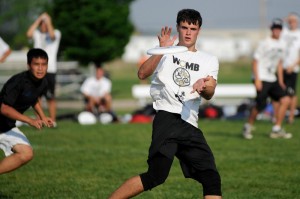 Wake Forest (4): WOMB ended up with the fourth overall seed despite a shaky Regionals performance where they never won a game by more than five points and lost to Elon on Saturday. While they got revenge on Elon in a 15-13 finals victory, they never seemed like the dominant team we became familiar with in their regular season. Their regular season results were some of the best in the DIII nation, playing tight games with DI teams Delaware, Carnegie Mellon, Florida State, and Ohio State.
Having only lost two seniors from their and recruiting a large freshman has helped WOMB become cohesive and play deep into tournaments. "The introduction of set O-Lines and D-Lines into the structure of our team has helped us hang with good teams from across the nation well into tournaments," said captain Tim Kreutzfeldt. "This was our biggest problem last season."
Using a deep athletic roster and huge sidelines has been one of WOMB's big advantages this season. Kreutzfeldt is confident in his team's ability to win this tournament: "This is by far the most talented team Wake Forest has ever put together across the board. Our depth and athleticism at every position will be a challenge for any team to compete with at Nationals. We will be a team that will have a lot of energy in late Sunday games, and that energy will be very tough to deal with for any top heavy team whose starters are too tired to play every point of a close game." He notes the "30-man army" that WOMB has brought to tournaments this season.
Although this is a deep squad, they are anchored by a few of the stronger players at the tournament. Kreutzfeldt and Corey Casarella cut downfield while captain Sean Glennon is the key offensive handler. The D-Line works through the speed and athleticism of cutters Patrick McKendry and Cory Ryan. On turns, they look for big throws from Jay Sehgal and Jesse Hynes. It's also well known that WOMB will run a fearless zone no matter the conditions. Likely the most complete team in Pool D, don't be surprised to see them with a bye through to quarters.
Claremont (5): The Braineaters have been here before. In 2011, they swept the field and won Nationals. In 2012, they laid an egg, going 1-4 and finishing tied for last.
It's tough to predict how this tournament will go for Claremont. At times, they've looked dominant, winning DIII Warmup with a series of impressive wins. Other times they've looked rocky, finishing 14th at Trouble in Vegas behind sloppy play. The key for Claremont will be execution on their throws. Their talent and sideline energy is there, but when they don't stress fundamentals, they find themselves turning the disc over. Their only true competition at Regionals came in the form of Occidental Detox. In their two matchups against Detox, Claremont won 13-11 and 15-11.
Captain Zach Purdy, discussing Regionals, said, "Our two games against Occidental were both good. In both games they were up a little early, but our depth and incredible defensive play put us back on top. We learned that if we keep playing our percentages, we will eventually come out ahead."
Devin Drewry will be one of the more complete players at the tournament. His combination of break throws and speed, make him a dual threat from either the cutter or handler position. In the backfield with Drewry will be Nathan Hall. Alex Gruver and Daniel Geller make the disc move downfield while Abe McKay and Purdy help generate turnovers on the D-line. If Claremont can play to the best of their abilities, they will be one of the teams to beat at this tournament. If they struggle, they might not be looking at relevant games come Sunday.
[youtube RFD-t92DnBA 600 377]
John Brown (9): This is John Brown's first ever appearance at DIII Nationals. A surprise team this season, Ironfist earned a bid for the region, and defended it with their play at South Central Regionals. Easily taking down Trinity, Air Force, and Truman State, they met up with Rice in the semifinals. Rice led early on 5-2, but JBU came back with a few breaks of their own, cutting the deficit to 8-7 and pulling ahead to win 15-11. What they lack in depth, they make up for with disciplined and efficient offense. Captain Andrew Goode explains, "Typically, the team with the better fundamentals ends up winning. We stress throws and catches with high percentages. If we don't turn the disc, the other team can't score, and this is something that we try to burn into our team's mentality."
Ironfist is a very young team, without a senior on the roster and with two freshmen starters. Goode, Christopher Genheimer, and Jacob Moore will lead the attack. Genheimer, who played on the South African National team, and Goode will look to work this disc in the middle of a horizontal stack and distribute quickly across the field. They'll look to run a boring offense that features 100% throws and valuing possession of the disc. With a "nothing to lose" mentality and the sheer joy of getting to play together at Nationals, Ironfist should pose a problem for any team they play. A fun group of guys who enjoy playing together, they have as a team embraced their unique style of play. Goode concludes, "This year, we have grown together as brothers united to glorify God through this sport and play some great Ultimate."
Wesleyan (16): Wesleyan has the dubious (or not so dubious) honor of being seeded dead last. While 16th seeds have gone 4-2 in pool play the past two seasons, Nietzsche Factor has their work cut out for them. Wesleyan only attended one tournament before Conferences, where they went 0-6 against quality competition. They played close games at both series tournaments, winning six games by three or fewer. While they played a close contest against Stevens Tech, they couldn't come out with a victory, having to take down a tough SUNY-Fredonia team in the backdoor game. They would win 13-10 to advance to Nationals. When asked about their Regionals experience, Junior Ty Holzschuh noted, "Mark Jackson, the coach of the Golden State Warriors, always emphasizes 'have amnesia,' in order to focus on the task at hand. We take this very seriously, and thus do not talk about the past. I vaguely remember some team named Fredonia, but there's no way this could be a real place. Are we spelling this wrong?"
Another team who has consistently taken the DI route, Wesleyan opted DIII because of a short roster and a few injuries. They are led on offense by the strong play of seniors Joe Schindler and Mike Revelas. Athletic and tall, these handlers put up deep balls to Holzschuh who is hard to stop in the air. "Our entire defense runs through John Baierl. It's hard to run defense through somebody, but it works," said Holzchuh. In reality, this is no 16 seed. They work hard and their energy level is great. I wouldn't be shocked if they scared some teams in pool play.
Predictions: I think that Claremont beats Wake Forest, but John Brown's fast paced attack beats Claremont. I think that Wesleyan goes down early to JBU, but their experience bests Ironfist's youth and they come away with the W.
1. Claremont (2-1)
2. Wake Forest (2-1)
3. Wesleyan (1-2)
4. John Brown (1-2)
SUNDAY PREDICTIONS
Quarters: Puget Sound, Harding, GOP, Claremont, Wake Forest, Bentley, Amherst, Middlebury
Semifinals: Puget Sound, Middlebury, GOP, Harding
Finals: Puget Sound, Harding
Champion: Puget Sound