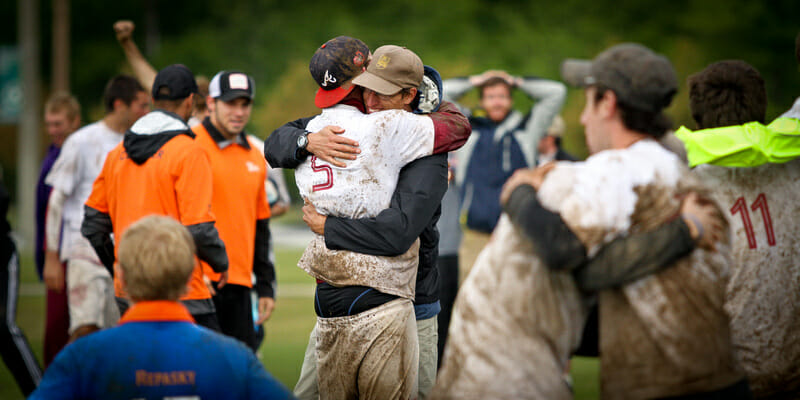 For the last four years, Florida State was mediocre.
That's how I approached FSU Coach Peter van de Burgt and fifth year senior Ben Stringer to talk about their newfound success.
"It's easy, from an emotional standpoint, to get a little offended by that word," Stringer said. "But being here for five years and being able to look back at everything, the description is almost perfect."
Just how perfect is "almost perfect"? You be the judge. In 2009 the Demented Ultimate Freaks (or DUF) finished tied for 13th at Atlantic Coast College Regionals. In 2010 they were upset in the prequarters crossover and didn't play on Sunday in the same tournament. In 2011 Florida State again was out of contention before play ended on Saturday at Regionals; they were upset by Georgia Southern and Mississippi State in the first ever Southeast College Regional tournament. In 2012, the team would finally play meaningful games on Sunday at Regionals for the first time since 2008. Unfortunately, there just wasn't enough in the tank and FSU fell in the game-to-go-to-the-game-to-go to Nationals.
It's a pattern that is all too familiar in College Ultimate. A team that has athleticism, talent, and passion, but just can't quite get to the next level. Florida State has had at least one player on the All-Region team since 2010. However, as with many teams in similar situations, having all of the pieces doesn't mean you end up at Nationals.
Look at other teams in DUF's region. LSU has finished in the top ten in its region for four of the last five years. Tennessee has finished in the top ten in its region each of the last five years.
However, after this season, Florida State joins a small and elite group from its region to qualify for College Nationals. (only six have done so, in fact: Florida, Georgia Tech, Georgia, Virginia, Central Florida, NC State, and UNC-Wilmington).
In a rainy, muddy, and cold Tupelo, Mississippi, at a tournament that was postponed for a week two days before it was scheduled, DUF finally earned a berth in Madison, Wisconsin, as a member of the 20 best teams in college Ultimate.
It was a journey that began in earnest three years ago. In the summer of 2010, the team leadership contacted Peter van de Burgt, one of the key cogs in Virginia's 2009 run to quarterfinals at College Nationals and an FSU graduate student, to become its new coach.
"I give Peter pretty much equal credit [for Florida State making Nationals] as any of the players that have been around since I've been around and since he's been around," Stringer said.
Van de Burgt won't take that much credit though. To him, the groundwork had already been laid and it was only a matter of getting all of his players to buy into a system that would bring them up to the level at which they desired to play.
"It was clearly a young program when I came in," van de Burgt said. "The guys who were in charge, Ben Stringer and Sam Stewart, at the time they were third years. There were all those institutional aspects of a program were just starting when I came in."
"I remember the very first practice I coached at FSU and realizing that there were a lot of very talented players in the program," van de Burgt said. "I realized that the potential was there and it was just a matter of getting it out of the pieces that we had."
According to Stringer, there hasn't been a more important piece of the puzzle for drawing out that potential than van de Burgt.
"Peter has a way of getting it out of players," Stringer said. "If there was a guy that was 99% committed with 1% disbelief, we usually lost that guy my freshman and sophomore year. But now with Peter, it seems like if we have a guy that is 1% committed and 99% disbelief, he pulls everything he can out of that guy to get that commitment."
However, you can't just add a solid coach to a program and expect a trip to College Ultimate's most coveted tournament. Games are still played out on the field and, in the most frustrating of times, it can often seem like all those hours of practice and preparation in order to realize potential just aren't worth it if they result in just another not first-place finish in your own conference. Those losses and disappointments can emotionally and mentally begin to pile up.
"It was kind of a constant struggle for us to stay on the right side of the divide between a decent team and a great team," van de Burgt said. "As a team, we seemed almost afraid to win at the biggest moments and that manifested itself in the slew of universe losses we had over the course of the spring season. I think we had 5 double game point losses before the series, and then we had four universe point games at Regionals — two wins, two losses — and a blowout loss in the sectional finals."
Stringer saw desire fade in and out and mediocrity attempt to take hold as well. Not just in this season, though, but over the last several years as track workouts, film sessions and general practice time became more and more abundant.
"We faced those problems a lot [in 2010-2012]," Stringer said. "Where, as we're trying to change the culture of the program, you have your old guys who have been around and they're used to having practice be getting together to decide who's going to throw down on beer that night and then you have guys who are playing Ultimate frisbee for whatever range of reasons whether it's just to have fun or because some hot chick they knew was coming out."
2013 became a different story when DUF traveled to its second spring tournament, Warm Up: A Florida Affair. In the first round, FSU took one of those double-game point losses to perennial powerhouse Carleton College. Instead of that being another moment to question the team's decision to dedicate themselves so thoroughly to improvement, Stringer saw it as the moment that he knew they had made it.
"We were going blow for blow with them," Stringer said. "We lost on universe but it was at that moment when I realized that if we can compete with Carleton then we can compete with anybody. I knew it was still going to be a difficult journey but I knew that we had every piece that we needed."
Some of those pieces came in form of spectacular plays that dropped jaws but Van de Burgt's jaw was dropping for another reason. He saw one player stepping up to the task.
"I cannot say enough about our captain Jordan Huston," Van de Burgt said. "He's been the rallying point for the team. Honestly, I think the biggest tipping point for us between this year and last year has been his leadership for the team."
That power in leadership doesn't escape the rest of the team either. Freshman Cole Friedes, the youngest player on DUF's A-team, readily recognizes the players that have come before him as powerful forces in the development of a program.
"These guys have dedicated so much time to this program," Friedes said. "I'm blown away that they can put forth so much time, maintain their grades, and be so successful at what they do. It gives me something to look forward to and look up to also because my captains and the seniors this year are really good players and it's inspiring for someone who's young like me to look up to them."
That time and effort was completely validated when DUF defeated its rival in-state school, Florida, in the game-to-go at Southeast Regionals.
"It's five years of emotion hitting you at once," Stringer said. "Every up, every down, just hits you at once. You know it paid off though, that's really the big thing. You know it's all worth it."
Suddenly, all the practices, all the track workouts, film studies, weight-lifting sessions, double-game point losses, and Regional Sundays with nothing to do seem so far away. But those aren't the only things that appear to be in the distance.
Mediocre doesn't seem to be so apt a description of FSU anymore.