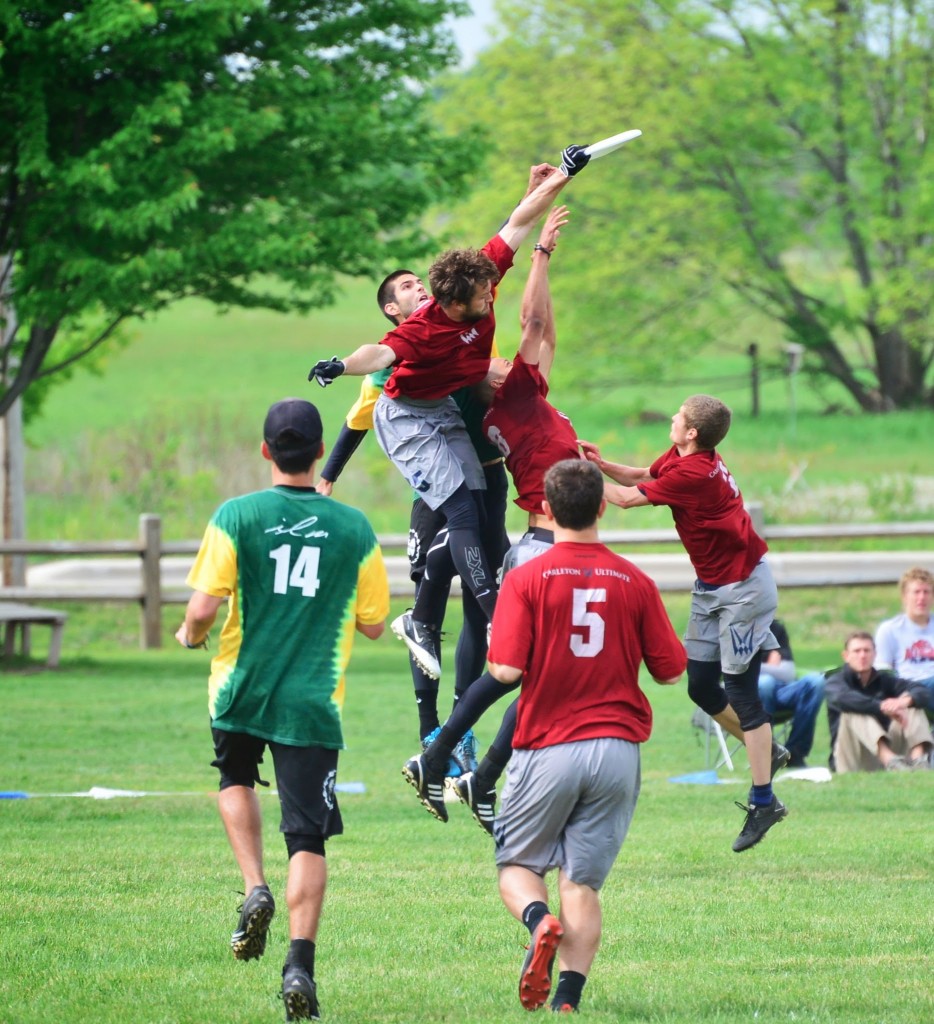 Nick Stuart has been hung up. Hung up on the sideline, hung up by injury, hung up in the amount he can invest in the game, hung up cheering for his team at the College Championships as opposed to playing alongside them for the third time in his career. However, when Carleton needed him the most, when the UNC-Wilmington Seamen had brought the score back within one late in the second half and Carleton needed a cushion, he hung up only in one place: the air.
"I just saw the disc go up — I was covering a different man and I thought that I had a play on it because there was some wind so it might float," Stuart said. "So I just took off after it, knew that I had some help, two of my teammates, only one of theirs, so I knew I could go up strong for it and trust them to get it. So I didn't think about it and just went for it and ended up catching it."
For Carleton coach Phil Bowen, Stuart's play, a huge momentum shift inside of very tight quarterfinal game against UNC-W, indicates not how much Stuart knows his teammates are there for help, but how much he has and is helping them.
"He's not looking for sympathy when he can't play," Bowen said. "He works his butt off to put himself in a position where he can give what he does have left in the tank. That's a huge inspiration for the team to see him out there when he doesn't have much left and especially if he's able to do something like that."
What he did was come off the backside of a UNC-W huck and get up over a pack of players, including Wilmington's 6'8" Zach Gostling, in order to give CUT an opportunity to break and extend its lead to 12-9 and give some much needed insurance over the Seamen, who had just earned a break and was looking to regrab some momentum.
It was a play that, inside of a game that was just about as tight as it gets, meant just about as much as a single play can. If Gostling had made the catch, Wilmington would have gone on defense only two points after forcing a break with high hopes of forcing another. The pressure would have been on Carleton, the momentum would have been with the Seamen, but Stuart, who suffered yet another injury on the play, would not allow it.
As in any sporting match, one play, one moment does not a victory make. Wilmington threatened Carleton throughout the game and Bowen couldn't help but acknowledge the Seamen's effective strategies.
"First [thing that I noticed], was their lack of execution errors," Bowen said. "With the exception of a drop, I don't know that they ever gave it to us. So, for us to get breaks, we couldn't just wait for them to give it us because if we had we wouldn't have gotten any."
That drop came early and Carleton started up 2-0 on Wilmington. The Seamen would break back just a few points later to tie it at 3-3. The teams would trade out to halftime, despite stingy defense from both squads. Carleton would take half 8-7 and earn another break to go up 10-8, but UNC-W broke right back to keep things tight at 10-9. After a Carleton hold, Stuart's play changed the complexion of the game. It was indicative of just too much Carleton for too much time for Wilmington. CUT would hold for the remainder of the game after the break to 12-9 and eventually win 15-12. After Stuart's play, and throughout the game, Carleton would lean on junior Simon Montague to keep the offense in check.
"Carleton's good," UNC-Wilmington coach Greg Vassar said. "They're very good and Simon played his ass off. He played like superstars should over high stakes."
That doesn't change Wilmington's lasting perspective on the game or the tournament. Though UNC-Wilmington finishes with a loss, Vassar saw a team that came together to play its best Ultimate at the right time.
"I can't say enough about this team," Vassar said. "It's been a great run."
Carleton will take on Central Florida in the semifinals at 8 PM EST tonight.