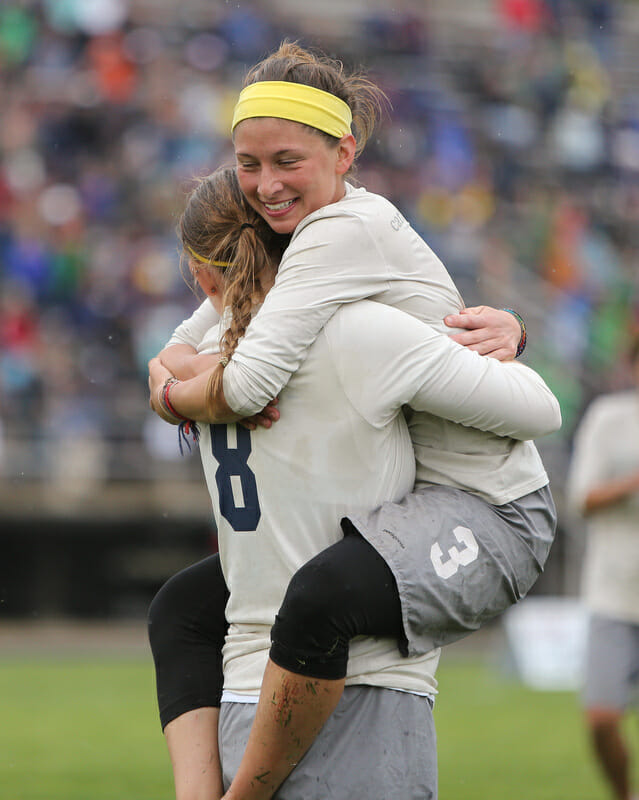 MADISON — In front of a packed stadium and the ESPN cameras, Carleton Syzygy continued their remarkable season with a 15-11 win over Ohio State in the semifinals of the D-I College Championships. Both teams came into the game undefeated, confident, and gunning.
Early on, Carleton would go to their zone defense, hoping the light rain and shifting winds would help them defensively. Ohio State, though, got on the board early and often, using a man defense, with OSU's Paige Soper often battling Carleton's Julia Snyder, a matchup of two of the division's best handlers.
Carleton is a team known for their stable of incredible handlers and their tall athletic downfield receivers, but Ohio State was able to play stalwart defense on those handlers, denying them the break mark throws that typically are a critical component of their downfield attack. When Carleton would land one of their cutters on the sideline, Fever ratcheted up the pressure and shut down throwing lanes.
In some desperate situations, Syzygy would toss up jump balls, a strategy always to the sizable Carleton cutters' advantage. Flannery McArdle, a 6'0" tall senior, was particularly effective, skying Ohio State star Cassie Swafford and later coming up hurt after catching her second score. McArdle's knee had been an issue all weekend, with her only playing critical games in Carleton's schedule the past three days, and it noticeably hindered her movement during the Semifinals; she actually required a cortisone shot before the game.
"She's got a pretty bum knee right now, but she's got a ton of heart," Megan Molteni, Carleton's sort-of coach (the team is run mostly by the Captains), told Ultiworld, "I got asked on the sidelines, 'Why isn't Ohio trying to cover her?' Because they can't."
But in the first half, Ohio State would weather the McArdle attack, using their defense to grow the early lead, mixing in some of their four man cup and some very smart poaching in their man transitions to take a 6-4 lead. However, Carleton caught another deflected pass to make it 6-5, and would capitalize on some OSU mistakes, McArdle's fearsome presence, and the break throws of freshman Kirstie Barton to run off two breaks in a row, and eventually take half 8-7, up a break.
Taking half and then "coming out hard the two points after half" was the turning point Molteni pointed to in the game.
After a Fever goal to start the second half, Carleton would catch another tipped score; they would follow that up with a quick punch-in when a turn gave them a short field, making it 10-8. Ohio State freshman Nina Finley would open up the deep game, after throwing no hucks in the first half, finding senior Cassie Swafford, one of Ohio State's leaders and stars, multiple times for scores, fighting to keep Fever in it. Still up two breaks at 11-10, the North Central Champions would go back to what was working: Flannery McArdle. Their handlers switched fields with more fluidity than in the prior half, avoiding the sideline trips on their cutters that had flummoxed them previously. They moved Fever's cup and ran their man defense, controlling the final points on their way to a 15-11 victory and a berth into the Final.
This game was really a tale of two halves. In the first half, Fever's defensive play was outstanding and break throws and resets were tough to come by for Carleton. Finley, Swafford, and Paige Soper played almost every point for OSU in this game, and it showed in the second half. Matching up Snyder (who also played virtually every point), Reed, Want, and Barton become significantly more difficult with tired legs.
"We knew we would be deeper than Ohio [State]," explained Molteni. "They basically have three players that their offense runs through."
"Their defense really stepped up after we jumped out to that lead early on," Ohio State Coach DeAnna Ball told Ultiworld. "I think if we had slightly fresher legs we would have been able to step up in the second half."
The other huge factor – in a literal sense – was the presence of Flannery McArdle. Injuries often crop up during big tournaments, but McArdle's ability to not only play through, but excel in spite of it, was inspiring.
"We like to put it deep, and she was usually always there," said Ball. "And that made it really tough for us."
McArdle — who finished with eight goals, two assists, and a block — never considered sitting this one out. "It hurts, but nothing could keep me from playing," she said. "Watching my team do the work…I just wanted to do it for them." Nearly in tears, either from the emotion of winning, the pain of her injury, or some combination of them, McArdle's pride in Syzygy's performance and passion was evident as we spoke with her.
"I didn't get to play at all yesterday," she explained. "And I just missed my team. And I just want to play for them."
Her efforts earned her one more opportunity to do just that.
See more photos from the College Championships on UltiPhotos.