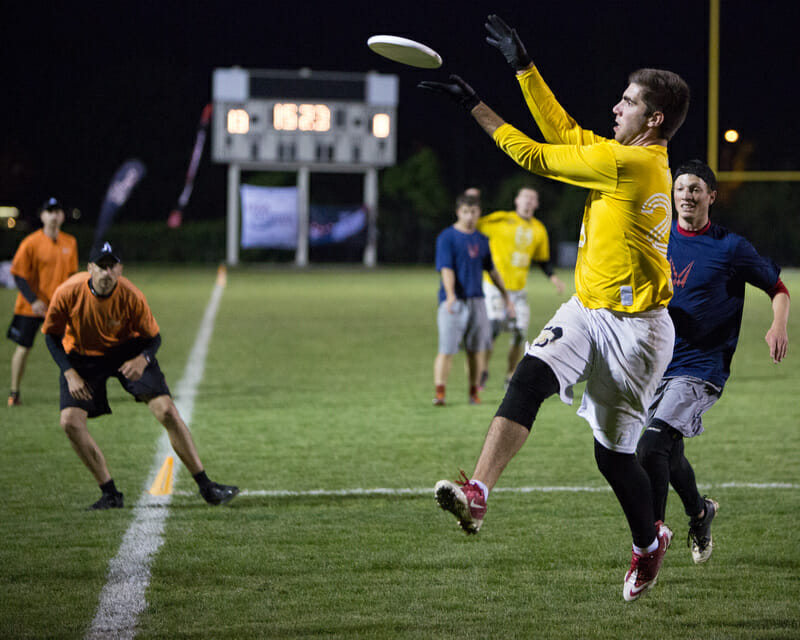 MADISON — Central Florida stunned the college ultimate world on Sunday night under the lights in Madison, dominating Carleton and rolling to a 15-8 win to earn their first ever berth in the National Championship finals.
UCF controlled the pace of the entire game, using pinpoint hucks and outstanding athleticism to jump out to a three break lead before pulling away with a 5-0 run.
The Dogs of War came out strong, turning a thrilling endzone block from Mischa Freystaetter over Simon Montague into a break to take a 2-1 lead.
"With the adrenaline rush, you don't even think…," said Freystaetter. "I just saw the disc go up and I knew I was a couple steps behind him — Montague's a phenomenal athlete — but I took a couple steps and went up. I just came down with it."
John Best, Michael Hickson, and Jeremy Langdon joined Freystaetter as big playmakers for UCF. Hickson had a huge point with the score 3-2 UCF, extending the lead to two with a nice assist for Freystaetter.
The Dogs of War continued to roll later in the game, stretching the lead to four at halftime, 8-4. They would stretch the lead to six by getting two quick scores after halftime, all but sealing the victory for UCF. Freystaetter notched another assist in that string of points.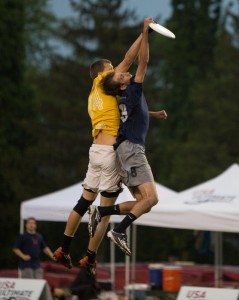 Coach Andrew Roca had great things to say about his star cutter and defensive powerhouse.
"He changes the game because everyone adjusts to him," Roca said. "What they don't realize is that he isn't even the main tool. That's exactly what it is. He changes the game because everyone is a little bit afraid and that leaves everyone wide open under."
The real dagger may have come a handful of points later, when Julian Childs-Walker swatted at a disc but macked it up into the air; Best reeled it in to notch the UCF score to make it 12-6.
Central Florida would break once more to take the game 15-8. UCF allowed just one break of their own, executing their offensive almost flawlessly. They will reach another first at the College Championships: a finals appearance. This was already their first time in the semifinals.
What made this game all the more remarkable was UCF's performance earlier in the day. They had a tight battle against Dartmouth in the quarterfinals after a first half that UCF coach Andrew Roca called "horrendous." What changed in this game, one of the sharpest performances we've seen all weekend?
"A little bit of belief," Roca said. "Once they got the first break that was it. That was it. You could see it in their eyes, you could see it in the way they ran, you could see it in the pulls, you could see it in every pass. They believed, that's really all it takes."
Central Florida has spent months chanting "I believe that we will win!" before games. They clearly believed in this one.
But there was no complacency. Freystaetter didn't feel comfortable until they punched in the final score.
"In this whole tournament, we came out flat in the second half…," he said. "So I didn't think we were going to win until that last point."
Central Florida dictated the speed of the game, an uptempo affair with big hucks in both directions. That was instrumental in their victory, and a part of Roca's strategy.
"If you take something away from them they're probably going to want it more," he said. "So they really got a little huck heavy and that's where we got our Ds."
But the strategy wasn't the key to this game. This was about a team that has been up-and-down all season rising to the challenge against a decorated opponent who has been in the semis for six straight years.
How did they do it?
"Using the model of our season, 'I believe,'" said Freystaetter. "We really believe that we're an elite program."
See more photos from the College Championships on UltiPhotos.