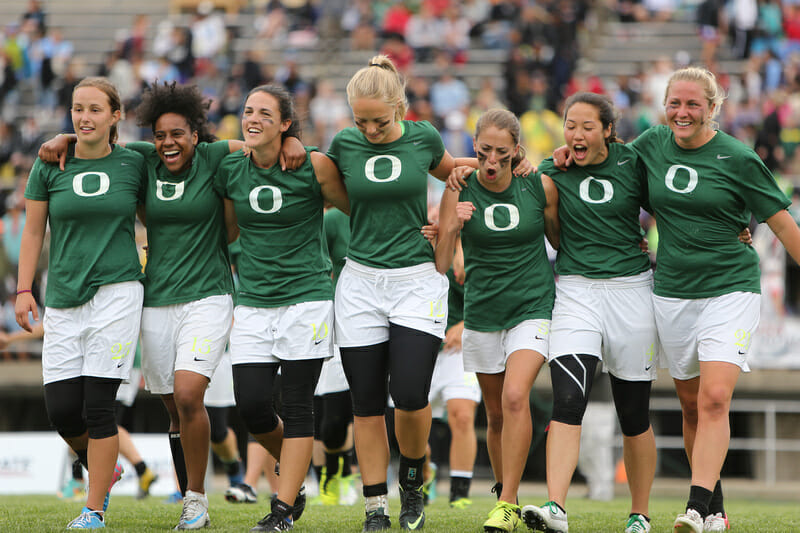 MADISON — Oregon Fugue completed a remarkable one-loss season on Memorial Day, winning the National Championship 15-8 over Carleton Syzygy.
Sophie Darch, Bethany Kaylor, and Callahan nominee Bailey Zahniser each recorded three assists and a goal for Oregon as they celebrated a dominant season with their second title in four years.
The game started off with a bit of luck. Oregon brought down two overthrown discs, one of which helped lead to their first goal as Darch hit Kaylor deep with a perfectly weighted throw.
Carleton got a break of their own after a huge Kaylor layout tipped the disc before Julia Snyder, the 5'5″ junior captain, came down with it and hit Flannery McArdle in the endzone.
McArdle would again be a major factor in Carleton's success in the first half, using her 6'0″ frame to bring down everything in the endzone. Carleton jumped out to a 3-1 lead with strong downfield play from McArdle and the other tall Carleton receivers.
Oregon's Ashley Young prevented Carleton from getting another break with a spectacular layout catch block along the sideline, which led to an Oregon hold to make it 3-2.
Oregon wouldn't trail for much longer. After a Darch to Coles connection on offense, Zahniser got a poach block and found Molly Munson with a nice inside break to tie the game at 5-5.
After a long, multiple turnover point, Oregon would tack on another as Zahniser found Andrea Fontenot wide open on the break side for two straight breaks.
"We knew that we had to fight all the way through, but I think when we got out second break, I think that is when we got back into our flow and a little more confidence," said Darch.
With all the momentum, Fugue increased their defensive intensity, forcing high stall hucks and making resets very difficult. Oregon would use that pressure to rattle off two more scores to take half on a 5-0 run.
"Once we went to playing tighter, they weren't able to get that seal and the throwers were less comfortable throwing without separation," said coach Lou Burruss. "The ones they got late, all those came on stall 9."
Both teams looked fatigued after three long days of high-caliber ultimate depleting their legs. Syzygy's tighter rotation — and an injured McArdle, who really slowed down late in the game — made it ever more difficult to stay close with Oregon.
Carleton continued to put up contested hucks in the second half, but some great plays from Snyder and McArdle kept the offense moving down the field as they traded points with Oregon to 10-8.
But Oregon's swarming defense proved too much for Carleton down the stretch, as the huck-and-hope offense started to sputter. Again and again, Anna Reed looked to Snyder, but with Bailey Zahniser playing better and better defense, more often than not they didn't connect.
"Bailey is a really flexible defender…," said Burruss. "Early on, I think Julia had the better of that matchup, but then as the game wore on, and they wore down, the tide really turned and Bailey was able to get a couple of Ds on her down the stretch."
Oregon used those turnovers and a drained Carleton defense to finish the game on another 5-0 string of breaks.
"Carleton is a super talented team and has very strong receivers," said Darch. "Some of the adjustments we wanted to make were not winning it with our throws but winning it with our legs. Working harder to get open unders and handler movement and then the shots would come."
Oregon, the tournament's top seed for the third year in a row, got back to the top of the podium for the first time since 2010. Last year, they fell to Regional rival Washington in the finals.