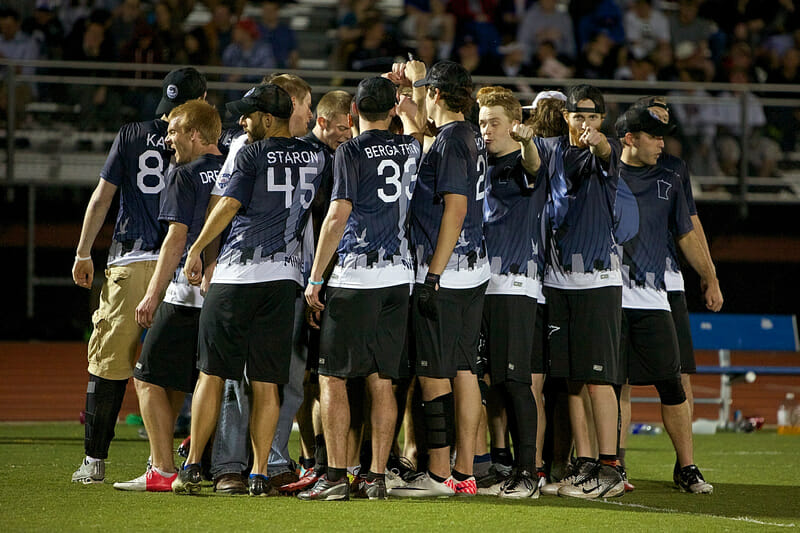 No make-or-break games this week in the AUDL, but a lot of important jockeying for playoff position as we get into the heart of the second half of the season.
Here's a look at the Week 10 games around the league.
EASTERN DIVISION
New York Empire (5-3) @ Philadelphia Phoenix (6-4)
After escaping a thrilling Phoenix fourth quarter comeback with a one point victory, the New York Empire now head down to Philadelphia for round two of their three consecutive weekend matchups. The Empire dominated the first half of game one last weekend, but looked shaky down the stretch. Philadelphia, despite the loss, may well be the more confident team this weekend, especially playing at home.
Whoever wins this game will have second place and a one game lead over the other. Considering that Philly has to return to New York for a game next weekend, they'll need to make a stand at home to stay close in the race for second place in the East.
The Empire's game plan in the teams' first meeting was to shut down David Brandolph and Matt Esser. They'll need to figure out a better strategy against Esser who finished the game with five goals, three assists, and two Ds.
The Empire will want another big performance from CJ Ouelette, who had three huge blocks, including a game-saving layout at the buzzer to prevent a Phoenix goal.
Rochester Dragons (5-6) @ Toronto Rush (9-0)
The Dragons make their first trip to Toronto to face the undefeated Toronto Rush. In their first meeting in New York, the Rush came away with a 28-21 victory. The bad news for the Dragons? Beating the Rush is even tougher at home, where they have an average margin of victory of 12 points.
Both teams are coming off back-to-back home victories — both beat New Jersey and Philly. The Dragons, if they were to surprise Toronto with a win, would get to .500 for the first time this season and get one step closer to surpassing Philadelphia for the final Eastern Conference playoff spot.
Toronto, however, still hasn't clinched a playoff spot and has a lot to play for: a perfect season.
New York Empire (5-3) @ DC Breeze (3-7)
The Empire have owned the Breeze so far this season with two double digit wins over DC at home in New York. This will be the Empire's first trip to the nation's capital. The Empire have won three straight; DC is on a two game skid.
This is a critical game for the Breeze's slim playoff chances. Like most AUDL teams, they have played much better at home. They will also be getting a tired Empire team, who will have a tough game against Philly on Saturday before they face off on Sunday.
The Breeze actually played quite well against the Phoenix last week before losing steam at the end of the game. New York will need to watch out for a mental letdown against DC — it's a classic trap game.
Philadelphia Phoenix (6-4) @ New Jersey Hammerheads (1-9)
The New Jersey Hammerheads return home after a rough 0-2 road trip to Rochester and Toronto. New Jersey has lost nine games in a row since beating Rochester in week one.
The Phoenix may be gassed after facing New York, a tough rival, on Saturday. However, New Jersey hasn't proven to have the ability to put together a complete game this entire season. They'll need to if they want to beat the more talented Phoenix.
The Phoenix beat the Hammerheads 20-15 in the first meeting in New Jersey.
MIDWESTERN DIVISION
Madison Radicals (7-2) @ Indianapolis Alleycats (5-4)
The Madison Radicals come into this weekend on a four-game winning streak. But they'll be missing some Dave Wiseman and some other key players this weekend as they face a red-hot Indianapolis team who has won four of their last five.
The Alleycats are working to extend their two and a half game lead over Minnesota for the final playoff spot — a win over a depleted Madison team would be a critical step for them in advance of three games against Minnesota in the second half of the season.
This is surprisingly the first meeting between the second-place Radicals and third-place Alleycats. If Indy can protect their home turf, they'll be just one game out of second place in the Midwest.
Madison Radicals (7-2) @ Cincinnati Revolution (3-8)
Ignore the records of these two teams: this should be a tight game. The Revolution are coming off of an 0-2 road trip and will be looking to get back on track after losing five straight. Combine that with a shorthanded Radicals team and you have the recipe for a battle of a game. Each of the Radicals' road games has been decided by two points or less.
The Revolution are a half game out of fourth place in the Midwest.
Minnesota Wind Chill (3-7) @ Windy City Wildfire (9-1)
Another game between teams with records that don't mean much. Like Madison, Windy City won't be at full strength this weekend and Minnesota is absolutely better than their record indicates.
However, Windy City has showed an ability to continue to play excellent ultimate when some of their starters are out. They have a deep and talented roster; Minnesota won't be able to rely on an easy game against their reserves.
Windy City knows they'll have a game on their hands; their first and only meeting in Chicago was only a three point win for the Wildfire, 18-15.