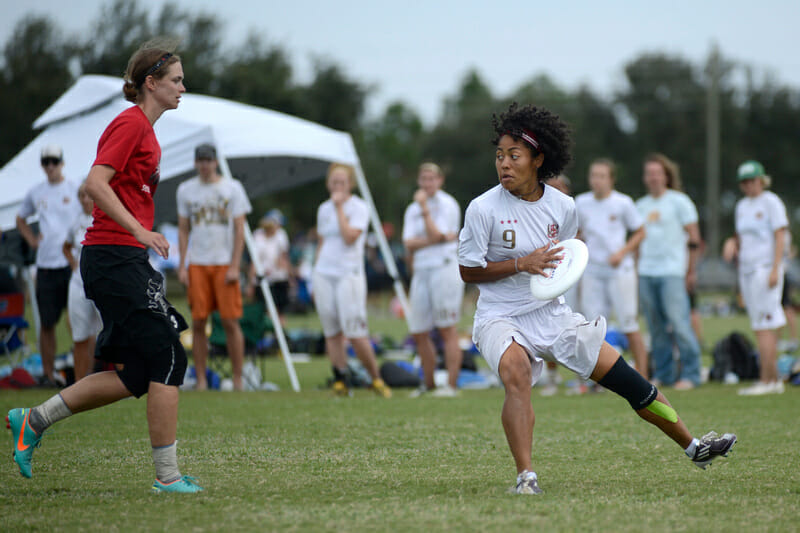 Last year, Scandal launched themselves into the elite tier of women's club ultimate by finishing tied for 3rd place at the 2012 Club Championships. Following their quarterfinals appearance in 2011, the DC women demonstrated they were a threat for the title with their win over Seattle Riot at last year's US Open. At the Club Championships, their only losses were to eventual finalists Fury and Riot, by a total of five points.
The 2013 model of Scandal is looking to pass through the door they've been knocking on. There are plenty of reasons to believe they are capable. A small amount of roster turnover means another year of seasoning. While the incoming class is solid, it will be the returning players and their growth that could push DC forward.
It won't be without adjustments. Their offensive unit loses two big time contributors in Katie Klein-Shepley and Charlie Mercer. Shepley was one of the team's leader in touches as a handler and DC veteran Mercer operated as a primary cutter. Scandal will also be looking to replace the contributions of Maureen Hsia and downfield defender Huldah Gronvall.
The incoming class brings two experienced veterans to help replace their losses in Kath Ratcliff (Molly Brown) and Christie Lawry (Hot Metal), both former Captains. Young talents Jessie O'Connor (2012 AC 2nd Team All-Region), a strong handler, Alisha Kramer (Bucket), and Quinne Farenwald (American Hyperbole) join alongside the internationally experienced Kristen Franke. Kramer, an outstanding athlete, and Franke will be tasked with making downfield plays after the turn.
More notable than the incoming class may be last year's rookie crop. Virginia Hydra's Alika Johnston had a breakout showing at the College Championships, and is moving from the defensive line to the offensive line. "She's already matured incredibly as a player and has a ton to bring to Scandal," said Scandal captains Octavia Payne and Molly Roy. "Everyone will know her name at the end of this season."
Joining Johnston are 2nd year Scandal players Lauren Sadler, Sasha Bugler, and Leah Tsinajinnie. Sadler, a two-time All-Region selection in the Atlantic Coast, will compete with USA Ultimate's Women's U23 team in Toronto. "We expect her to be a go-to cutter in tight games," said the captains. Bugler (2011 2nd team and 2012 1st team All-Region) took on a big role as a D-line handler last season. Tsinajinnie is coming off her 3rd straight 1st team All-Region selection in the Southeast.
Scandal's top end talent can compete with any team. Octavia "Opi" Payne, Jenny Fey, and Alicia White have been feared as three of the best well-rounded players in the Women's game for the past few seasons. Payne, who's high flying layouts punctuate her exceptional ability, will play alongside Sandy Jorgensen on Team USA at the World Games.
At last year's US Open, Scandal was able to set the stage for their own show, where they could be a headliner and not just a side character to the West Coast powers.
"Last October we saw that the tides have begun to shift in terms of strength distribution," said Payne and Roy. "Teams like Heist, Showdown, and Scandal mixed things up. [We're] sending a message that it's time that other areas of the country got the spotlight."
This year's tournament will offer even greater opportunity, with 7-time reigning National Champion Fury entering the fray.
Despite the chance to see each of the three other semifinalists from last season's Championships, the captains indicated that they were most excited to see the international teams attending. The rest of us will be watching to see how the top contenders for this year's title stack up.
Early season returns for the DC ladies are promising, with a Winston Cup Challenge Final victory over Ozone. Later this season, Scandal will be attending the Chesapeake Invite, Labor Day (Pro Flight Finale), and Virginia Fusion.