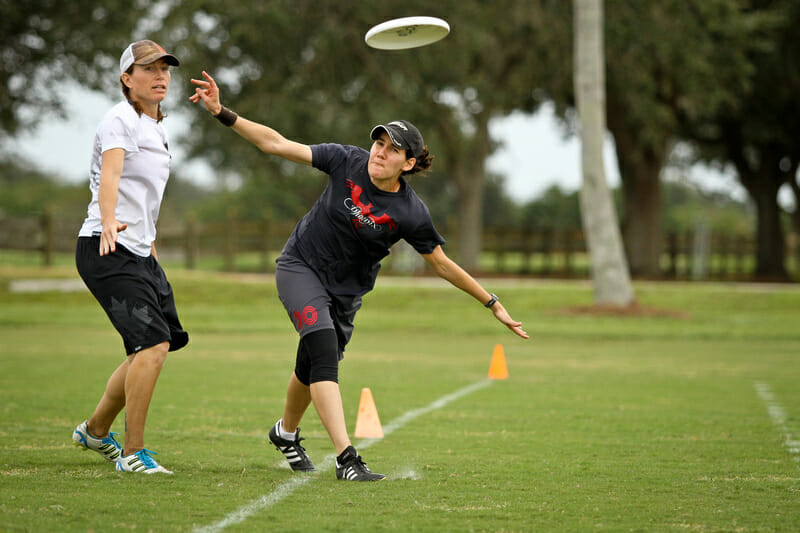 One of the Women's Division's strongest building programs, North Carolina's Phoenix enters 2013 in flux. After 2011 culminated in a semifinal appearance at the Club Championships, last year's team wound up in 13th place. As one of the host teams for the upcoming US Open, they'll have an early chance to give their roster a look at how they operate against the best.
Change is the theme for Phoenix on paper. An astounding 14 players from last year's roster are outbound, along with the team's head coach. Currently, 10 new players and a new coach are joining their lineup.
It's not just your typical roster turnover, either. Gone are founding captains Cate Foster and Leila Tunnell, two of the team's on and off field leaders. Also absent from the roster is Claire Chastain, the 2013 Callahan winner on the verge of club stardom. Included in the outgoing members are Phoenix veterans Sara Casey, Sarah Dieter, Janna Coulter, Melissa Gannon, and Tania Reitz, as well as newer talent like Mary Kelly and Julie Eagle. Tully Beatty exits as the head coach.
Few teams can manage the loss of two Callahan winners (Tunnell also won the award in 2011). Few teams can weather the exodus of 14 players and a coach. Phoenix will need to do both.
"Turnover is part of every program's development," Captain Michelle Ng told Ultiworld. "We will definitely miss the players who've moved on. These players have left us with a strong foundation, and we have a lot of faith in our 2013 roster to continue to build the Phoenix program."
The optimist would say that few teams have such a large group of incoming talent to work with. "As a program, we are always striving to evolve in a positive direction," explained Ng. "We are excited for the opportunity to integrate our new players into the team, and to find ways to utilize their unique skills and experience."
Their recruiting class features Kate Morrison, a Phoenix and Backhoe veteran, and Shannon Matzinger (Polar Bears), a great athlete with killer defensive instincts. Their depth with be solidified with three North Carolina players: Virginia Conover and Meg Duffy, both 2nd team All-Region selections, and Diana Lam, an All-Region nominee. Adrianne Soo (Duke) is a varsity Cross Country runner, who (predictably) is a tireless athlete that dominated the cutting lanes during the college season and could break out on the club scene. New coach Brian Dobyns is coming off a college season with Elon that netted him the Atlantic Coast Coach of the Year award.
"Brian Dobyns is extremely talented at developing players and getting the most out of every individual," Ng added.


Phoenix has always had a focus towards their home Ultimate community. "We are excited to play some of the best competition in the world in front of our family, friends, and local ultimate community," said Ng, citing representing the Triangle Ultimate community, which many of the Phoenix players contribute to in various ways. As to the exciting prospect of hosting the US Open, Ng said, "We are proud to represent our community and to have the chance to play in front of them."
The weekend will provide a unique opportunity to Phoenix. The other four teams from last year's USAU club season are in the Triple Crown Tour's Pro Flight (all were semifinalists). It will be a tough early season test for the hometown team. Phoenix will be looking towards some of their mainstays to lead them this early in the year.
That group begins with Captain Lindsey Hack, the lone remaining team founder. Triangle area veterans Katy Harris and Frannie Goodrich provide leadership and experience. North Carolina's Shellie Cohen and Lisa Couper both return, having garnered more All-Region selections, and seem primed to create matchup problems for opponents.
When asked to describe Phoenix's style of play, Ng had some strong words. "[Our style of play is] aggressive, athletic, exciting, innovative, and adaptive," she said.
They'll need to live up to that to find concrete success at the US Open. Their first test was at the Winston Cup Challenge, where they suffered losses to Atlanta Ozone and Washington DC Scandal, the only elite competition in attendance.
After the US Open, their regular season schedule sends them to Terminus, Colorado Cup, and Virginia Fusion.