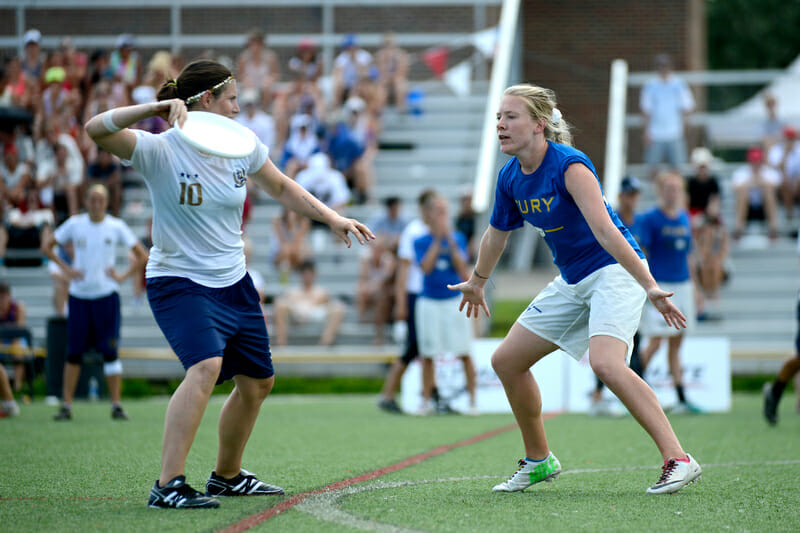 While it didn't have the urgency and excitement of a late season tournament, the US Open still offered some excellent high-level competition early in the year. Here's a look at some of the stories coming out of the long weekend.
***
Three May Be The New Two
For so long, we have talked about Fury and Riot. They've earned that right with their incredible performances and consistent dominance of the modern Women's Division.
We may be in for a change. For the second year in a row, D.C. Scandal has made waves by beating Riot at the US Open and finished as the runner up. They gave Fury a real run for their money on the big stage in the Final and rocked Seattle in the Semifinal.
I'm not ready to declare them a member of the top tier, though. On their way to their impressive finish, they lost three games, including getting worked over by Riot. I have questions about their depth. While their ceiling is high enough to compare them to the big two, they need to prove they can consistently perform at that level.
Texas A No Show In Their Showdowns
Last season, it seemed like Showdown snuck up on everyone at the Club Championships. From a 3 seed in their pool to the Semis? Wild.
They're not sneaking up on any one anymore. The Texas ladies looked awesome at points in Raleigh, but in three of their four matchups with the other Semis teams (Fury, Scandal, and Riot), they got run over. It takes the bite out of a 15-12 loss to the Champs when you lose the other three games by a combined 25 points.
They'll have a month before the Elite/Select Challenge at Colorado Cup. Their new coaching staff will have time to implement their system by then and we will have a much better idea of how Showdown stacks up.
Riot Sticking To Their Plan

The Seattle squad lost only two games this weekend: against Fury in pool play and a red hot Scandal in the Semifinal. They looked very good along the way, particularly on defense. What makes this a great sign is that they don't seem to have installed much of an offensive system yet. They also doled out equal playing time and never subbed to win. Expect them to be a lot cleaner in the coming months as they follow their plan to peak.
It is an uncontrollable, but this team has to beat the injury bug. There is just too much talent uncleated on their sidelines. New recruit Charlie Mercer contracted a strange virus (literally) that kept her from playing. And it was a bit scary to see Rohre Titcomb leaving their Semi in pain.
What will help is…
Sarah 'Surge' Griffith
She's doing it everywhere. You watch Riot play and you know she's a boss. When you look at the advanced statistics, they tell you she's owning the field whenever she steps on it. Her highlight reel shows she can make big plays too, like her sky in the Team USA vs. Team Colombia game. Surge is hyperproductive, game-changing, and establishing herself as the best player in the Women's game.
International Squads Offer Change of Pace and Fun
Most of the teams Ultiworld spoke with before the tournament indicated that playing the international teams was one of, if not the, most exciting aspect of the US Open. MUD, Revolution, and to a lesser extent, Nova, brought different styles of play and fun quirks of culture to the WRAL Soccer Complex. No team went down easy, with MUD even knocking off Scandal.
While I wish we could have seen a full MUD roster, they still provided a unique test for the teams in terms of their adaptability and strategic thinking. We will see if USAU can expand on this in future years.
First Year Players Making Early Impacts
A few of the rookies in the division are already positioning themselves to be important members of their respective squads.
Lisa Pitcaithley was a dangerous downfield threat throughout the tournament for Fury. Jessie O'Connor was very impressive for Scandal, earning herself point after point on their defensive lines. Veteran Enessa Janes delivered as expected for Showdown, while Shira Stern and Sabrina Fong look like they will be notable contributors for Riot this year.
Fury Still The Clear #1

The Women's Division is still Fury's. Close means there is potential for excitement, potential for an upset, potential for change. It also means nobody has done it yet. Someone has to prove us wrong if they want the game to change.