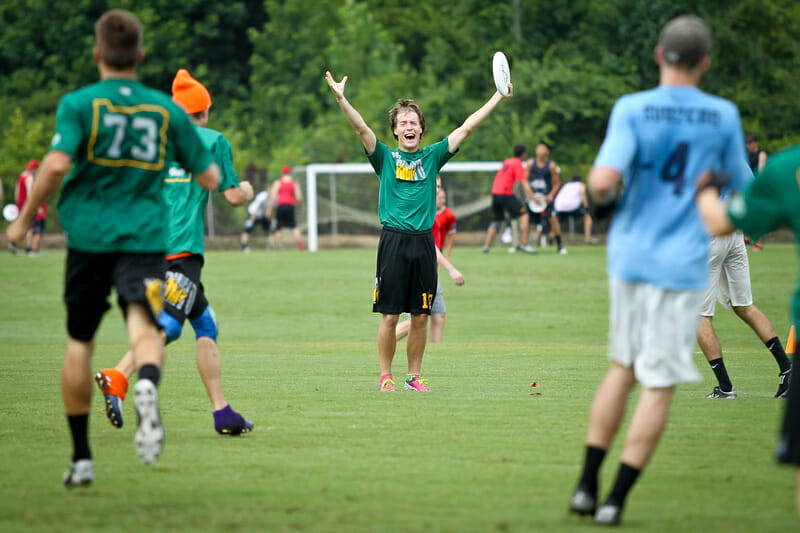 While not getting a particularly strong start on the season at Terminus in Atlanta, Georgia, going 2-4 for the weekend, Portland Rhino showed promising potential for the upcoming months. With a double game point victory over Minneapolis Sub Zero and a great Sunday game against Vancouver Furious George, the team has shown they can pull it together when it counts.
Rhino captain Adrian King noted their goal for the weekend: "Regardless of our wins and losses, we were at Terminus to get something out of it. We wanted to build, not just fulfill our [Triple Crown Tour] requirements. We selected a few new players for very specific roles and they showed promise of succeeding in those roles."
Missing a number from the roster going into Terminus meant that new members of Rhino had a chance to get some early on-field experience that will only deepen their bench as the season continues. They also were brought up to speed on the team's strategy.
As far as addressing their overall performance in Atlanta, the team felt the effects of the humidity and short roster early on. The weekend saw high temperatures accompanied by thunderstorms — conditions many Pacific Northwest players are not accustomed to dealing with. However, King conceded that the conditions and small numbers cannot be held entirely accountable for their performance. "I'm less concerned with our record than the manner we were beat," he said. "We weren't stingy enough with our choices."
As the season progresses, we are sure to see Rhino tighten up and focus its game.
With this weekend's Colorado Cup, the team is looking forward to having their U23 players back in the mix. This club season will prove to be a unique one.
With a number of players coming straight out of the Major League Ultimate season and a few fresh off the NexGen tour, the team is taking care to prevent injury and fatigue, having already lost player Carter Thallon due to an ACL tear at Terminus. Looking ahead to Colorado, the team aims to further its new identity.
"Every team has a collective personality that affects their play," said King. "With so many young Rhinos, we're building and refining our identity."
In addition to team spirit traits, Rhino plans on using the Colorado Cup to tune their strategy and work on game hypotheticals for which limited practice time doesn't always allow. The Kleinman showcase game against Seattle Voodoo — a 16-14 win for Rhino — provided another unifying experience like Terminus, proving they could win with a smaller team. However, as King noted, it also showed where they need improvement.
With a deeper team heading to Boulder, we can expect a strong showing from Rhino.