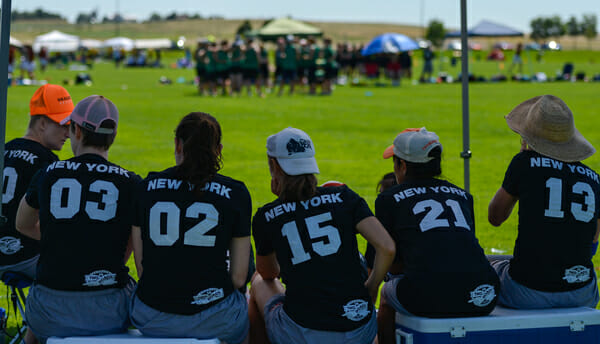 This article is part of our new, expanded New York City coverage. For more, follow @UltiworldNYC on Twitter and stay tuned for a dedicated New York-focused blog.
NEW YORK — How do you explain beating your seven-team pool winner while losing to the tournament's bottom seed? That's a question that Bent has had to think about this week after getting their season's best win over Denver Molly Brown and a frustrating loss to Minneapolis Pop in pool play at last weekend's Colorado Cup.
"I thought we had some very, very good stretches, where we played some very good ultimate both on offense and defense," said Bent coach Adam Goff. "And then we had some moments where we couldn't find the endzone — where we didn't have a combination of the intensity — from all 26 players — and some of the skills."
Despite facing some ups and downs, Bent felt good about their performance. Two of their three losses came by just one point.
"Overall, I thought we accomplished what we needed to accomplish," said Goff, explaining that they got a good combination of wins to protect a strength bid and team development.
"One of our biggest problems, initially, especially on Saturday, was getting everyone on the same page throwing and cutting," said captain Cara Brown. Sunday they came out swinging against Molly Brown and came away with a big win.
"The Molly Brown win was amazing for us," said Brown. "It was definitely a high for everyone on the team."
Goff mentioned that one of the reasons for their success against Molly Brown (and, conversely, for their failure in other games) was their sideline presence. "That's not a skill-based thing," he said. "It really was a big factor for us."
Heading into the smaller, but high-level Chesapeake Invite this weekend, Bent will be focusing on "learning how to get [themselves] mentally into the game a little bit faster," said Brown.
They have to find the Molly Brown level of intensity for every matchup. How do they find that consistency?
"I don't know," said Brown. "I do think people were appropriately frustrated by our close losses. I think it's going to make people work harder both personally and on the field."
The fluctuating level of play isn't too concerning to Goff at this point of the season. "I do believe Bent is on a positive trajectory," he said. "I think we're getting better."
He's excited to get a shot at two of the country's top teams — DC Scandal and Atlanta Ozone — this weekend in Virginia.
"You've got to measure yourself against the top teams," he said. "My belief is that you walk into the game thinking you're going to win."