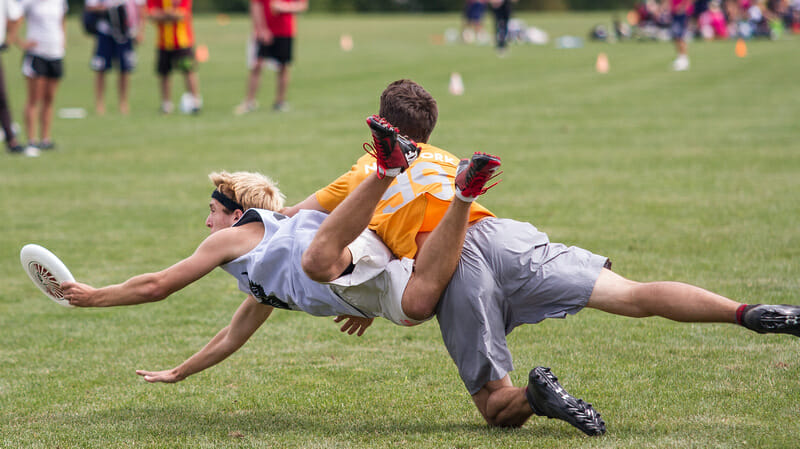 Express Track is a new weekly update post on Ultiworld New York, recapping the latest news and happenings from around the Tristate Area.
On a beautiful fall weekend in Middletown, New York, teams from around the metro area descended on the Blue Sky Polo Club for Sectionals.
Here's a look at how the divisions shook out.
MEN'S
Note: The author plays for Youngbloods, the new New York second team.
With PoNY not in attendance after earning a bye to Regionals as an Elite Flight team, the battle for Sectional champion became a lot more interesting. The top two seeds — Night's Watch and Youngbloods — emerged from Saturday, as expected, with spots in the finals. Night's Watch faced little resistance on Saturday, but a strong second half run from the men of former Mixed team Manhattan Project gave Youngbloods a scare in the semis.
Youngbloods watched a 10-7 lead evaporate as windy conditions and tight offense gave Manhattan Project a lot of chances. Playing loose and having fun, ManPro went on a 5-0 run before the Youngbloods defense could get back on the field. Bloods captain Stefan Dicker came up with two big sky blocks down the stretch to give the defensive line some shots at the endzone. The team converted and moved on with a 15-13 victory.
In the finals, it was Youngbloods again jumping out to an early lead, going up two breaks on the one seed Night's Watch. The Youngbloods offense didn't have a turnover until late in the first half, which Night's Watch converted to grab a break back before YB took half at 8-6.
The second half was a different story. Night's Watch surged out of the break with a 3-0 run as a short rotation on offense started to catch up on Youngbloods. The Night's Watch defensive line was much crisper, putting pressure on the YB offense with poachy junk looks that forced over the top throws and a lot of huck turnovers.
The YB defense came out with the score tied 11-11 and landed two late punches that seized the momentum back into New York's favor, putting them up 13-11 in a game to 15. But a tired Youngbloods offense couldn't finish the game. Night's Watch's Eric Rathbun caught a picture perfect huck after a red zone turnover from YB to put them back ahead and they finished the game with a 4-0 run to take the Sectional title.
Youngbloods defeated Stonefish in a shortened 2nd place game and Pride Rock, a UConn team, took the final bid.
WOMEN'S
After failing to make Nationals last year, Bent had to go through the formality of playing Sectionals. They allowed just six goals on the weekend as they easily advanced to Regionals, where they will face stiff competition from Boston Brute Squad, Toronto Capitals, and Quebéc Nova. They never allowed more than two points in a game.
Connecticut's Baywatch, seeded second, held seed with a 10-7 win over third seeded Brooklyn Book Club in the first round of the day on Saturday.
Brooklyn Book Club easily defeated the rest of the field, all college and high school pickup teams.
Yale Ramona and Stuyvesant High School took the final two bids to Regionals.
MIXED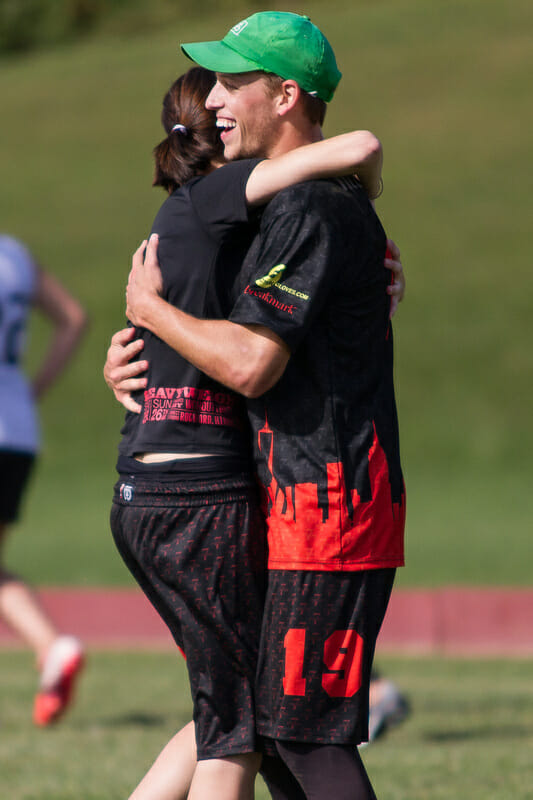 7 Express won their second consecutive Sectional title and did themselves a big favor for seeding at Regionals by taking down SHUYAMOUF 15-11 in the finals.
It was a brilliant second half comeback for 7Ex, who trailed 8-6 at halftime before going a 9-3 run in the second half to take the tournament victory.
SHUYAMOUF, a collection of past Puppet Regime players and other pickups, dominated 7Ex in pool play on Saturday afternoon, using an aggressive poaching tactic (planting a female player in the open side lane) to good effect.
In the finals, however, 7 Express found ways around the poaching and kept the disc in the hands of their stars in the second half.
After a 3-0 run by 7Ex to start the half, SHUYAMOUF kept it close, often finding Justin Segool deep for big scores. But Matt "Pippin" Auletta and CJ Oullette were outstanding on offense in the second half for 7Ex, helping to take 7Ex from a 12-11 lead to a 15-11 win.
In the backdoor bracket, Gotham Gigante survived a close game against Connecticut's Snatch to take the third and final bid to Regionals.
NOTES
…PoNY may not have been in attendance at Sectionals, but they were still upstate for a double practice weekend…The Paella farm party on Saturday night was outstanding…The weather was sunny and pleasant both days, but much windier on Saturday, particularly in the afternoon…