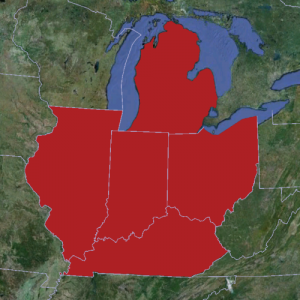 The Great Lakes Region belongs to Chicago Nemesis. Last year's Regional tournament saw the top seed cruising through the competition, their closest game a 15-10 final against Chicago Dish. They have won their region for four straight seasons. This streak dates back to the Central Region, a combination of the Great Lakes and North Central regions. The redraw took away the biggest obstacle to Chicago's dominance — Minneapolis Pop — and their final trek through the Central championships in 2011 was the last time they were challenged.
All signs point to the streak continuing in 2013 with Nemesis repeating as the champion. No favorite in any region is more favored.
Couched in the context of the explosive development of the Chicago ultimate community, Regionals is, for Nemesis, a final tuning period before the big stage. Nemesis's growth as a program has pushed them to the top tier of the Women's division. At Labor Day's Pro Flight Finale, they proved to the outside world — and themselves — that they had Championship caliber ultimate in them. A first round win against San Francisco Fury, the seven-time National Champion, tends to do that.
Despite Nemesis' dominance in Chicago, four of the five teams traveling to Purdue's campus in West Lafayette, Indiana hail from the windy city and are no slouches.
Dish, the tournament's second seed, can't simply look towards trying to slay Goliath. They'll have to contend with crosstown rival Chicago Spicy Tuna. The two have matched up five times this season, with three of those games decided by two points or fewer. Dish is 4-1 in the season series, but their most recent battle was a 15-13 victory at Sectionals. The final USAU rankings had Dish at 23rd and Spicy Tuna at 24th. When they take the line against one another in Indiana, there will be fireworks.
Chicago Frenzy and Cincinnati Flo come in as the fourth and fifth seeds. Frenzy has put up some fights against Dish and Spicy Tuna, indicating that they could break seed, but Flo has struggled to get anything going against the field.
Nemesis enters the weekend as the heavy favorite and will likely leave the weekend with a ticket to Frisco. They've been one of the strongest teams in the country this season and are expected to contend for a title at the Club Championships. The disparity between the favorite and the field is the biggest of any region, and anything short of dominance would be a surprise.