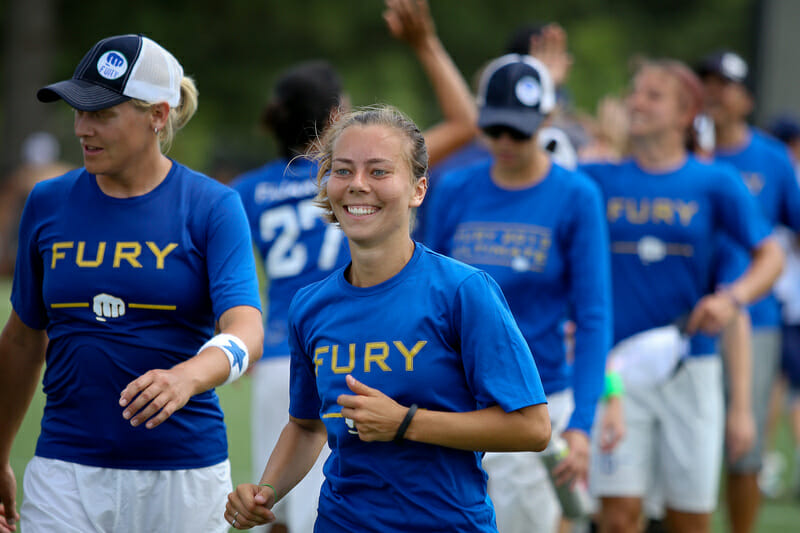 With the release of this year's seedings for the 2013 Club Championships, we see very few surprises. There won't be much drama in the seeding discussion, with the tournament saving all of that for the on field action. However, USAU's new format for the tournament creates an unfamiliar structure where every team will be looking for an edge.
There were only a few questions to be pondered and discussed leading up to the release of the seedings.
The first was how the 7, 8, and 9 overall seeds would be doled out between Showdown, Capitals, and Heist. USAU chose to weigh head to head games heavily, resulting in a seeding order of Heist, Capitals, Showdown; each team has beaten the team seeded behind them. Capitals and Pool A benefit from this seeding, as Capitals has struggled against top teams and could have suffered as a pool three seed in ways Heist and Showdown might not.
Phoenix and Ozone were the topics of the second curious case. Ozone was a lock for a top 8 seed earlier this year, but was beaten by the Raleigh women twice at Southeast Regionals. That, combined with a weak Pro Flight Finale record, hurt Ozone and boosted up Phoenix. It was expected they'd be paired together, and while their seeding was as predicted, these sorts of situations have lead to odd seeds in the past.
Finally, the 13, 14, 15 overall seeds were in question. This is pretty common, as those teams tend to have less connectivity and few notable wins to compare. However, Bent, Nightlock, and Schwa had a triangle of wins over one another since August. USAU likely saw Bent's win over Molly Brown as more valuable than Nightlock and Schwa's wins over Phoenix, which helped seed them.
The pools themselves demonstrate the potential excitement of the new format.
POOL D: Nemesis, Traffic, Showdown, Nova
Pool D, as is typical, gets the pool of death designation. Not only do Nemesis and Traffic both represent strong teams that can lean on their top end talent in the shallow format, but Showdown has demonstrated they're capable of knocking off elite competition. How much of Cara Crouch, Sarah Blyth, Sarah Levinn, and the Forth twins will we see Thursday? Nemesis has had an incredible regular season, Traffic is talented but mysterious, and Showdown is the most dangerous pool three seed in any one game.
POOL B: Riot, Heist, Phoenix, Nightlock
Pool B features exciting potential for upsets due to the unpredictable nature of pool three seed Phoenix and the unproven performance of pool two seed Heist. Riot is a strong top seed and doesn't look likely to be upset, but all the teams in their pool likely benefit from the format. Heist's 1-2 punch of Robyn Wiseman and Georgia Bosscher will likely be among the leaders in points played and can match up with anyone. Phoenix, who looks to be peaking currently, runs a couple of separate lines, but when needed, has combined their top talent, which they could do more of in Frisco. Nightlock has the top end talent to be pegged as the tournament's most threatening bottom seed.
POOL C: Scandal, Brute Squad, Molly Brown, Schwa
Pool C is notable mainly for the 1-2 matchup. While Scandal is clearly an elite team, they have earned a reputation for lapses in execution; against Riot at the US Open and Ozone at Chesapeake Invite, for example. Brute Squad also brings a stacked roster to the table and held leads in both of their games against Scandal at Virginia Fusion. Molly Brown is a young team that will likely benefit from the format changes, as will Schwa, who has some dangerous athletes.
POOL A: Fury, Capitals, Ozone, Bent
Pool A, as is common with the pool featuring the top seed, is the pool that looks least likely to see an impactful upset. Fury strides into the weekend as the number one overall seed and they beat the two and three seed in their pool by a combined 30-12 to the Pro Flight Finale. Capitals comes into the weekend 0-7 against the other seven teams in the top eight seeds. Ozone has been struggling of late and will be looking to rebound.