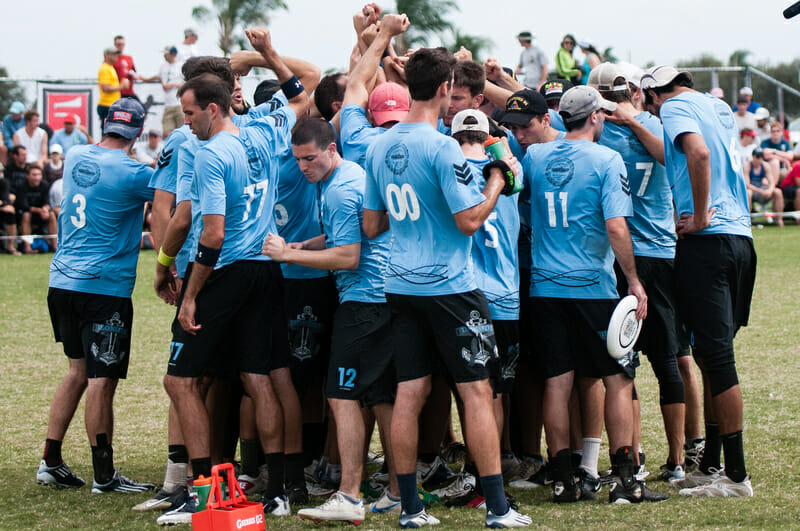 It's obvious that Boston Ironside is one of the most successful club teams of the last decade. Since its inception in 2008, Ironside has finished tied for third or higher at every Club Championship, appearing in Finals as many times as it hasn't.
So, coming in as the sixth seed definitely hints at an extremely disappointing season for a team with typically high expectations. After turning in its best performance of the season at the US Open, Boston has struggled to play at the level it is accustomed to, including losing in the finals of Northeast Men's Regionals. To give you an idea of the historic scope of that loss, it's the first time since 1995 that a Boston team hasn't won the Region.
There's no doubt that Ironside will be looking to return to form in Frisco, but what remains to be seen is, considering the high-level of play that will be happening in Pool C, whether or not Ironside can put themselves in a winnable position during bracket play.
Ironside in a Nutshell
Overall Indicators:
Overall #6 seed at Club Championships
2012 Nationals Performance: Third place (tie)
#7 in Ultiworld Power Rankings
#3 in Skyd Power Rankings
#8 in USAU Club Rankings
Positives:
Second place at the US Open, including a pair of universe point games against Revolver (1-1)
Second place at Northeast Regionals, where Ironside looked back to their normal self
Second place at Chesapeake Invite
In a division with lots of roster shakeups, Ironside returns many players from their 2011 finals appearance. They may be the most experienced group at the Championships
Question Marks:
Odd mid-season form. Wheels seemed to fall off the bus a bit. Finished last at the Pro Flight Finale
A pre-season favorite who slipped to 8th in the rankings
Their worst regular season performance since the start of the team
Defensive line has struggled mightily after turns (though less so with Will Neff back in the fold)
Talented and experienced offensive unit flashes brilliance but also appears prone to miscommunication. Team tends to stick with offensive unit even after breaks
Season Recap:
Ironside looked like they were ready to make yet another run at a championship right out of the gate by earning big wins over Revolver, Doublewide, and Ring of Fire at the US Open. That means that, after the first big tournament of the season Ironside had wins over every other team that made semifinals in 2012. Though they would lose to Revolver on double game point in the finals, it was definitely a notable notch in the belt early in the season.
Boston followed that up with a mediocre performance at Chesapeake Invite where it lost to a hot Sub Zero team twice and had close wins over Great Britain's Clapham and Michigan's High Five.
At the Pro Flight Finale, Ironside turned in its most disappointing tournament of the season, beating Sockeye soundly and Machine by a smaller margin. However, Boston lost to GOAT, Doublewide, Ring of Fire, and Chain Lightning. They fell by six to GOAT and Doublewide with closer losses to Ring and Chain and finished dead last after an 0-3 Sunday.
Finally, at Ironside's last tournament of the season, they went unchallenged through semifinals before a tight win over PONY. In the Finals, GOAT finished off the season series between the two teams by winning the third matchup 15-12 and taking a 2-1 season record. Ironside was relegated to the consolation bracket and had to beat PONY again to avoid playing in the game-to-go. Boston pulled it off but needed a double-game point to advance.
Playing Style:
Ironside's offense prioritizes isolation cuts downfield, both out of the ho-stack and the vert. As long as the cutters maintain their spacing, the talented Ironside handlers will find them with accurate leading passes. Because it's a cutter-initiated offense, though, it can get stagnant if the handlers lock in on the downfield motion.
Without a dedicated dump, they rely on the quickness of their throwers to move the disc late in the count. The offense can get bogged down when the receivers don't make decisive cuts, and that goes double for handlers initiating cuts from downfield. Though they are able to swing the field effectively after getting one swing off, stopping the first handler cut can disrupt their offensive flow and force them into throwing deep as a release valve. Though they have the athletes to make that work, Ironside has lost some of the patience that Boston was famous for in previous years.
Malecek and Stubbs control the D and O-lines respectively, and they have some of the strongest forehand hucks in the game but aren't necessarily conservative with their shots. GOAT was able to capitalize on risky Ironside deep shots by switching downfield while playing tight on the handlers.
Likely Ceiling: National Champion. They have knocked on the door year after year and they have the experience to finally break through to the top. Don't let the regular season results fool you — they are still a very, very good team when healthy.
Likely Floor: Quarters exit. Ironside has the bad combination of a really tough pool (three of 2012's semifinalists) and a potentially nasty crossover in prequarters (both Sub Zero and GOAT have beaten Ironside this season). Could that leave them depleted for quarters? They have shown weakness all season — unless things really come together, they could miss their first semifinal as a team.
Worst Match-Ups: Revolver and GOAT. Revolver has been Ironside's kryptonite, always seeming to find a way to beat them in the biggest moments. Revolver lost to them in pool play at the US Open before getting the win when it counted in the finals. A full-strength GOAT simply has the right style (mega-patient but still deep-happy offense + loose, poachy defense) to thwart Ironside.