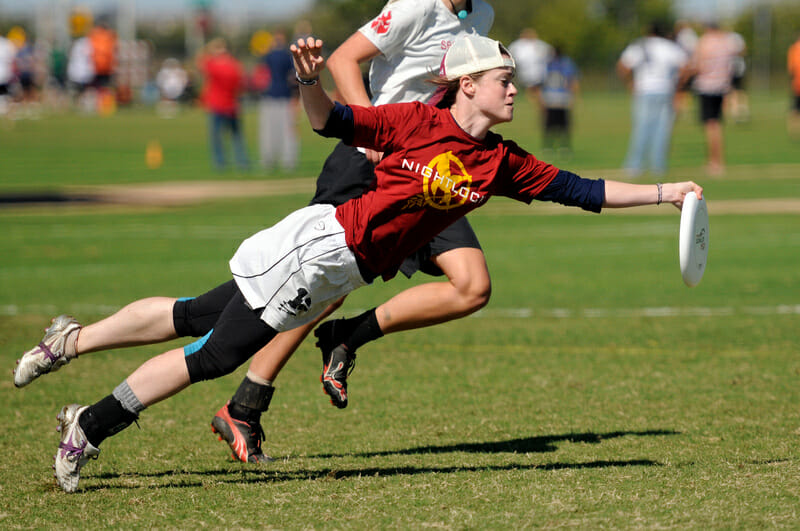 Pool B looked poised to go to seed, with the top seed Riot dominating all comers from beginning to end. However, Nightlock rewrote that script with a late upset. Heist, Phoenix, and Nightlock all played fairly close with one another, inducing some turnover-heavy play during portions of the day, making this pool a grinding set of games.
Round 1
Nightlock showed signs of their talent pretty early on, staking an early lead on Heist. Both teams had some sloppy play — a common theme in round one across the division — but the Bay Area women took the lead 6-4. That lead blossomed into an 8-6 half. Kelly Weise played well for Heist to bring it back to 9-9. Madison followed that up taking a 10-9 lead. A Nightlock TO was not enough to get back into the game with cap looming. Heist escaped the first round scare, 12-10.
Riot had control for most of the body against Phoenix, using their depth and defense to outplay the pool three seed. That game resulted in a 15-7 Seattle W.
Round 2
Heist and Phoenix tangled in the second round. Hucks sailed early and often, but low completion percentages sent the players moving up and down between the goal lines. Madison went up 4-1. Claire Chastain was touching it very often for Phoenix, but not always getting results, dealing with hassling defense from Heist's Kayla Emrick and occasionally Robyn Wiseman. Phoenix soon began stacking lines with talent, but Heist rolled to half. The second was tighter, with Raleigh fighting their way back into the fray. They brought it as close as 12-10, but Madison pulled away for 15-11.
Seattle cruised to a second round victory 15-6 over Nightlock.
Round 3
Another close game took place in round 3, with Phoenix looking to hold seed against Nightlock. The pool four seed staked out an early 4-2 lead on a nice layout. Nightlock was able to continuing grinding, even in long points with multiple possessions, and take half 8-6. Phoenix, looking a little bit gassed, stayed close, pushing it to 11-10 late. Nightlock, however, finished off the day with a 13-11 upset that dramatically alters their Friday prospects.
Despite early efforts from Heist, Riot pulled away in the back end of the second half. Seattle used an 11-3 run to win 15-6 and go undefeated.
See more photos from the College Championships on UltiPhotos.