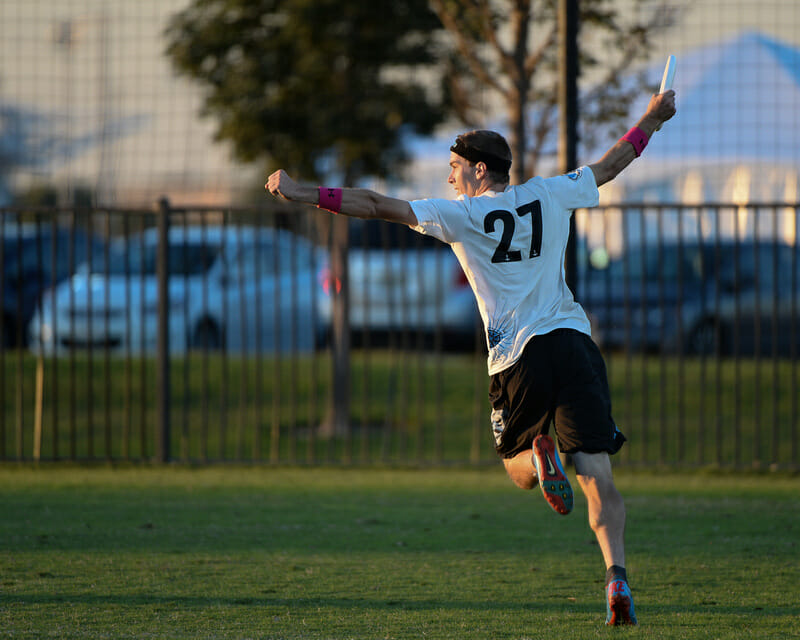 While Pool C may have lacked in the high drama of Pool B, it still supplied what could be one of the signature events of the tournament. The games were going to seed until the third round when top seeded Doublewide and two seed Ironside met in the final round of pool play. Ironside came away with the victory and relegated Doublewide to a prequarters meeting with GOAT. Meanwhile, Ring of Fire struggled to return to last season's semifinal form by being edged out in both of its games against the higher two seeds in the pool. At the bottom end of the pool, Condors failed to get anything meaningful going against any of the storied programs it shared Thursday field space with.
Round One
Doublewide's final 14-9 win against Ring of Fire belies the actual speed of the game. Neither team walked away form the game without feeling like it had battled previously. For Doublewide, the game was all about establishing itself. Captain Jerrod Wolfe said that his team was focused on its sideline work and ironing out any kinks that appeared in the offense. Meanwhile, Ring's Taylor Pope spent most of the day in process mode, discussing how his team was improving game by game and bit by bit with Friday in mind.
Ironside came out on fire and put Condors to rest early with a 15-8 victory that set a tone for an efficient remainder of the day for Ironside.
Round Two
Ironside and Ring of Fire met in a 2v3 matchup that was very important, in this pool, especially, for gauging if either of the non-one seeds were true contenders in the national scene. Ironside came out hot with suppressive defense that forced Ring into a very stagnant offensive state for the first part of the first half. That stagnant Ring led to a 5-1 Boston lead and everything was looking mighty comfortable for Ironside.
However, Ring captain Taylor Pope saw his young and inexperienced team slowly gain confidence and chip its way back into the game.
"I really think it came down to palying with more confidence," Pope said. "I think that every game is going to change throughout the game. When you start a game you have a certain strategy in mind but the team that wins is the one that makes the adjustment. We definitely tried to drill our fundamentals. That would be our adjustment offensively."
Those fundamentals brought Ring of Fire all the way back to an 11-12 deficit but Ironside managed to hold on to its lead and get one break back to win 14-12.
Again, the Condors were unable to challenge their opponent and Doublewide easily rolled to a 15-9 victory over Santa Barbara.
Round Three
While Doublewide had cruised easily, the team knew that it had to get past a traditionally tough Ironside team to maintain its status as the one seed in its pool.
Ironside came into the game with a chip on its shoulder, after receiving its lowest seed since its inception and losing its Regional title (previously belonging to a Boston team since 1995). Boston needed a big win to establish itself as a contender at this tournament.
"Today, we just wanted to come together and play together," said Rusty Ingold-Smith. "We wanted to stay positive and take everything as it came. When a team threw a punch, we knew we were gonna get each other's back and throw a punch right back. In the Ring of Fire game, they were punching hard. Our O-line really killed it. They stayed strong for us. Same thing in the Doublewide game. They were on fire."
While a consistent offense is important for a team to win big games, its difficult to do so without a defense that can earn turnovers and convert those turnovers into breaks. Ironside rode the backs of strong defense that was riding the back of Will Neff to a three goal lead late in the game, 13-10. Neff was a vital part of Ironside's defense and has been a welcome addition to the roster after coming back from a wrist injury.
"Will brings that energy," Misha Herscu said. "He's that guy that comes over to you on the sideline and you can see in his eyes how pumped he is. He makes you want to battle even harder. He brings a ton of that energy."
Though Doublewide would close the gap to 14-12, it could not stop the consistent Ironside offense from punching the disc in for the win.
Ring of Fire finally pulled together the complete performance that it had been looking for all day and defeated the Condors 15-8 to secure third place in its pool. Pope declared that his team was not worried about whoever it would be facing in prequarterfinals as long as they were progressing.
See more photos from the College Championships on UltiPhotos.