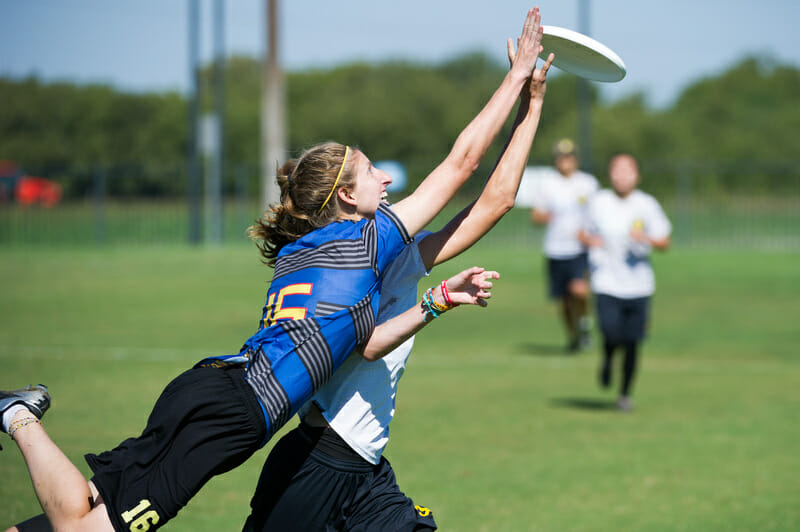 The Pool of Death moniker is probably overused in Ultimate, but Pool D lived up to its name on Thursday. The beneficiary of the dramatic day of games was Texas Showdown, while Nemesis found themselves on the wrong side of multiple upsets. A competitive day in Pool D notably changed the makeup of Friday's bracket.
Round 1
There was no delay in the drama, with Nemesis and Showdown looking to settle a score from the Pro Flight Finale. Texas took a break on the first point, followed by back and forth points filled with errors and peppered with big plays. Showdown's lead never got larger than a point until they took half 8-6, with Nemesis often able to make defensive plays to get the disc back after their uncharacteristic mistakes, highlighted by a Sara Miller layout D.
Nemesis's game was one filled with wasted opportunities. Their defensive line turned over a number of break scores in the end zone while their offensive unit suffered from repeated dump set mistakes and gave Showdown far too many short field looks. Cara Crouch put on a show for Texas, with Lien Hoffmann of Chicago matching her fireworks when given the opportunity. Crouch punctuated Showdown's upset win with a two handed layout grab to make it 13-9, the game's final score.
Tournament sixteen seed Nova would fail to put up much of a fight against fellow Canadians, Vancouver Traffic, falling 15-3. It was the largest deficit any women's team would lose by on Thursday.
Round 2
Traffic's round 2 face off against Showdown was probably the best game of the day. From the get go, Showdown's Sarah "Slider" Blyth made her mark on the game with her aggressive break throwing. It was early trading, featuring Traffic turning to star cutter Catherine Hui early and often. A Katey Forth drop near her own goal line set up an easy break for Vancouver to take a 5-3 lead. That margin would be sustained and half went to Traffic, 8-6.
Showdown finally got a chance to fight back at 11-10, when Tina Woodings got a run through D and Blyth capitalized shortly thereafter with another pretty flick upfield. Traffic responded with some killer dump defense, using that to stifle the Texas offense and earn a break. Momentum shifted back to Showdown when Sarah Levinn made a monstrous grab on a blade to the endzone to make it 13-12. Showdown tied it up after a forced turnover from Hui lead to a fast break opportunity for the home state squad.
The first lead for Texas was finally attained, a layout D by Cara Crouch – who had been quiet in the game up to that point – setting up a break to make it 14-13. After trading points, the game wound up going to 16-16, next score wins. Texas's offense, lead by Blyth crossing over lines, put up a huge gainer for Bex Forth. It wasn't long after that that Showdown was celebrating in the far end zone, having won Pool D before the day even ended.
Traffic got great production from Catherine Hui, Jen Kwok, and Rachel Moens; Laura Mason did an excellent job covering Cara Crouch. While Blyth was a machine for Texas, she got a lot of help from Sarah Levinn's enormous in-air play and both Katey & Bex Forth.
A struggling Nemesis did beat Nova 15-9, but did give up a couple of breaks that left them feeling nervous.
Round 3
In the third round, Traffic and Nemesis played with the likely second spot in Pool D at stake. Ashlee Davison continued a strong day of play, raising her game to make some big plays, including the score to get Traffic a 5-3 lead. Urgency was readily apparent for Nemesis, who started bringing Kelly Johnson and Kami Groom over to the offensive line a bit more often than earlier in the tournament. A Hui drop while throwing a fake gave Nemesis the chance to break back and tie it up at 5-5, and another break to Kelly Johnson would make it 6-5, Nemesis. A Davison sky in response brought it back even.
Nemesis struggled with dump situations throughout the day, including when Sarah Miller turned it over at 6-6. Maria Chau threw a pretty break to space to make it 7-6, Vancouver's lead. After another Chicago turnover, Traffic tossed a huck to Davison against Hoffmann, and Davison roofed her opponent but failed to make the catch on the first attempt. She'd come down with the second chance score to take half for Vancouver.
The second half began with more trading. With the score 13-12, Kami Groom targeted Becca Ludford – a consistent deep threat for Nemesis – to tie the game at 13-13. Both squads would convert offensively, despite some turnovers, including another Ludford deep score and an outstanding Kira Frew break throw. With the cap on and the game tied at 15-15, Nemesis pulled to Traffic for double game point. Eventually, Terri Whitehead would eat up a throw over a pack of players to give Vancouver the win and knock the overall four seed to the third spot in Pool D.
Meanwhile, Showdown took it easy on their way to a 15-9 win over Nova.