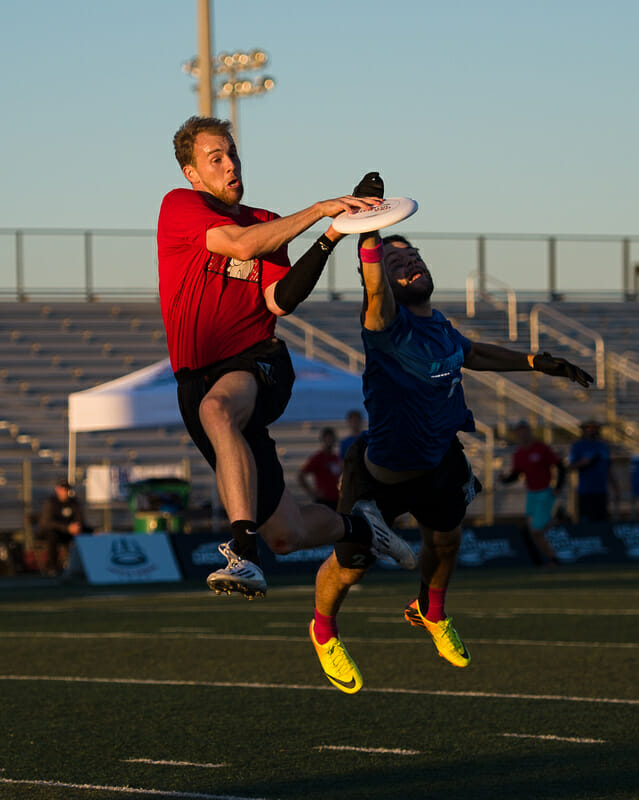 FRISCO – Two days before Northwest Regionals, Matt Rehder's doctor cleared him to play after being out for nearly the entire Seattle Sockeye season with a broken arm.
The fish are glad to have him back.
A Rehder-led Sockeye claimed a 14-13 victory over Boston Ironside in the semifinals, sending them to the finals of the Club Championships for the first time since 2007.
Rehder finished with two assists, a goal, and a critical block that prevented a game-tying break score from Ironside late in the game. He was consistently finding separation downfield and had easily the biggest offensive impact even when he wasn't directly contributing with goals or assists.
"Rehder was unreal," said Ironside coach Josh McCarthy. "Unreal. I knew he was going to be a problem for us. Our tall guys weren't fast enough and our fast guys weren't tall enough [to cover him]."
The two teams opened the scoring with offensive holds to 3-3. On the following point, Danny Clark got a foul call in the endzone upheld by the observer and got the disc on the goal line. He tried to jam it in to Josh Markette, but Markette couldn't handle the pass and Ironside's offense had their first turnover of the game. Sockeye would work it down the field, but Sam Harkness threw the disc away in the red zone. A low Ironside deep shot got blocked in the lane by a leaping Reid Koss, though, and Koss was able to later find Frank Barich for the first break of the game.
Ironside would even the game six points later after a Sockeye huck went out of bounds and never returned, giving Boston the disc five yards from their endzone. Rusty Ingold-Smith hit Russell Wallack to retake the lead at 7-6.
After a big shot downfield to Rehder led to an easy offensive line score, both teams sent out all-star lines with the score tied 7-7. An Ironside miscommunication gave Koss an easy D in Ironside's own half and the fish worked it quickly with Tim Gehret finding Joe "BJ" Sefton to take a crucial break into halftime.
Koss was responsible for both blocks that led to Sockeye breaks in this game. Sockeye coach Roger Crafts was very high on him after the game.
"He's ultra intelligent as a player," said Crafts. "He's got the athleticism but his awareness and intelligence is really what separates him."
But Koss' block was the last time Sockeye would touch the Ironside offense, which went on a tear — largely thanks to the play of George Stubbs — in the second half. The Ironside O line did not turn it over after halftime.
On consecutive points to start the half, Stubbs got separation deep and caught picture perfect hucks from Peter Prial and Clark. It was the first time all season Stubbs has really had the speed to get down field, after battling injuries all year.
"When George is healthy and can cut deep, he's unstoppable," said McCarthy.
But it seemed like every time Stubbs made a big play, it was answered by Rehder. After a Stubbs goal made it 9-10 Sockeye, Rehder responded with an outstanding deep cut of his own, catching a Chris Kosednar huck to extend the lead back to two.
Then, two points later, Rehder made the play of the game. Koss, playing an O Line point, made an unpressured drop, giving the Ironside defense a chance to knot the game at 11-11. Ironside worked quickly to within 15 yards of the endzone, when Teddy Browar-Jarus put up a high left-handed hammer to the right side of the endzone. Rehder turned and sprinted to the break side, laying out and getting a piece of the disc to regain possession for Sockeye. The patented Sockeye small ball offense worked it up and into the endzone for the hold and the 12-10 lead.
"One tough turnover," said McCarthy. "Not a smart decision."
At this point, Stubbs began playing both ways and took over the Rehder defensive assignment. Stubbs limited Rehder's touches down the stretch but the damage was already done.
"I matched up on him because we needed to make him work," said Stubbs. "We couldn't have him be a free reset and our other speed guys were on other matchups and when I came in as a speed guy, that's what I wanted to do. I think I gave him a pretty good look."
As the Ironside offense continued to score easily, the defense finally broke through after Jack Hatchett got his third block of the game, this time on a run-through on an underneath pass. Stubbs marshaled the offense and found Will Neff to tie the game at 13-13 to force double game point.
Ironside's defense continued to put heavy pressure on the Sockeye offense on the game's final point. They were forced to take a stall six timeout in the red zone after struggling to find a reset.
Crafts expressed his confidence in the team at that point, going so far as to walk away from the huddle during that timeout. "I coach from a distance," he said.
Sockeye placed Matt Rehder in the lane, making it appear he would be an isolated cutter. After the disc was tapped in, he made a hard cut towards the break side and was clearly used as a decoy as Sefton dumped the disc off the sideline into the middle of the field.
After a stoppage, Chris Kosednar caught a swing pass and found Rehder cutting to the break side cone for an easy goal and the victory.
"That's why I stick with this team," said Rehder after the game. "I live for this team. I would never play for any other team. They let me come back. I didn't even play for half the season and they let me come back."
It was an outstanding performance for a player who admitted that at Regionals just a few weeks before, he felt out of sync. But in recent weeks, things came together and he again became the go-to deep cutter for the offense.
"It's just the chemistry we built on and off the field," he said.
For Ironside, it was another disappointing exit from the tournament without a title. The team has reached at least the semifinals every year, but has not won the Championship.
McCarthy was frustrated but upbeat after the game. "In some of the finals losses, we didn't play up to the moment. But here, we did," he said. "I only wish the game was another point or two, because I feel like we were that close."
Stubbs had a similar sentiment. "That was an amazing game," he said. "If we're truly trying to showcase the sport and if that's [USA Ultimate's] goal, we accomplished that. Both teams did it with good spirit. Sockeye played great. I think we played great. At the end of the day, of course it's hard not to feel disappointed."
Sockeye emerged victorious and elated at their success. But they still embrace their underdog role after a difficult regular season filled with injuries and inconsistent performances. They aren't satisfied with a finals berth.
"We haven't proven anything," said Crafts. "We haven't done anything. We are the underdog team. We have something to prove. We don't have anything to lose at this point."
Additional reporting by Michael Aguilar.