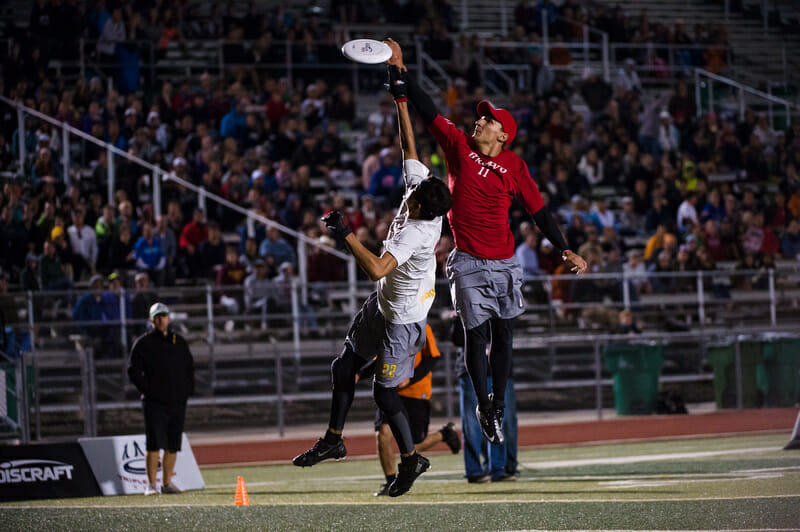 For over a year, we've been working on improving statistical evaluation of Ultimate teams and players. One of the most exciting parts of that project is the tracking of elite club teams at the US Open and Club Nationals. Thanks to wonderful volunteer coders, the Ultiapps statistical tracking system, and the support of VC Ultimate, we were able to track every pass from many of the top teams at these high profile tournaments.  If you would like access to the numbers generated, you can subscribe to the Ultiworld stat packages.
Of course, numbers alone will never be able to tell the story of the top players.  We picked our first and second All-Club team using both subjective analysis and the advanced statistics. We know that our tracking system isn't perfect: We only tracked eight mens teams all season (some with more games than others), we don't get every pass perfectly, our yardage figures are just estimates, amongst other issues.  But having an idea of the faults helps us incorporate the valuable statistical information even better. 
All-Club Second Team
Nick Lance (Johnny Bravo)
Nick Lance wasted no time making a huge impact for Johnny Bravo. In his first year on the team, he piled up great numbers: almost 20 yards of involvement per offensive possession, high usage, and one of the best Ultiworld D scores in the Men's Division. He finished Nationals tied for second in total blocks.1
He is one of those rare players that can be just as dangerous on defense as on offense. His incredible field vision allows him to both unleash huge layout blocks as well as roam around and get smart poaches. Then, with the disc in his hands, he has the throws — and the creativity — to get it into the endzone.
Alan Kolick (Truck Stop)
After breaking out as a star in the Major League Ultimate season playing with the DC Current, Alan Kolick has continued to be the best player on the field for Washington DC Truck Stop. Although the team struggled at times during the season as defenses figured out that pressure on Kolick and the dump set would generate turnovers, Kolick was still able to dominate at Nationals.
He finished tied for third in assists and came up with huge plays for Truck throughout the weekend.
A.J. Nelson (Machine)
AJ Nelson did it all for Chicago this season, finishing above average in every statistical category except completion percentage (92.9%). He was a big-play machine, scoring huge goals and coming up with some critical blocks. His layout block against PoNY's Robbie Gillies on double game point in the prequarters at Nationals was easily the play of the game. (He also went on to score that point).
On a well-balanced team, Nelson was the closest thing Machine had to a superstar. That may be a bit of a disservice to two of Machine's other high-impact players — Goose Helton and Bob Liu — but Nelson's block was one of the most important plays of the tournament and probably kept Machine in the Pro Flight.
Jack Marsh (PoNY)
Although PoNY narrowly missed out on the quarterfinals after a heartbreaking loss to Machine, they had a resurgent season and vastly improved on their 0-fer finish at Nationals in 2012. A big part of their success was their best player, Jack Marsh.
The captain of the team, Marsh often plays fewer points than he should, considering his skill on the field. With great throws, high ultimate IQ, and outstanding defensive abilities, he is one of the best all-around players in the Men's Division. He was one of just a handful of players with a double-double (at least 10 goals and 10 assists) at Nationals this year.
Josh Wiseman (Revolver)
While a handful of Josh Wiseman's teammates will more often be recognized as the top players on Revolver (two of them, indeed, made our All-Club first team), he is a vital part of their offensive attack. With 21.6 yards of involvement per offensive possession, good for sixth overall in the Men's Division, and above average stats in every other category, Wiseman is a real weapon.
His speed and churning cuts stretch the field for Revolver, which has so many other dangerous cutters that their opponents are forced to pick their poison.
He finished Nationals with 13 goals and 7 assists — he finished among the top 25 players in goals+assists per offensive possession.
Tyler DeGirolamo (Doublewide)
Any questions about Tyler Degirolamo's ability to transition from dominating in college to dominating in club have been laid to rest. While he still clearly has room to grow, Degirolamo was outstanding for Doublewide in year one with the team.
With the second most points played per game behind only Mark Lloyd, Degirolamo was a goal scoring machine this season. His .28 goals+assists per offensive possession this year put him in the top 10.
His completion percentage — 94.3% — is too low, but it didn't negatively impact his expected contribution too much. He still finished 12th overall. That's because Degirolamo is a yardage beast and lots of his involvement takes place deep downfield.  From watching Doublewide play all season, it was clear that Degirolamo was able to both go deep and use defenders' fear of the deep to gain big gainers under.
With great athleticism and speed, Degirolamo has all the pieces to become a takeover player at the Club level.
Reid Koss (Sockeye)
The final selection for the second team came down to two highly specialized players: Reid Koss, a defensive stopper, and Derek Alexander (GOAT), an offensive wizard. Both were much weaker on the other side of the disc.
Koss got the nod for his outstanding play at Nationals, getting a ton of playing time (5th overall in PPG) and putting up excellent defensive numbers (12th overall in Ultiworld D rating). He was still a part of the offense after the turn (40th in involvement yards), but was hurt by a poor completion percentage (93.5%).
Alexander has a very good case for inclusion as well and will have to settle for being first out. He was an elite handler all season long, but teams picked up on him and slowed him down at the Club Championships. He had 12 turnovers at Nationals.  The numbers suggested that Koss and Alexander were basically foils: Koss a strong defender who needs to improve offensively to become elite, and Alexander a great every-other-touch-handler with below-average defensive performance.
2nd Team All-Club — Ultiworld Stat Table
| Name | PPG | G+A/OPoss. | Yards/OPoss. | Usage | Compl. % | Def. EC | Off. EC | UW D Score | Total EC |
| --- | --- | --- | --- | --- | --- | --- | --- | --- | --- |
| Lance | 10 | 0.26 | 19.77 | 17.7 | 95.74 | 3.4 | 6.1 | 1.59 | 8.1 |
| Nelson | 9.5 | 0.25 | 17.6 | 16.8 | 92.96 | -.6 | 3.7 | 0.66 | 3.8 |
| Wiseman | 8.77 | 0.24 | 21.63 | 15.2 | 95.04 | -.2 | 5.1 | 0.34 | 6.3 |
| Koss | 12 | 0.19 | 15.46 | 13.5 | 93.55 | 1.7 | 4.2 | 1.31 | 4.9 |
| Degirolamo | 13.15 | 0.28 | 18.58 | 14.3 | 94.31 | .2 | 3.7 | 0.72 | 4.1 |
---
A few notes about our methodology here.  We collected data from 7 teams at Club Nationals: Revolver, Ironside, Doublewide, GOAT, Sockeye, Johnny Bravo, and Machine.  Three of those teams — Revolver, Ironside, and Doublewide — also were tracked at the US Open.  We had some data coded from regular season video on GOAT as well.  When available, we combined data; when you look at Revolver's numbers, for example, you are looking at player performance at both the US Open and the Club Championships.  We thought the benefits of additional sample size, when available, outweighed the inconsistency problem; furthermore, we didn't select our teams based on the stats alone. This can be more problematic for some teams than others; for example, Doublewide had a much different roster at the US Open than at the Club Championships. Our data exists in an imperfect world, but these were the adjustments we thought were best. ↩