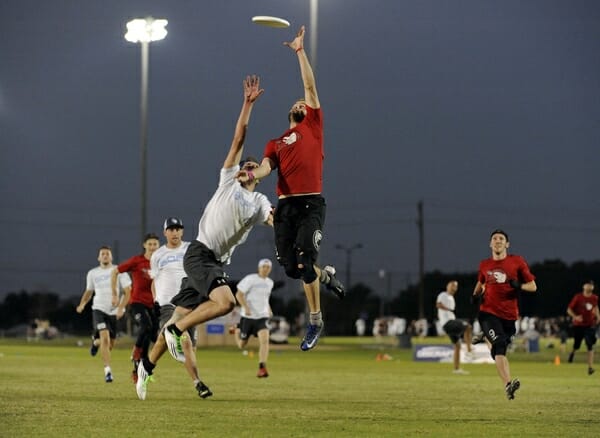 Everything was going right for Toronto GOAT in the lead up to the Club Championships. The team put up one of the quietest 6-1 performances ever at a tournament, finishing 5th at the Chesapeake Invite due to an unusual tournament format. They followed that up with a stunning victory at the Pro Flight Finale, overcoming the loss of their top playmaker, Mark Lloyd, to defeat Ironside, Sockeye, and Doublewide on Sunday and win the title with a skeleton roster. They beat Ironside at Regionals for the first time ever and snatched away the Northeast crown from a Boston team for the first time since 1995.
With an overall #2 seed (that could have been #1 — they beat Revolver at the Pro Flight Finale), GOAT was looking hungry and ready for a deep run in Frisco.
Instead, they lost in the first round on Friday after going 1-2 in pool play and had to claw their way through consolation rounds just to make it back into the Pro Flight.
What happened? Here's a breakdown of GOAT's woes at the Club Championships.
Teams Scouted Them And Figured Them Out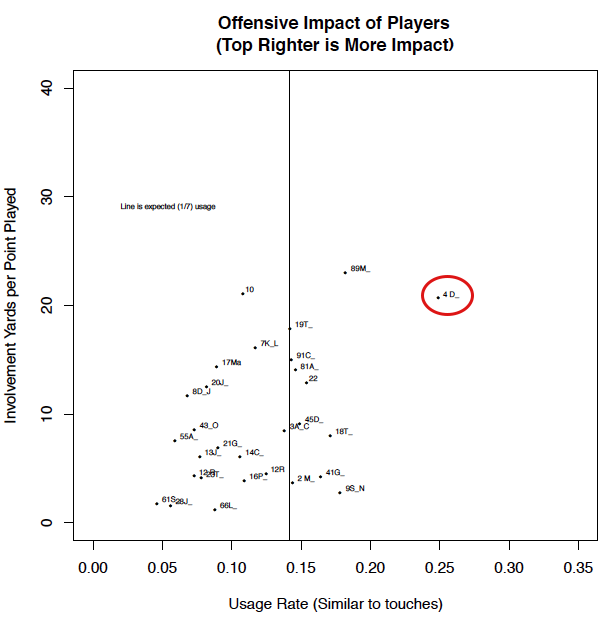 With a plethora of available game tape this season (there were four available GOAT games in the Ultiworld video store), teams were able to do more advanced scouting than ever before. Some teams, like Seattle Sockeye, spent hours breaking down tape. Sockeye, knowing they had a critical matchup with GOAT in pool play (one that would determine the difference between an easy prequarter and a game against a 2012 semifinalist), knew exactly what GOAT wanted to do: get the disc into the hands of Derek Alexander.
In the chart to the right, you can see a measure of offensive impact. It charts the percentage of touches you get on a given point ("usage rate") and the amount of involvement yards (either thrown or caught) on a given point. You can see that Alexander is in a league of his own, getting almost 25% of the touches on points he plays. (The data, coded in the Ultiapps statistical tracking system, is from the Pro Flight Finale, Northeast Regionals, and Club Championships.)
**Special thanks to VC Ultimate for helping to sponsor our statistics gathering work at Club Nationals.
You didn't need statistics to see how important Alexander was to their offense. He was their rock behind the disc, finding ways to get open and reset the disc, often to Lloyd, the other outlier on the chart. But for much of the season, he wasn't getting the toughest matchups. He didn't come into the season as one of GOAT's "big names." Lloyd, Adrian Yearwood, Cam Harris — those were the guys to watch out for.
Teams that saw GOAT's game footage realized otherwise — Alexander was the key cog in their offensive attack. So he got every team's best defender.
Sockeye's Frank Barich had the assignment for much of their pool play matchup — at one point, he worked so hard on slowing Alexander that Michael Aguilar, who was doing color commentary on the game on the Ultiworld live stream, picked up on it.
"[Barich is] dead exhausted," said Aguilar. "He was marked up on Derek Alexander that whole point. He's dragging himself off the field at this point."
The increased pressure Alexander faced didn't entirely shut him down — he's too skilled a player to be stopped. But it did make it far more difficult for him to get open, putting additional stress on the GOAT offense to find other options.
Over the course of a game, that led to a handful of turnovers that GOAT simply didn't give up earlier this season (they were broken just once by Ironside in the Regional finals and twice by Doublewide in the Pro Flight Finale). Those turnovers — always at a premium at the Club Championships — were deadly.
Expectations Were Overwhelming
"Maybe the stage was a little too big for us." – GOAT Captain Mark Lloyd after their prequarter loss to Doublewide
With a lot of young players joining the GOAT ranks this season, perhaps this was just a team that saw their expectations rise too swiftly to comfortably manage them. GOAT was not a team on the semifinals radar at the start of the season. But after a Pro Flight Finale victory and a Northeast Regional title, pressure was mounting on the herd to get deep into the tournament.
Was it too much for their less experienced players?
Nerves were clearly an issue, as they opened the tournament with a dreadful showing — drops, errors, and throwaways piled up in a bad loss (15-9) to Minneapolis Sub Zero. An observer on the game called it the worst execution he's ever seen at the Club Championships.
Although those issues were minimized later in the weekend, the team never seemed to find that confidence that it had earlier in the year. Some players were too tentative; others tried to make up for that with too much aggression.
Things weren't made easier by having a suddenly deeper bench, either. At the Pro Flight Finale, there were only 17 players suited up on Sunday. Stars like Yearwood and Harris weren't in attendance and hadn't really even played with the team to that point in the year. Trying to add those pieces back in late in the season only made getting into a rhythm more difficult for some of the younger players.
Perhaps It Was Just A Bad Weekend
Sometimes you simply don't bring your A game. Maybe GOAT peaked too soon.
GOAT was winning games earlier this year because their offense was simply not turning over the disc. At the Club Championships, defenses are significantly tougher and you are going to have more turnovers. Your defense has to respond.
Unfortunately for GOAT, while their offensive turnovers started turning into breaks for the opposition, their defense — which often relied on poachier looks to generate turnovers — was never designed to get five breaks in a game.
That made for a lot of very close wins — GOAT's three wins were by a combined five points — and some ugly losses.
Takeaways
Was GOAT's regular season performance a fluke? A product of a strange Triple Crown Tour season that gave only an illusion of parity?
Definitely not. This was a very good team that relied heavily on a pair of players and turnover-free offense. That's a tough strategy to win with at the Club Championships, but the talent on their roster is undeniable.
They have some soul-searching to do in the offseason, certainly, but there is a lot to work with going forward. Expect some fresh defensive looks next season and perhaps some new systems designed to give Lloyd more downfield looks as opposed to keeping him back in the handler set.
They may not ever be the greatest of all time, but they certainly have a chance to rise into the upper echelon of the sport in the next few years.