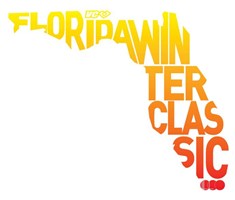 The story of Florida Winter Classic's 2014 iteration began with the tournament drawing in big name competition from outside the Southeast region to a traditionally Southeast dominated tournament. It ended with Central Florida Sirens, a Southeast team on the rise, showing that they are to be feared on the national stage. The Sirens beat top seeded Ohio State twice on Sunday –  in a dominating pool play win and a hotly contested 13-11 tournament final – to capture the FWC title with an impressive undefeated weekend.
UCF, who came into the weekend #9 in the Ultiworld Power Rankings, won all seven games they played by an average margin of over 6 points. Led by indomitable handlers and hard nosed downfield play, the Sirens imposed their will over the strongest field in FWC's recent history. Sunny Harris was a question that went unanswered all weekend, putting on the kind of performance that makes her a dark horse Callahan candidate.
Clash of the Titans – Ohio State vs. Central Florida
Saturday's progression revealed two teams rising above the rest of the pack, as Ohio State Fever and UCF – the top two seeds – continually ran roughshod over the competition. Northeastern and Florida State both gave some push, but eventually succumbed to the onslaught. With the format setting up for the two top performing teams to tangle on Sunday morning and potentially again in the final, there was an increasing weight placed on the matchup's outcome.
The pool play game Sunday morning was ideal for the Sirens. Their offense continually was able to put great touch on their long throws, hitting difficult away shots and angles with precision. Their trademark zone gave Ohio State fits, forcing them to slow down dramatically and coercing them into taking risky upfield looks. The result was a 7-1 lead for UCF and an Ohio State team on their heels and against the ropes.
While Fever got their footing in the second half, the hole was too daunting to dig out of and UCF took the pool with the 12-6 victory.
The next time the two squads lined up against one another was in the final. Including OSU's 13-12 score in the semifinal of CCC, they had split their games, 1-1.
A hungry Ohio State opened with a score, clearly much more comfortable than they had been a few hours prior. Goals were traded until 3-3, when Amy Price and Alexa Wood led the Sirens to the game's first break. Despite the play of Fever's Cassie Swafford and Jenna Galleta, the next break would also go to UCF after a short field turnover from the Columbus women, making the score 7-5.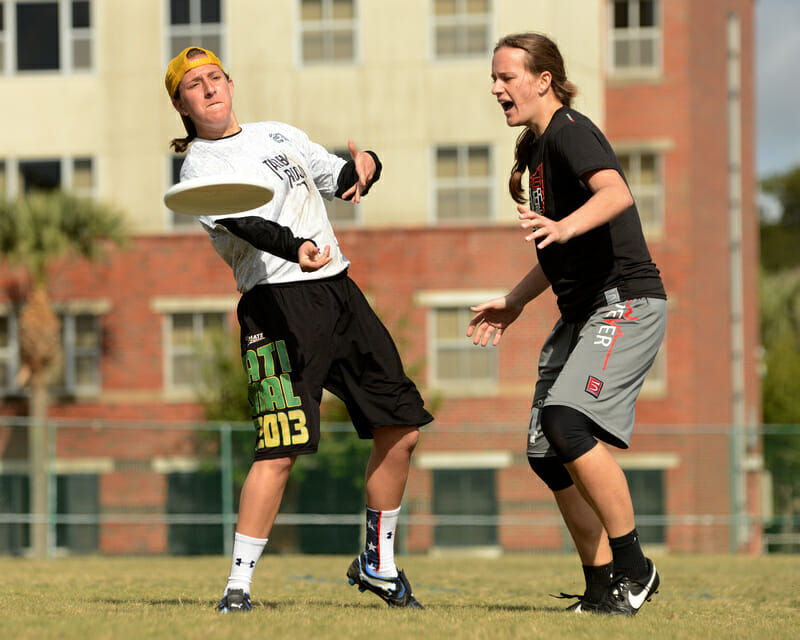 The Sirens had trouble containing Ohio State out of half and a pair of scores tightened the margin for error immediately. A ratcheted level of defensive intensity kept the game going back and forth and forced both teams to scrap for yardage. Paige "Diddy" Soper, in her first tournament of the season with Fever, helped guide her teammates, while Mariel Hammond's continuous effort steered the UCF ship in the second half. Central Florida would finalize their 13-11 victory to take the weekend.
"We didn't have answers for [Sunny Harris and Mariel Hammond]," said Ohio State captain Cassie Swafford following the weekend. She also pointed to the Sirens' crossfield motion.
"They are really good at changing the point of attack," Swafford said, "especially near the end zone."
Harris and Hammond were obviously instrumental in Central Florida's weekend, but Erin Goding and Kalah St. Pierre should also be pointed to as highly influential forces. St. Pierre continuously impressed with her workhorse cutting and her ability to create and utilize space, while Goding's ever-expanding skillset makes her a threat to punish teams that sink all of their defensive focus into the Sirens' stars.
Division-I Goes Mostly By The Book
The rest of FWC's top division failed to result in many surprises. Northeastern Valkyries finished the weekend in third, capturing W's over the three teams seeded below them. There were some struggles for the Boston area ladies, taking close scores late against Florida State and Florida, but both times, they were able to muscle out wins. Being able to turn it on late is great, but Northeastern can't be happy to have let teams hang around repeatedly.
On the bright side for the Valkyries, they were able to turn in a very strong first half against Ohio State, where their height & skill combination and strong zone put them up 6-4 before Fever turned it on.  They also had a strong second half against Central Florida, as well. Lizzie Jones was one of the smartest handlers in Gainesville all weekend, and the strong play of Melissa Ellis and Jenni-Lyn Ladutko was noticeable.
Florida State still seems stuck on the other side of that hump they can't scale. Over and over, they'd put together strong strings of play, but either fail to open well or close effectively. Their 7-10 loss to Northeastern was tied at 7-7 before they let it get away. There were similar issues against Central Florida and Ohio State; neither their Georgia nor Florida victories were convincing. A talented group of Seminole ladies will have to execute a much cleaner game to bring home a strength bid for the Southeast.
Both Georgia and Florida showed flashes of development, but looked young and very much like they were still putting the pieces together. It is no surprise to see them split their two games, one a piece. How each squad builds over the course of the next few months will be intriguing to follow, but it appears they are set to be in close proximity all year long. President's Day will be critical for UF as they move forward.
Alabama and Emory Top Division-II, But Fail to Break Through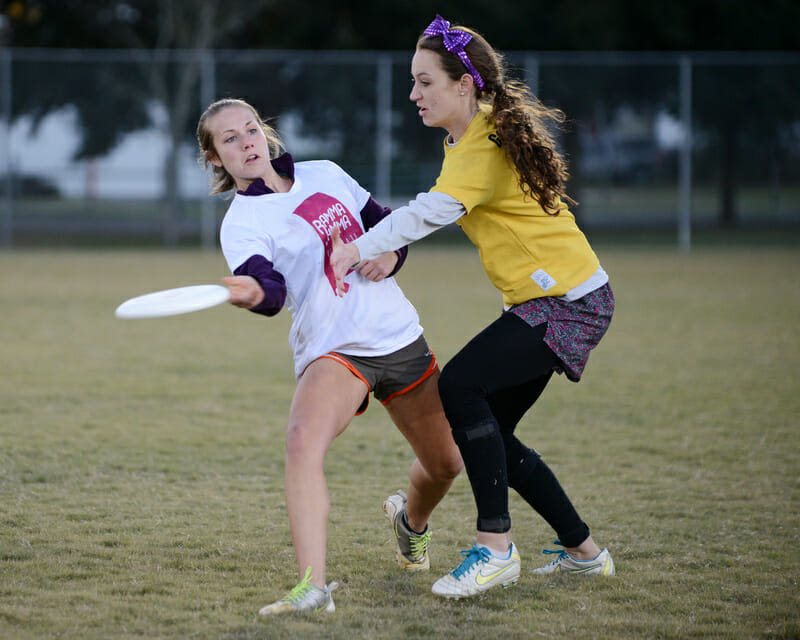 Coming out of Saturday, Alabama Ramma Jamma was easily the most impressive team in Division-II. After the first round of Sunday play, Bama established themselves by topping Emory, Georgia Tech, and South Florida. Handler Caroline Marsh and emerging cutter Tara Massouleh were carving up their competition. Finally, Ramma Jamma earned a crack at Florida – a quality of team they didn't face in any game last year – and pushed them in an 8-11 loss.
The effort may have proved disappointing, but the weekend was a sterling success to take back to Tuscaloosa and the Gulf Coast Conference. While they did add a late Sunday loss to Emory, the wins they earned put them in the driver's seat in their Conference and stand to have a definite impact on Regionals bid distribution. Team growth from continuous success against fairly stiff competition will benefit them as they add to their core this season.
Emory also looked competitive, rising above the rest of Division-II. They were the only team to topple Alabama, while getting wins over Georga Tech and South Florida, as well. Like Alabama, they put up a fight against their Division-I opponent, tying Georgia at 6-6 before giving up a game-sealing four point run. Cutters Kira Lou and Abbey Hewitt racked up goals and assists as they left defenses in tatters, but the team struggled with bouts of drops and red zone turnovers.
Also of note were the surprising results of Tennessee. A team that barely made it to Spring managed to ride Rachel Smith's play to a win over Charleston and a casual throwaway Sunday victory of South Florida. If they stick around into the Series, those games could make a difference for how bids are assigned.
Efficient Diesel Motors Past Division-III
Division-III belonged to Florida-B Diesel. The hometown ladies defeated every team in their division that they came across without too much of a challenge, even keeping pace with Division-II Charleston before running out of gas in their final game of the weekend. Their experience, understanding of the game, and scrappy effort made them a lot of fun to watch. Their dump and swing was more disciplined than many teams in the divisions above them and it seemed as if a Diesel girl was getting horizontal every couple of points.
Miami posted three wins in their return to sanctioned action, the impact of Coach Jody Dozono's teachings clearly playing a role. There is as much to be said for their enthusiastic captains and players eager to learn and apply newly acquired knowledge as there is for their new coach.
Central Florida-B also took home their first win as a team, beating out fellow newcomer Southern Miss, who seemed so excited to be there. SMU's tiny roster took a few too many hits, forcing them to forfeit quite a few games, but it was great to see them getting in real games.
Without Limits Clinic Unites Southeast Women
The cleats weren't bagged up after Sunday, as Michelle Ng, Florida FUEL, and Without Limits put on a Leadership & Skills Clinic on Monday. Led by experienced club women and coaches, players were guided through on field drills, off field leadership discussions, and brought together to get to know one another.
Truly, the most exciting part of the clinic was the varying cast of characters relating to one another on a personal level. Captains of teams gunning for nationals sat with newly minted leaders of brand new teams. First year rookies – some at their first tournament – went through drills with All-Region selections. It was an inspiring scene and it would be wonderful to see those connections and relationships grow over the coming season, and the years that follow.
Michelle Ng's efforts and sacrifices are numerous, and often growing. The horror stories of her travels are harrowing and sometimes cringe-worthy. But what she gives is exponentially more powerful, as she touches player after player, converting them to agents that spread the message of unity and community throughout women's Ultimate.
Reporting contributions to this article by Christopher Lemons