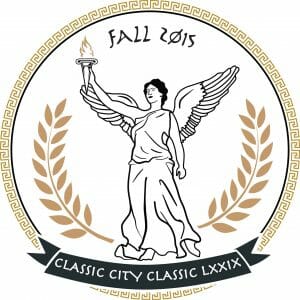 Every year, it seems, the college season starts a little earlier. By this point in the fall, most top teams have selected their 2016 roster, started to set the foundations of the offense and defense, and look ahead to the spring.
First, though, comes the Classic City Classic. The most anticipated tournament of the fall, CCC offers teams a chance to play highly competitive games on the beautiful University of Georgia campus in Athens, GA.
The tournament simply isn't a "fall" tournament in the traditional sense. Teams are playing to win and you can expect the winner this weekend to be a major fixture of the spring. Last year, Pittsburgh took home the title with a dominant performance that foreshadowed their nearly flawless 2015 regular season. UNC took the crown in 2013 and had their own amazing regular season culminating in a finals appearance at Nationals.
This year, 10 of the 24 teams in attendance enter the tournament ranked in the Ultiworld Top 25. Three of those 10 are in the top five: #1 Pittsburgh, #2 UMass, and #5 Central Florida.
It's not hard to imagine a Pitt v. UMass final, but there are a lot of games between then and now. Here's a look at the pools.
Pool A (#5 UCF, Michigan, Tulane, Brown, Tennessee, Emory)
This pool is one of two at CCC that are extremely compelling. While UCF should comfortably take the top spot, they are not exactly a team that always shows up in a big way at any point in the season outside of Nationals. Still, they are talented and even capable of winning the tournament. Michael Fairley, among others, is back in 2016. Although they lose some handler talent, coach Andrew Roca says the team's prospects are good and that they will simply adjust to a system that doesn't rely on a strong middle handler.
What makes this pool fascinating is the race for 2nd and a spot in the quarters. Can you confidently pick one of the remaining five to land there?
Michigan is coming off of what was supposed to be a peak year but never quite materialized. Tulane came on strong late last year and even won a spot at Nationals before losing it to a wild, late disqualification. Brown has some excellent young talent like Eli Motycka bubbling up into soon-to-be stars and started the season at #25 in the preseason rankings. Tennessee was in the mix at Southeast Regionals last year and has been on the rise in recent seasons. Emory is starting to get some buzz after hauling in a strong rookie class.
Expect close games and some surprises!
Predictions to advance: UCF, Brown
Pool B (#16 FSU, #23 Texas A&M, #12 Harvard, Georgia Tech, Virginia, LSU)
Another wild pool! It's not clear that Florida State should even be the one seed in this pool after considering their losses in the offseason: 2015 POTY Chris LaRocque and Andrew Roney are chief among them. Don't think they won't be competitive, though. Connor Holcombe returns alongside Bobby Patterson, and coach Peter van de Burgt is one of the best in the Division.
Texas A&M and Harvard, however, are lurking with an eye on the top spot in the pool. A&M loses its unique star, Matt Bennett, but brings back the versatile Dalton Smith, one of the more underrated players from 2015. Harvard will look to John Stubbs and Mark Vandenberg to lead the New England stalwart back into the national conversation. Both teams should have a good shot at the bracket and the upset over FSU.
The bottom three teams in the pool have a tough hill to climb, but all should be capable of giving the top seeds a game. Georgia Tech will have to adjust to playing without Nathan White, a rock for them last season. That said, they have an excellent rookie class this year and are poised for growth.
Virginia had a great 2015 and came up just short at Regionals, losing once to each of the three Atlantic Coast qualifiers, including Maryland in the game-to-go.
LSU may have had a disappointing season last year, but they really should be good. Maybe they can start to show us something here at CCC? Tom Echols is excellent, Johnny Sims is a big time rookie pickup, and they return most of their starters.
Predictions to advance: FSU, Harvard
Pool C (#1 Pittsburgh, #24 Auburn, #13 Florida, VCU, Ohio, Kennesaw State)
Pitt may not be playing with Max Thorne in the fall, but that shouldn't mean much about their ability to advance. Perhaps the deepest team in the country, Pitt should be able to cruise to a quarters spot, even if they get a tough game along the way. It wouldn't be a surprise to see a bit more rookie and role player development from Pitt this year at CCC. Last year they ran relatively tight lines on their way to a championship.
Deciding that second place spot should be an epic rematch between Florida and Auburn. Auburn knocked off Florida at Regionals, bouncing them from Nationals contention, before Auburn ultimately advanced to Nationals after the Tulane DQ. Florida — led again this season by Bobby Ley — will be gunning for Auburn in that game.
It's not likely that any of the bottom three seeds will find a way to quarters. The talent discrepancy is higher in this pool than some of the others.
Predictions to advance: Pittsburgh, Florida
Pool D (#2 UMass, #11 Georgia, #14 Stanford, Ohio State, Alabama, JMU)
Another top heavy pool rounds out the competition at CCC. UMass is missing a couple of key players this weekend, including 2015 Rookie of the Year Brett Gramann. But that doesn't mean they won't end up deep in the bracket. Jeff Babbitt is a top tier POTY candidate, Conor Kline is coming off of his scoring title at Club Nationals, and the team was fairly dominant at Huck A Hunk against solid New England competition.
UMass brings 19 to the tournament including Eric Biggs, one of Maryland's studs from last season who is expected to begin at UMass for graduate school in the spring.
UMass will first have to get through the toughest 2/3 seeds at the tournament. Georgia is coming off of a strong year and only looking up as they bring back lots of talent including Sam Little and a terrific sophomore class. Stanford has outstanding continuity and got off to a great start out West: just how high can they climb?
The Ohio State University, Alabama, and JMU are likely to shoot it out for the bottom three spots.
Definitely keep an eye on that Georgia v. Stanford game. We could learn a lot about those two teams in that game. The winner could be looking for a top 10 ranking coming out of CCC.
Predictions to advance: UMass, Stanford
***
Make sure to follow along with Ultiworld's coverage on Twitter and check out our filming schedule.