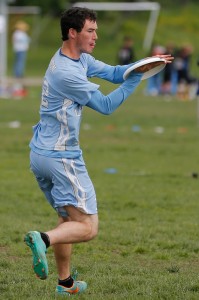 The annual ACC Ultimate Championships have continued to grow in stature and, this year, will feature three teams ranked in the Ultiworld Top 25 — #1 North Carolina, #7 Pittsburgh, and #13 Florida. The field is rounded out by seven competitive ACC teams hailing from all across the east coast.
The tournament has historically been dominated by North Carolina, who are the back-to-back champions coming into this weekend. Pittsburgh hopes to reposition themselves as a major contender this season after a lackluster fall — taking down UNC would be the quickest way to do so.
Pool A
We've been talking a lot about North Carolina so far this season. They had an outstanding fall and pushed themselves to #1 in the preseason power rankings. They had a great performance at late fall's Classic City Classic; we broke down their sophisticated offensive plays from CCC earlier this week. Christian Johnson and Jon Nethercutt pace their potent offense; they look to their younger players to guide the defense.
They will get perhaps their toughest test on Saturday against Virginia Tech, the three seed in the pool. Tech scored the biggest upset of the fall, taking down Central Florida in pool play (VIDEO). They were right in the hunt at Regionals last year after beating UNC-Wilmington on Saturday to get a shot against UNC in the finals. But they lost to UNC — and then UNC-W — 15-6. 
Tech graduated a lot of top players from last season, but will look to captain Antoine Davis, Hunter Taylor, and a strong sophomore class to guide them this season. Not a surprise for a young team, they struggled with consistency at CCC. They'll hope to improve on that this weekend.
Georgia Tech comes in as the two seed, but is dealing with what looks to be a tough rebuilding season. At CCC, they went 3-4, getting blown out by Florida and UNC. They dropped a 15-13 game to Virginia Tech as well. With most of their well-known firepower (Nick Lance, Jay Clark, et. al.) now graduated, they have a lot of work to do to get back into the Nationals conversation.
Boston College had mixed results at last year's ACCUC but ultimately developed into a very good team, finishing at Northeast Regionals with just two losses — one to Tufts, one to Nationals qualifier Dartmouth. They will look to 6'7″ junior Connor Marr, Matt Auker, and Dylan Wolff to help keep their momentum going this season.
Duke went winless at last year's ACCUC, so they will be looking to put up a better performance and make their way to Regionals this season.
POOL B
Last season, #7 Pittsburgh went to just three regular season tournaments — Warm Up, Stanford Invite, and Easterns. This year they return to all three, but they add an early season stop in North Carolina for ACCUC.
Perhaps that's a sign of their need for development over the course of the Spring. Pitt coach Nick Kaczmarek told Ultiworld's Tad Wissel, "We need to improve more than any team in the country this year."
This weekend, they will be looking to do just that. At late fall's Steel City Showdown, Pitt showed glimpses of great play and moments of struggle. They ultimately finished the weekend 6-1, but fell to Cincinnati and had to grind out double game point victories over Georgetown, Dartmouth, and Tufts.
Their win over Tufts was a good note to close their fall season — they rallied back from a huge first half deficit to win 14-13. But they have a lot to figure out still as they determine rotations, roles, and how to win without superstars Tyler Degirolamo and Alex Thorne.
They'll get a good early test against #13 Florida (as an SEC representative, the lone out-of-conference team), which put up a very good game on UNC at CCC and has the top end talent to trouble Pitt's young defense. Bobby Ley gives everyone matchup problems; captain James Dahl is a big contributor as well.
Florida has great motivation this season after missing out on Nationals last year by just one point, falling to Florida State in the Southeast game-to-go 15-14. They'll have another chance to show up for a big game in the 1v2 matchup against Pitt.
Former Mid-Atlantic powerhouse Virginia has sagged in recent years and struggled to a 3-5 record at CCC. Evan Sacks and Jacob Merlin both return as graduate students and captains, but they have work to do to get back to the top of the Region.
North Carolina State and Wake Forest round out the bottom two of Pool B. NC State lost a lot of close games last year and will be looking to improve on a 3-4 showing at last year's ACCUC. Wake Forest (#4 in D-III), one of the country's top D-III teams, hopes to open their season with some wins against solid D-I competition. They went 1-5 at ACCUC last year.