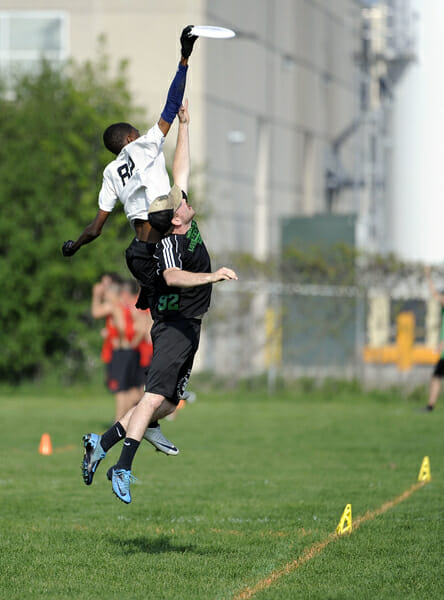 Disclosure: The author is the captain of SUNY-Geneseo.
While the Metro East has never produced a national champion, it has become one of the deepest DIII regions in the country. With several semi-pro players and a few members of Nationals-caliber club teams, the top end talent in the Metro East compares favorably to any other region in the nation.
For teams in the ME-III, generally the question is not whether they have enough talent to succeed, but rather if they have the ability to play to their potential in big games. There has been a recent explosion of quality throughout the region, and as the talented teams begin to shape into true programs, this could be the year that a Metro East team takes home the title.
The Favorites
Stevens Tech Ducks
Without a doubt, Stevens Tech comes into the 2014 season as one of the best Division III teams, not only in the Metro East, but anywhere in the country. The Ducks have to be included on any list of prohibitive favorites to win the national title this May; they rank #9 in the current Ultiworld D3 power rankings.
After running through the regular season and sweeping regionals in 2013, Stevens lost a heartbreaker in the semifinals at nationals to Puget Sound. The crackling 15-13 game was one of the best of the tournament, and coming so close to a title has the premiere team of the Metro East hungry for a return to nationals, and another shot at the championship.
Any conversation about Stevens has to include their standout player, and YouTube celebrity, Marques Brownlee. The Columbia HS alum won 1st Team All-Region honors last year, and added to his resume this summer by becoming a key figure on the AUDL's now-defunct New Jersey Hammerheads.
Brownlee's athleticism is breathtaking, but it is his intelligence and field vision that separate him from the other elite athletes in the game. There will be stiff competition for Metro East player of the year, but I would not bet against Brownlee coming home with the honor at season's end.
Of course, Stevens is not a one man show, and their recent success is a testament to the strength of their program that has risen to prominence in recent years. After just missing out on Nationals in 2011, the Ducks have made it the past two seasons, finishing tied for 9th in 2012 and tied for 3rd in 2013.
This success is due in large part to the team's emphasis on creating a healthy program, and not solely focusing on immediate results. No matter which players the team loses, it seems there is always someone ready to step up and fill the role that has been vacated. 2014 is no exception, as Stevens returns three AUDL players: senior captain Andrew Misthos and junior John Lee (in addition to Brownlee). They, along with juniors Charlie Cannon and Nick Raguso, will look to handle the responsibilities of the departed seniors.
Despite athletic and talent advantages against most opponents, Stevens tries not to rely on sheer athleticism to gain yards, as the Ducks employ a tenaciously efficient offensive gameplan. Their coordinated handler movement and smart in-cutting moves the disc up the field quickly, seemingly before their opponents have even settled into a defensive set. As one of their opponents this fall remarked, "When they have the disc, they take care of business. Simple as that." This machine-like offense keeps Stevens cool under pressure in big games, as they do not have to try to force a spectacular play, instead preferring to fall back on their fundamental offense.
Defensively, Stevens employs several adaptable zone looks that aim to identify what their opponent want to do and take that aspect of their game away. This intelligent defense has allowed Stevens to both smother weaker teams and hang with teams that have more sheer talent. With a roster full of quality role players from top to bottom, the Ducks are always able to push a fresh cog into their defensive scheme and rest some of their more important offensive threats.
While Stevens had mixed results this fall, many of their losses can be largely attributed to their emphasis on developing new players at the expense of preseason results. It takes time for players to get adjusted to some of the more complex aspects of Stevens's offensive system and zone looks. As a result, they lost games this Fall to teams that they will expect to beat in the series.
If the past years are any indication, the developmental gains made in the fall should pay off several times over in May. A third straight trip to Nationals this year would cement Stevens's "Cornell-esque" position atop the Metro East. While they will be focusing on taking care of business during the season, Stevens Tech is no doubt aiming higher than simply earning a berth to Nationals. If they are firing on all cylinders in May, any team in the country will be hard pressed to deny them their goal.
Wesleyan Nietzche Factor
Wesleyan shook things up last year when towards the end of the season they opted to go DIII, adding a top program to what was already one of the deeper DIII regions in the nation. Wesleyan was one of the favorites heading into Regionals last year and delivered on those expectations by defeating Fredonia in an intense game-to-go. At Nationals they broke seed and finished a respectable 3-3 on the weekend, although after finishing second in their pool they were disappointed to not be in the mix on Sunday.
This season, Wesleyan is planning on returning to the DI ranks. Hoping to use last year's Nationals experience as a springboard to success in 2014, they are the latest team to throw their hat into the ring as a challenger seeking to dethrone Cornell from their perch atop the D1 Metro East. Of course, this decision is not yet final, and Wesleyan could find themselves on the path to DIII Nationals once again.
Whichever route they take, Wesleyan's athleticism will pose a problem for almost any opponent. One of the most emotional teams in the region, Wesleyan takes pride in bringing more energy and passion to the field than their opponents. No under pass is safe from a layout bid, particularly when the horde of athletic underclassmen that Nietzsche Factor is unleashed.
In what sounds like it could come from a Spartan proverb, the captains assign rookies with a certain number of layout D's they need to get per tournament, and in turn the team responds by throwing their bodies all over the field and their opposition. This focus on intensity and making the inspiring big play engenders Wesleyan's aggressive, physical style. Last year's game-to-go at regionals that paired Wesleyan against an equally fiery Fredonia was one of the most intense games of the year, and whatever division Wesleyan ends up in, they will certainly bring a level of passion and athleticism to the table that cannot be ignored.
On The Doorstep
SUNY-Fredonia
For two consecutive years, SUNY-Fredonia has entered regionals with high expectations, only to see them dashed in heartbreaking fashion. The Terrifying Turtles exploded into the national consciousness in 2012 after assembling a core of current AUDL players Greg Wakeman, Doug Urbino, and Kevin Quinlan that decimated their opponents with an exciting, rapid-fire offense.
Despite regular season success, the past two years have seen Fredonia fall short of expectations in the games that matter most. This disappointment has motivated the team to implement some changes heading into the 2014 season, starting with a much more rigorous training and discipline regimen. Part of this change in attitude can be attributed to Maryland transfer Craig McGowan, who was elected co-captain after only one fall semester at Fredonia and has already made an impact on the culture of the team.
A more intensive training program could very well be the final piece of the puzzle for this team that has never lacked talent. Despite losing Urbino, the Turtles have reloaded by bringing in McGowan and a class of athletic freshman, including Austin Darling, the 6'7" brother of MLU Vice-President Nic Darling. Fredonia will hope that these newcomers add some much needed depth to a team that has often relied too much on its superstars.
Of course, when it comes to top of the line players, Fredonia might have the most talent in the region. Kevin Quinlan is easily one of the most gifted players in the Metro East. He simply operates on an athletic level above his competition. While he is better known throughout the region for his full field hucks and long hammers, it is his quickness and up-line handler action that makes him so difficult to stop.
In addition to their AUDL vets, one of the players from Fredonia who seems on the verge of making a name is Max Kesselring. The lanky cutter has a wingspan the will frustrate most players on defense, and the hops to get over people in the air. If he can emerge as a bona fide star, then Fredonia will be able to throw out lines in which they have the three or four of the best players on the field, the value of which cannot be underestimated for a team that lets its star players run the show.
One of the biggest question marks for the Turtles will be the health of Greg Wakeman. When healthy, he is unquestionably one of the most dominant players in the region, DI or DIII. Check out his highlight video to see the athleticism and huge throws that have left opponents cowering.
Last season, he injured his throwing elbow but still managed to earn 1st Team All-Region honors playing left handed all spring. After reinjuring his elbow this summer there was concern from doctors that he would require Tommy John surgery, which would put him out for the year. Thankfully for Fredonia's Nationals aspirations, it now appears that he will only require minor arthroscopic surgery that should have him fit in time for the majority of the season.
The shock and awe style of play that Fredonia employs has left quite an impression on their opponents, and they were the first team mentioned by most captains in the region as favorites to make Nationals this year. With a healthy Wakeman, Fredonia has the talent to beat any team in the nation. But of course, having the most talent has never been Fredonia's concern. The question is whether or not they can find their best form in the games that count.
SUNY-Geneseo
After earning a bid to Nationals for the region last season by finishing the regular season ranked 11th in the nation, surprise contender SUNY-Geneseo failed to hold seed and were knocked out by Fredonia in the semifinals of regionals. The young team will be looking to use their experience from last year's up and down season as they embark on a campaign towards Columbus.
After losing only one starter from 2013, Geneseo Snail has a roster full of returning players including 1st Team All-Region player David Abbott (Rochester Dragons). Abbott's combination of speed and size makes him a nightmare matchup for almost any team, and Geneseo will be looking to deploy him in some creative sets this season.
If Geneseo hopes to advance out of regionals this year, other players on the team will have to step up and take some of the load off of their superstar. Last year's iteration of Snail relied heavily on Abbott to create most of their offense, and their fortunes largely depended on his play. In the semifinal game of regionals, Abbott struggled against Fredonia, and the rest of the team was not prepared to adapt and pick up the slack.
Diversifying offensive approaches and learning to put other players in a position to succeed has been an emphasis for Geneseo and their new coach Bryan Jones (yes, that Bryan Jones). With Abbott studying abroad this fall, Snail's results seem to demonstrate that they are learning to get along without their talisman. In the two competitive tournaments they attended this fall, their only loss came in the finals of TSGMUT against Cornell, a game in which Geneseo took half 8-7 but failed to close out.
If they hope to continue this success into the series, Snail will need to see continued production from its deep junior class, particularly breakout star Matt "Micky" Rybak who impressed several captains across the region this fall and has attracted interest from AUDL franchises. DIII Easterns in March will be a good test of whether or not this team is capable of taking the next step as a program, and could possibly provide a regionals preview against rival Fredonia.
Bona Fide Contender
Hartford
After some big wins in the Fall and a place in the Ultiworld Top 25, it is hard to still call Hartford Lighthouse a dark horse. Several teams in the region have identified them as a team that should challenge for a spot at Nationals, and it is clear that Hartford now has the attention of their opponents. They will not be surprising anyone this year.
Loaded with talent and experience across the board, it is hard to point out any glaring weaknesses in Hartford's game. In particular, their physical defense lead by D Line handler Patrick Laramee will provide matchup problems for any team that relies on athleticism to generate offense at the expense of solid tactics. By taking away big plays and forcing teams to work the disc underneath, Hartford aims to outwork any team they play against and run them off the field by the end of the game.
The standout player for Lighthouse is clearly Luke DiOrio (Wild Card). DiOrio was a member of the squad invited to try out for the U-23 team, and represents some of the top end talent in the DIII game. His play speaks for itself, but what may be more important that DiOrio's play on the field is his impact on the team off the field and in practices. The experience and knowledge that he and handler Tyler Finkler (Night's Watch) bring to the table could be key in determining the success of Lighthouse this season.
This will be the first season that Hartford faces serious expectations, as well as a much tougher schedule this spring, and their two players with elite experience will need to make sure that the rest of the team is prepared to handle the pressure of big games. The talent is certainly there for Hartford. How well that talent is able to execute when it counts will determine whether or not Lighthouse is able to knock off one of the elite teams in the region.
Darkhorses
Siena
Regionals last year was a bit of a coming out party for Siena. They put a scare into several top teams, and despite falling in the first round of bracket play, they left the impression of a program on the rise. They will have to cope with the loss of captain and primary handler Dominic Stracqualursi, but will retain junior standout David Hall. Nicknamed "Boom," Hall may very well be the fastest player in the region, and anyone who has guarded him can testify to his agility and unrivaled straight line speed. More than one captain from within the region has identified Hall as a potential superstar in the making, and he will shoulder much of the load for this Siena team if they hope to make some more noise Sunday at regionals. His play without Stracqualursi's deep-balls may dictate Siena's success.
Hamilton 
A team that has always been on the fringes of contention, Hamilton is returning plenty of seniors for the 2014 season and is looking to score some big upsets at Regionals. Their O Line will rely heavily on senior handler Alex Lowy who spent last Spring abroad playing with Danish champion Ragnarok. With a promising rookie class to go along with their glut of seniors, Hamilton is a team that could certainly surprise anyone who takes them lightly.
Playing The Spoiler
Connecticut College 
After missing bracket play at Regionals last year due to an upset at the hands of Hartford, Connecticut College's program is entering a rebuilding phase. Following the loss of 11 seniors, including standout captains Jesse Moskowitz and Max Weigert, Dasein is seeking to develop its strong class of freshman into a core that can carry the program back to Nationals in the years to come. The quality of the returning players alone should ensure that Conn College at least returns to regionals, but they will have to accelerate the development of their young talent if they hope do anything more.
Colgate
Always a consistent program, Colgate Jabberwock is hoping to play in some big games on Sunday at regionals. The strength of their program has traditionally allowed them to weather the ups and downs of player attrition, and this year is no different. After losing 9 seniors, including Kevin Hoercher (Rochester Dragons), Colgate responded by putting together a very respectable fall campaign that could have been outstanding if a few close games had gone their way. Their physical man defense insures that no team ever has an easy time when playing Jabberwock, but they will need to see some new players step up and help star Brain Chernak if they hope to defeat the top teams in the region in 2014.