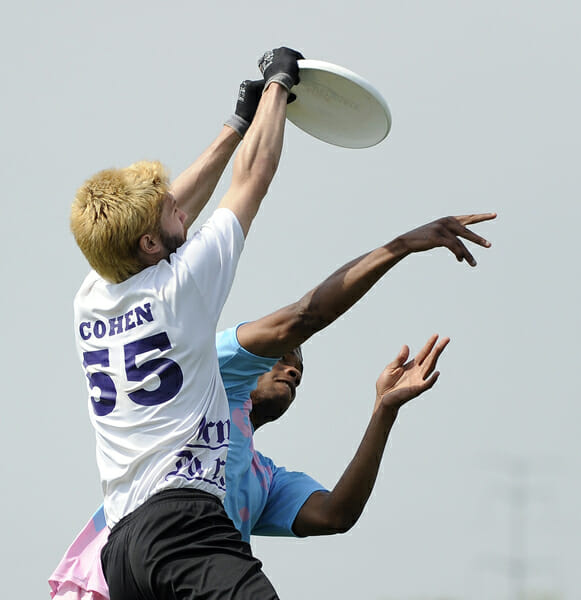 For many D-III teams across the country, the spring season still seems to be an eternity away — a mirage at the end of slush laden walk to class. But for the lucky few teams at D-III Warm Up, the season will begin this weekend in the relative paradise of Riverside, California.
Last year's Warm Up gave the country a look at some of the top teams in Division III. This year, the field looks to be even more competitive. With several teams featured in Ultiworld's power rankings in attendance, including four out of the top five, this weekend's tournament will offer elite talent and several potential Nationals matchup previews.
Of course, remember that it is only February; many of these teams are still working out the kinks in their systems. But the rare opportunity that Warm Up presents for DIII teams to play quality out of region opponents should result in each team bringing their A-game and striving for positive results.
Pool A
Pool A is headlined by top seeded St. John's (#3), the early favorite to seize the North Central title. They have a lot of expectations trailing them this year and will certainly be looking to make a statement by coming out of the gate strong and tearing through Warm Up.
St. John's will have an easier time of it than their North Central foes in the brutal Pool B, but there is certainly enough talent in Pool A that they will need to play at their best all weekend if they hope to walk away from Riverside victorious. St. John's has to cope with a few injuries heading into the weekend, including superstar Pat Kunkel's ankle injury that has left him sidelined yet again. St. John's' opponents will no doubt look to take advantage of the lack of depth in BAM's roster that the injuries have created.
Two of the teams likely to challenge St. Johns in Pool A are Claremont (#12) and Brandeis (#19).  The Claremont Braineaters made the finals at Warm Up in 2013 on their way to qualifying for a third straight Nationals appearance. If they want to return to the championship game at this year's tournament, they will need their returning players ready to step up and fill larger roles after the team lost all three of their captains from last season.
It helps that the Braineaters received a stellar class of freshman led by pre-assembled studs Bruce Service and Jordan Lim, who both hail from premiere youth ultimate programs out of the Pacific Northwest. Competition for spots in the semis this year will be fierce, but a hometown advantage and the benefit that comes from playing in Southern California and being able to practice outside in the winter could be enough to get Claremont into big games on Sunday.
A team that does not have the benefit of outdoor practices during the winter is Brandeis, who missed Warm Up in 2013 when a winter storm grounded their flight. This year, Tron will certainly be looking to make their mark on SoCal as they begin a campaign to return to Nationals in 2014. The quality of returning talent, headlined by handlers Max Zaslove and Nadav Pearl, and their intense fall schedule should have Brandeis prepared to compete early in the year.  They could have trouble matching up in terms of pure talent with some of the bigger name schools, but you can count on Brandeis to be ready with a game plan and a system that will keep them competitive with just about anybody.
A team that may be somewhat overlooked coming out of Pool A is Lewis and Clark out of Portland, Oregon. After missing out on Nationals in 2013, Bacchus is flying under the radar coming into the 2014 season. They produced quality wins last year, and gave competitive games to some legitimate D-I programs, but were unable to vault Puget Sound and claim the Northwest's lone bid. The entire squad from 2013 is returning this season, including Will Shaw of Rhino, and that sort of continuity can be a huge advantage in early season tournaments like Warm Up. With other teams looking to put pieces together and gel on the offensive side of the disc, Bacchus will already be several steps ahead.
Bringing up the rear in this pool are RPI and Westmont. Westmont Wildfire, from nearby Santa Barbara, will be looking to improve upon a 1-6 showing at Warm Up in 2013, and will have to bring their A-game if they hope to compete with the likes of St. John's.  They certainly have the potential to turn some heads with their unorthodox, up-tempo style of play, but they will need to seriously limit their turnovers if they hope for a better outcome this year.
The other low seed in Pool A, RPI Trudge, are in the process of rebuilding their program.  A perennial Nationals contender just a couple years ago, Trudge suffered a collapse last season and did not qualify for regionals. They have some talent, most notably Russ Katz, but Warm Up is more of an opportunity for them to escape the crushing depression of upstate New York in February than to come away with a tournament victory. This year,RPI will be looking to return to the conversation at regionals and put their program back on track after last years' dismal results. A productive experience playing against some elite teams at Warm Up could go a long way towards helping them reach their goals.
Pool B
There may not be a pool at Nationals that has as much top end talent as Pool B will have this weekend. Three of the top five teams from Ultiworld's power rankings find themselves awash in the bloodbath that is Pool B, with Amherst (#1), Puget Sound (#2) and Carleton GOP (#5) all fighting for the top spot.
Amherst comes to Riverside looking to avenge a disappointing 2013 trip, in which they only managed two victories. Last year they lost two crucially important games, each by a single point, to GOP and PLU. If a few plays went the other way in those games, they could have found themselves in contention on Sunday instead of relegated to the consolation bracket.
The #1 team in Ultiworld's rankings, Amherst will rely on the depth of their program and the palpable intensity they bring to the line on every point to make up for the absence of Lock Whitney and the other seniors they lost after last years' run to semis at nationals. While Army of Darkness might tinker with some of their lines in the first tournament of the spring, their efficient offense will be exhausting for any team to deal with. Anyone looking to knock off Amherst will have to match their grit and hustle from the first point to the last, or else they could find themselves ground into the dust by game's end. A slow start to the 2013 season put Amherst on their heels, and they no doubt want to come out stronger this year and justify their lofty seed atop Pool B.
One of the teams that probably feels as though they have the right to contest Amherst's seeding is Puget Sound. The Postmen begin the 2014 season with an attempt to defend their title as Warm Up champs. One of the premier programs in D-III Ultimate, UPS has the star power, depth, and discipline to beat anyone in the country.  But they will have to prove it in this deadly pool.
Standouts Daniel Mozell and Eric Hopfenbeck will no doubt be trying to return the tournament MVP award to Tacoma, and UPS's stalwart D-line will make life miserable for any offense that does not come prepared with a good game plan. Last season, Puget Sound never got the chance to avenge their national championship defeat at the hands of GOP, but will get the opportunity this weekend when they face the boys from Carleton in pool play.
GOP had an up and down season in 2013, and never found their top gear at Nationals, ultimately finishing a disappointing 11th. They came into Warm Up last season as defending national champions and favorites to win the early season tournament, but this year they enter to whispers of doubt after their stumble at Nationals and the loss of Rhys Lindmark.
There has been talk of a potential letdown season for Carleton this year, but until their play suggests otherwise they need to be considered a title contender and a team certainly capable of winning Warm Up. Their young players from last year, led by potential breakout star Jake Yanoviak, will need to shoulder much of the load left by the departed superstars. If GOP's track record is any indication, the team will have its new players up to the task of competing on an elite level sooner rather than later.
The team that lost to GOP in the game-to-go at regionals last year, and will certainly relish the chance for a rematch this weekend, are the Berzerkers of St. Olaf (#17). After coming just two points shy of nationals last year, they will look to kick off their quest for a bid this weekend. Olaf turns two of their three All-Region players from 2013 in Ben Liska and John Knapp.
The Berserkers will feel confident that they can upset someone above them in pool play, and enter Sunday with a chance to make a statement win in the elimination rounds. Not only will they have the rematch with GOP to look forward to, but a victory over one of the teams from bid rich New England will help in the North Central's quest to earn a strength bid for this year. After only receiving a lone bid in 2013, the teams from the North Central will be working hard to pick up another bid or two and alleviate the brutal bottleneck they experienced at regionals last season.
If Pool B is a bloodbath, and Amherst, UPS and GOP are the sharks, then Air Force and Occidental should be swimming hard to stay afloat. Both teams have shown potential, but they appear to be a step below the teams above them in this loaded pool. Air Force had some very impressive results this fall, particularly their victory over Harding, but results in the fall only go so far. They will have to prove this weekend that they belong in the same conversation as the other teams at the tournament, and certainly will have the chance to do so. They boast the kind of athleticism that can cause trouble for most teams, but will need to display sound fundamentals on both sides of the disc to make it to the championship bracket on Sunday.
Occidental Detox gave Claremont two good games at regionals last year, but lost both of them and became a footnote in the story of 2013. They suffered substantial losses to their squad, and will need to replace the productivity of departed captain, Noah Donnell-Kilmer. They have reloaded with some significant pieces, but it may be too early in the season for a reworked Occidental to hit their top gear. Occidental could be a real contender by season's end, but it will be difficult for them to beat elite teams this early in the year while trying to reconfigure their roster.
Predictions
While the dust in Pool A will likely settle with the seeding largely intact, don't be surprised to see an upset from Lewis and Clark or Brandeis. A strong Bacchus team is starting their spring with a lot to prove while St. John's is at the mercy of a short roster. BAM will have the benefit of facing Bacchus at 9:00 AM, but an early upset is not out of the question.  RPI and Westmont will both put forth good efforts and improve their squads this weekend, but neither seem capable of unseating any of the teams above them and crashing bracket play.
Pool B is much more of a crap-shoot, and it is not hard to see the top three seeds finishing in any varying order. St. Olaf certainly has the talent to make things interesting and upset one of the top three in pool play. Perhaps their 1:30 matchup with GOP will be one of the tournament's most compelling games.
Amherst has a tough Saturday schedule, having to play all three of their key opponents on the first day, and that disadvantage could allow UPS to pull ahead and end up on top of the pool. Whichever team winds up in fourth in the pool may have to face St. John's in the first round of bracket play, so look for the top teams to really focus on not dropping seed.
This early in the season, teams that returned much of their core and have experience in big games are able to flow and execute better than teams that are trying to put it all together on the fly in their first spring action. Taking that into account, I believe that the championship game will be an all-Northwest affair, pitting UPS against Lewis and Clark. UPS will take care of business on their side of the bracket, relying on their deep, experienced roster. On the other side of the bracket I think that Lewis and Clark is going to be the team most capable of playing near their peak potential this early in the season, both because of their roster continuity and the stability provided by their excellent coaching staff.
No matter the finals matchup, Warm Up should thrive in its second season and continue to lead the way in DIII tournaments around the country, spurring the development of the young division and showcasing the talent level at small colleges.