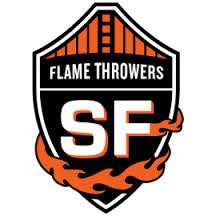 The San Francisco Flamethrowers have signed five more Revolver players for the 2014 season, according to a source close to the situation.
Patrick Baylis, Taylor Lahey, Lucas Dallmann, Andrew Hagen, and Eric Greenwood have all agreed to terms with the Flamethrowers for the upcoming season, where they will join their club teammates Cassidy Rasmussen, Ryo Kawaoka, and Sam Kanner, who signed with the team in January.
All five of the new signings — except Taylor Lahey — played last season for Major League Ultimate's San Francisco Dogfish.
The Flamethrowers are now adding depth to a team that had a lot of question marks just a month ago, as their South Bay rival San Jose Spiders soaked up some of the premier talent in the area, including Beau Kittredge and Ashlin Joye.
An earlier version of this story said that all five players were members of the San Francisco Dogfish last season. Only four were; Taylor Lahey did not play for the Dogfish.