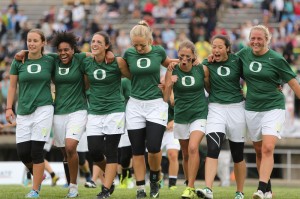 Oregon Fugue knows how to be the best.
In 2013, they played an almost perfect season, and won the national championship in decisive fashion. Their 37-1 record spoke for itself, illustrating Fugue's domination over the rest of the field.
The losses of Callahan runner up Bailey Zahniser, as well as  Morgan Zajonc, Kimber Coles, Rachel Karpelowitz, Molly Munson and Anna Almy are notable, but will not be the crux of Fugue's story this year. They have four freshman who were invited to U-20 tryouts, to add to the four veteran Fugue players with junior Team USA experience. Lou Burruss is back as head coach, giving Fugue his years of experience as a player and analyst — plus his impressive track record of winning championships.
Fugue's opponents, in the Northwest and nationally, are aware of their strategy. However, this won't make it any less effective. The combination of relentless defense, a free-wheeling offense, and the overarching Clown Tent philosophy combine to produce an intensely bonded, talented, and flexible team that is hard to strategize against.
Defense Comes First
Fugue's defense was the star of the 2013 College Championships. They kept opponents guessing, throwing different defensive looks as much as possible, and enjoying every second of it. It seems that Fugue 2014 will be much the same.
"Fugue is all about defense," said captain Ashley Young, a comment echoed by her co-captains Sophie Darch and Kasey Harris.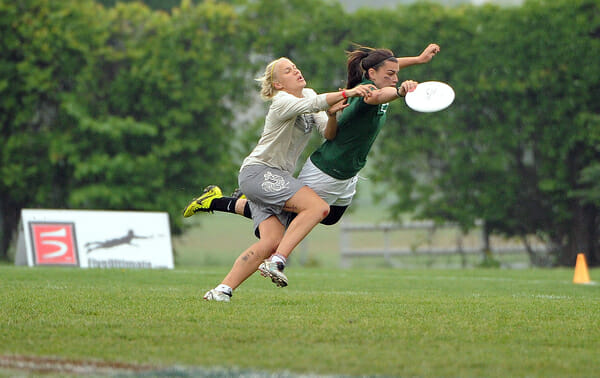 "Expect a fast paced team that focuses mainly on hard, aggressive defense," added Darch.
The personnel is not the exact same, but the attitude and accompanying strategy are. Opponents will have to prepare to see tight man to man in addition to  junk and traditional zones thrown with excellent defensive fundamentals. Fugue gets excited about denying disc movement and stifling offensive flow.
Fugue's oppressive defensive pressure gives them freedom in their offense, armed with the knowledge that they can win the disc back after a turnover. Winning is the goal, not offensive efficiency. Expect their handlers to take deep shots at-will, and for them to have a field of quick, athletic receivers to run the disc down.
Oregon's pace is non-stop on both sides of the disc, which will leave less-conditioned teams exhausted, and even the most elite teams frustrated with their options.
Clown Tent Philosophy
Where most teams would talk about culture, Fugue talks about the Clown Tent. This is what might be called Asset Based Team Strategy in a less interesting team. The tenets of Clown Tent are freedom and trust, and it is put into practice by using each player's unique strengths to direct the team. Instead of treating different styles and personalities as deficits to overcome in a strict team structure, each player is empowered to fill their role and trust that others will do the same.
Fugue, and Coach Burruss, know that there isn't one way to win a game, or a national championship. They are a dangerous team to play, because they aren't waylaid by sticking to a game strategy that doesn't work. They have the flexibility to meet and overcome challenges, which is essential for winning the impressive Northwest Region.
Colluvium provided a warm-up for Fugue's spring season, as they went 6-0 against the local competition. At this weekend's President's Day Invite, they won their fifth straight title, exacting revenge over UC Santa Barbara with a 14-8 finals victory. They had lost earlier in the tournament to UCSB, but roared back in bracket play, crushing then-#2 Washington 15-4 in the semis and easily handling UCSB in their second meeting. The tournament win made them the clear favorite this season — and not just on paper.
"[There's] a huge target on our back," said Harris, as Fugue comes in as the reigning national champion. Defending the National title might be daunting for most teams, but, as Harris is quick to point, being on defense is the thing that Fugue loves most.
Stacked Northwest Region Provides Ample Competition
Fugue's biggest competition is very likely inside their own region. The Northwest Challenge in late March will provide a look at the powerhouse region, and who used their fall season best to develop new talent. Washington, Western Washington, University of British Columbia, Whitman, and Victoria will all be looking to make a run to Nationals, and upset Oregon. Rival Washington, in particular, looks poised for a big season.
Fugue's team culture, strong coaching, and deep talent give them the resources to continue their domination over the women's division this year. Expect to see layout defense, sailing hucks, and an intensely bonded team that enjoys working hard for each other. Fugue 2014 won't be identical to last year's squad, but it wouldn't be a surprise to see them end up on the same podium.